Get your tickets NOW and you could WIN! The Friends of Fredricksen are having a Basket Raffle in conjunction with the Murder Mystery Play, The Haunting of Hill House they are hosting @ Oyster Mill Playhouse - Tuesday, October 2nd. Tickets are $2 each or 3 for $5 at the Reference Desk. The baskets are on display at Fredricksen Library until Oct. 2. The winning tickets for the baskets will be drawn at the play, October 2. You need not be present to win. (CLICK HERE or on the image below to see larger photos of the baskets!)
YOU could WIN one of these FIVE Baskets...
1. Coffee, Book and Window Basket!
For the literature lover with YOUR CHOICE of a Fredricksen Library Stained Glass Window Replica, journals, library note cards, coffee mugs, gift cards, books, and a few surprises. Courtesy of the Friends of Fredricksen, Midtown Scholar Bookstore, Cornerstone Coffeehouse, Pennsylvania Cable Network, and Fredricksen Library.
2. WINE Lovers Basket!
This is your chance to stock up your wine rack! Included in this basket are the following five wines: Havens Winery Black & Blue (2013, red), Lea Pinot Noir Sta. Rita Hills (2014, red), Robert Mondavi Winery Fumé Blanc Oakville (2014, white), Chateau D'Esclans 'Whispering Angel' (2017, rosé), and finally Morgan Estate Highlands Chard (2016, white).
3. Lucky Lottery Basket!
Feeling lucky? Get your coins ready to scratch off more than $50 dollars' worth of lottery tickets and your very own Gus! As our friend Gus says, "Keep on Scratchin'!"
4. Happy Halloween Basket!
Everything you need to get your house ready for Halloween is in this basket! From candy and cookies to spiders, autumn decor and window clings to a Halloween wreath, this basket has it all!
5. Roger That! Photography Session!
One Family or Senior Portrait Session. Up to 2 hours at 1 location.
Includes ten edited digital images; private link to online images (including all proofs). Prints, DVD not included. Value: $250
GET YOUR TICKETS TODAY @ FREDRICKSEN!
---
TICKETS ON SALE NOW!
The Haunting of Hill House
Murder Mystery Play
@ Oyster Mill Playhouse
hosted by the Friends of Fredricksen
Tuesday, October 2
6:30 pm – Reception & Basket Raffle
7:30 pm – Curtain
Tickets are $25.00. (Limited #) at the reference desk, or call (717) 761-3900 x 236.
Play Summary: Cut off from the outside world by it's remote location and shunned by all who know its forbidding and sinister reputation, Hill House has remained empty and silent. It's isolation is broken by the arrival of Dr. Montague, who has been granted a short lease by the present owner. His mission is to delve into the morbid history of the house and to come to grips with the occult forces that have made it uninhabitable for many years. He is joined by three unacquainted others who each have their reason for accepting his invitation. The visitors have all come to probe the secrets of the old house and to draw forth the mysterious powers that it is alleged to possess–powers which have brought madness and death to those who have lived there in the past.
---
2018 Summer Reading ROCKED!
Our 2018 Summer Reading Programs ROCKED – with over 2549 adults, children and teens registered for their respective reading programs at Fredricksen Library & East Pennsboro Branch! 767 people became NEW cardholders over the summer and enjoyed our theme "Libraries ROCK!"with concerts and music related programs and challenges.
ADULTS: Over 600 adults registered to participate in this year's Libraries Rock! summer reading program at Fredricksen, many of whom signed up with their children. Besides reading many, many books, participants also did some good in their communities, enjoyed some rest and relaxation activities, and enjoyed some music while earning entry tickets for the gift card giveaways. A great big thank you to the Friends of Fredricksen for their continued support!
CHILDREN'S: Fredricksen's Children's Summer Learning program saw close to 10,000 people attend 164 summer programs –Tuesday morning shows remained popular and saw many standing room only crowds! We held escape rooms, crafting projects and saw the opening of our new Kunkel Creation Station! Summer reading saw the completion of over 6,000 badges with 1,428 participants reading, crafting, singing, dancing, and exploring what sparks their curiosity!
TEENS: Fredricksen teens were also busy – with 555 books read and 136 activities completed by 166 registrants and over 400 teens attending 33 programs. Special events like Teens Create Art Competition, DIY Bath Bombs, Harry Potter Trivia, Movie Nights and our Fairy Tale murder mystery dinner made for an awesome time this summer.
EAST PENNSBORO ALL-AGES: The East Pennsboro Branch Library had 211 children, 43 teens, and 101 adults registered for summer learning. Our dedicated summer readers read for an impressive 213,700 minutes. Thank you to all of our participants for a great summer, and be sure to join us for all-ages Winter Reading beginning in January 2019!
OUR FINAL SUMMER FLING was fun for all ages! Several hundred people came to join us as we finished off our big summer. We had Touch-A-Truck that not only included firetrucks and police cars, but a real working crane too! It was a hot day, but that didn't stop us from getting the beat started at the all-ages drum circle with local favorite, Yvonne Sadowy. Some familiar princesses joined us to the enjoyment of all, thanks to The Enchanted Teapot. Those princesses made for some very happy families! We had some old-fashioned fun with backyard games like coffee can stilts, ring toss, sack races, sidewalk chalk and more! While everyone was feeling pretty warm that day, they cooled off with a Disney sing along, our cool misting tent and ice cream from Sarah's Creamery – delicious! And ice cream wasn't all: we had the Potato Coop, Banana Leaf Indian Cuisine, and Philosopher's BBQ lined up to make sure everyone was fed in time for the big closing concert with JVB. They showed us exactly what Libraries Rock really means! By the end of the night we were all fed, entertained and partied-out. Not a bad way to celebrate the end of summer!
SEE PHOTOS OF THE FINAL SUMMER FLING FUN!
The 2018 Summer Reading Program is sponsored by Friends of Fredricksen Library, a donation in Memory of Ashley Dietrich, Weis Markets, UGI Utilities, Riverview Bank, our municipalities and additional generous sponsors. Concerts sponsored by the McCormick Family Foundation.
---
What You Missed in History Class: No-No Boy Multimedia Concert
Tuesday, September 25
7:00 pm to 8:30 pm
Join this nationally-recognized duo as they kick off our What You Missed in History series! No-No Boy is a multimedia concert performed by Julian Saporiti and Erin Aoyama. Taking inspiration from interviews with World War II Japanese American concentration camp survivors, his own family history living through the Vietnam War, and many other stories of Asian American experience, Saporiti has transformed his doctoral research at Brown University into folk songs in an effort to bring these stories to a broader audience. Alongside singer Erin Aoyama, a fellow Ph.D. student at Brown whose family was incarcerated at one of the 10 Japanese American concentration camps, No-No Boy aims to shine a light on experiences that have remained largely obscured within the American historical narrative.
No registration required. Not recommended for people under 13 years old.
Friends of Fredricksen
Fall Book & Media Sale
& Children's Book Sale!
September 20 through 23
Ruggaber Community Room & Library Atrium
Thursday, September 20 - 2 pm to 7 pm – Special Preview Sale! (downstairs)
AND Children's Book Sale - OPEN TO THE PUBLIC - Right side of Atrium
Friday, September 21 9 am to 8:30 pm
Saturday, September 22 1 pm to 5 pm
Sunday, September 23 from 1 pm to 4 pm – BAG SALE upstairs & downstairs!
You may purchase items downstairs on Thursday, September 20 from 2:00 to 7:00 p.m. if you join or are a current member of the Friends, a library volunteer, or staff
member of Fredricksen Library. The membership brochure is available on our website HERE. JOIN US!
AND...get your $1.00 OFF coupon HERE TOO!
---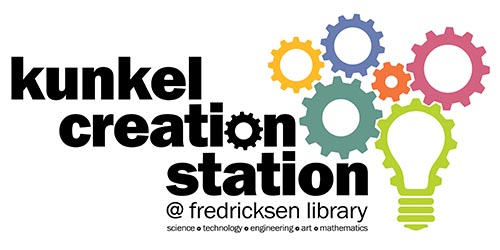 UPCOMING FALL PROGRAMS
Food Science: Let's Cook It! - Ages 9-12
Tuesday, September 11 OR Thursday, September 13 from 5 pm to 6 pm
Girls in STEM: Food Science Laboratory - Ages 8-12
Monday, September 17 from 5 pm to 6 pm
Plant Science: Let's Grow It! - Ages 6-8
Tuesday, October 2 OR Thursday, October 4 from 5 pm to 6 pm
Plant Science: Let's Grow It! - Ages 9-12
Tuesday, October 9 OR Thursday, October 11 from 5 pm to 6 pm
Global Maker Day @ the Kunkel Creation Station - Ages 6-12
Tuesday, October 23 from 5 pm to 7 pm
Spooky STEM @ the Kunkel Creation Station - Ages 6-10
Monday, October 29 OR Tuesday, October 30 from 5 pm to 6 pm
Create Your Own Board Game @ the Kunkel Creation Station - Ages 6-8
Tuesday, November 6 OR Thursday, November 8 from 5 pm to 6 pm
Create Your Own Board Game @ the Kunkel Creation Station - Ages 9-12
Tuesday, November 13 OR Thursday, November 15 from 5 pm to 6 pm
Create Your Own Roller Coaster @ the Kunkel Creation Station - Ages 8-12
Monday, November 19 from 5 pm to 6 pm
Block Party: KEVA Plank Challenge - Ages 6-8
Monday, November 26 from 5 pm to 6 pm
Block Party: KEVA Plank Challenge - Ages 9-12
Thursday, November 29 from 5 pm to 6 pm
---
PAVE THE WAY to OPEN DOORS at Fredricksen Library!
Help us "Pave the Way to Open Doors" by engraving a brick (or two!) in honor or in memory of family, friends, loved ones, pets, an organization, or special occasion. Paver order forms can be found at fredricksenlibrary.org, or you can stop by the Library to pick one up! For more information on paver purchases, or additional naming opportunities available, call Development at 717-761-3900 x236.

---
September Exhibits at Fredricksen Library
Front Lobby Case Exhibit:
Collecting World Coins by David Jordan
The September exhibit in the main lobby case is Collecting World Coins by David Jordan. David collected as a child and then started back into it when he was 35 years old. His favorite area of collecting is the Odd and Curious money in the lower left section of the case. This includes many items used as money throughout history, like blocks of tea, sea shells, string and even dog's teeth. In the upper right is a display of elements used to make coins. Most USA coins are mostly copper, except the cent , which is zinc with a copper plating. Learn where the word "Dollar" came from in the USA section in the upper right. David will be at the display Tuesdays from 6 pm to 9 pm & Wednesdays from 3 pm to 6 pm to show you items up close and answer any questions you might have or you may email him at davidwjordan@hotmail.com


Lower Level Gallery Exhibit: Paintings & Charcoal drawings by Barbara Passeri-Warfel
This month's exhibit showcases artwork by Barbara Passeri-Warfel, an instructor of oil painting and drawing in the Harrisburg area. She has worked for the past 20 years as an art therapist with seniors residing in assisted living facilities. She specializes in working with seniors suffering the effects of Alzheimer's Disease. Her students will also display their artwork at the library in October. Barbara specializes in portrait, still life, and decorative painting, and figure drawing. She has garnered many awards for her paintings and figure drawings. Her work is shown at the Art Association of Harrisburg, Susquehanna Art Museum, the State Museum of Pennsylvania, Gallery on 2nd, Art & Soul, and Whitaker Center.

---
2018 Friends of Fredricksen Silent Auction
Donations requested by October 1
Pick up November 17 & 18, 1 pm to 4 pm

This year the Silent Auction is looking to go ONLINE. If you have a gift or service you'd like to donate for the auction, please call Diane Myers at 761-3730. We accept goods and services as well as gift certificates/cards in all categories – no later than October 1st. Please bring your contributions for the auction to the reference desk and fill out the paperwork with contact information, a description and value for the donation.
The online auction will be a two week period beginning in early November with pick up dates on Nov. 17 and 18 – just in time for your holiday gift-giving. We hope to hear from all of you online – details to follow!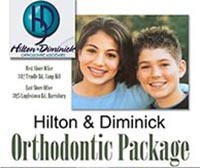 Again this year, we are privileged to offer a complete orthodontic package, a year's family membership to the YMCA, a teeth whitening package, plus many more moderately priced items such as gift certificates for many area restaurants, dry cleaning, food stores, auto services, sporting events, theaters, along with gift baskets, children's items, and home improvement and décor items.
A successful auction goes a long way toward providing all the extra things that will keep our library Simply the Best in 2019! Thank you.
.
---
School may be back in session, but our Children's Programs are still in full swing! We have spaces available at several upcoming programs, including -
Fall Story Times - Sessions begin week of Sept. 17.
Making Days at Kunkel Creation Station - Sept. 8 and 9
Meet the Inventor - the Slinky creator - Sept. 10 @ 5 pm
Illustrator Investigation - Children's Illustrators - Sept. 11 @ 5 pm
Fairy Tale Food Fun - stories & storybook treats - Sept. 13 at 4:15 pm
Follow the links and register today for fall fun at Fredricksen!


---
At our East Pennsboro Branch...
Volunteers NEEDED at Pumpkin Fest!
Saturday, October 6 @ 8 am -
unloading and sorting books
Sunday, October 7 @ 3 pm -
packing up books
Students, this is a great way to get service hours! Contact the library if you can help: 717-732-4274


1000 Books Before Kindergarten
Registration Begins - Monday, Sept. 17
We challenge you to read aloud 1000 Books Before Kindergarten to prepare your child for school. Register for the program at the library, pick up your reading log, start reading, and earn prizes along the way! Registration begins September 17.
Land That Job!
Fridays, Sept. 7 through Nov. 16
from 1:30 pm to 3:30 pm
Applying for jobs or education programs? Need help getting started? Need help uploading documents to an online application? Need to revise a resume, CV, or cover letter? Every Friday afternoon from 1:30 to 3:30 pm, we can help with online job, school, scholarship and other applications. Our staff can assist with specific job and school applications and show you how to use the library's databases and links to take steps for job and career-related preparation, including resume and cover letter design, specialized exam preparation and more. No registration necessary. Wi-Fi is free to connect with your own device, or bring your library card or photo ID to use our Internet computers.
---
Mission Transition 2018/2019:
Preparing for Kindergarten
One Monday a month, based on school district, at 6:30 pm during the 2018/19 school year.
Help your little one prepare for a lifetime of learning by participating in Fredricksen Library's Kindergarten readiness program. Children entering kindergarten in the fall of 2019 will do kindergarten readiness activities, hear stories, meet other future students and make early friendships! Registration is The last day to register is January 31st. Sessions run one hour.
Children attending these schools are welcome to attend:
Camp Hill School District (Hoover Elementary) - First Session: August 27th
East Pennsboro School District (West Creek Hills and East Pennsboro Elementary) - First Session: September 10
West Shore School District (Washington Heights, Lower Allen and Highland Elementary) - First Session: September 17th
Cumberland Valley School District (Shaull, Hampden, and Sporting Hill) - First Session: September 24th

---
Fredricksen Library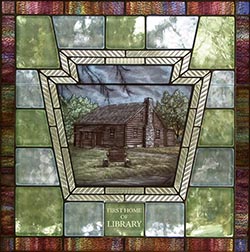 Stained Glass Window Replicas

Window replicas are 12" x 12", 1/4" plexiglass with white backing, two drilled holes for hanging (optional) with a narrow black U channel frame. Priced @ $65.00 a piece. Proceeds will support programs and services at Fredricksen Library.
DOWNLOAD an order form showing the 28 windows available.
---
Device Advice

By Appointment only
Tuesdays, 10 am to 12 pm
Thursdays, 5:30 pm to 8:30 pm
Reference Desk, Main Floor
We are pleased to offer free one-on-one consultations for up to an hour to help you navigate the basics of your eDevice! One of our trained Reference Librarians will assist you with downloading eBooks and eAudiobooks, as well as offer basic help with your tablet. You must have the device, login name and password for your appointment. To register, call 717-761-3900 x225.
---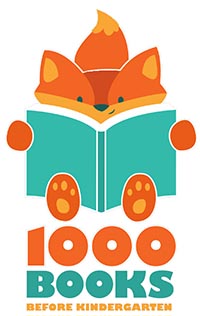 1000 Books Before Kindergarten
Our reading program will help prepare your child for one of their biggest milestones: kindergarten! Reading aloud to your child is one of the best ways to prepare them for kindergarten. With 1000 Books Before Kindergarten, parents are challenged to read to their children to get them ready to read. Stop by the Children's Desk to register for the program and learn more! Registration NOW OPEN!
---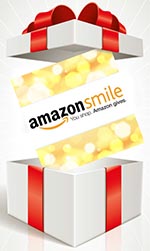 Support Fredricksen with your Amazon Purchases!
When you shop on AmazonSmile, 0.5% of the price of eligible purchases will be donated to the charitable organizations you select. Use the link from our website or go to smile.amazon.com and select Fredricksen Library. Use your regular Amazon login and password - no need to re-register.
Click HERE or on the AmazonSmile logo to get started!

---
Connect with US!

Do you know all the places Fredricksen can be found on Social Media? We're on Facebook, Pinterest, Instagram (fredricksenlibrary) and Twitter @cjfredricksen! You can also find photos of our events on our Flickr page. Click on any of the links at the bottom of this email, or on our website homepage to follow us and stay up to date with what's happening. Please like, share, pin and retweet our posts as well. (And tell all your friends and family too!)
---