September 8 through November 20
Register @ fredricksen.beanstack.org starting September 8.
ALL ages can participate in Fredricksen Library's Fall Reading Challenges!
Virtual Field Trip and Reading Challenge!
Ages: Kindergarten - Age 12 (Families are invited to participate)
STEAM at Home Challenges
Ages: All ages, families are encouraged to do it together!
10 to Try! Teen Fall Challenge
Ages: 12 - 18
and the Adult Reading Challenge!
Register your whole family at fredricksen.beanstack.org for the fall reading challenges starting September 8. Have a question? Use the Contact Us link at the bottom of the page at fredricksen.beanstack.org. Is there an app for that? Yes! You can use the Beanstack Tracker app (optional). JOIN US!
---
THIS MONTH in the Fredricksen Atrium with Mette Evans & Woodside
Financial Restructuring:
Is Bankruptcy Right For You?
Tuesday, September 22
at 7:00 pm in the Atrium
Learn about options for personal or business financial restructuring.
Unexpected life changes are often a contributing factor to financial strain. The COVID-19 pandemic has destabilized the financial state of many families and small businesses. Other factors, such as extensive medical bills, disabling injury or divorce can also impact household income. Attorney Tracy Updike's presentation will provide you with valuable information on understanding the bankruptcy process and what options are available to help you get a fresh financial start.
Learn About
What is the difference between the different chapters of bankruptcy?
Will I still be able to keep my home and vehicles?
Is there a way to stop the creditors from calling and lawsuits?
This program will be held in the Fredricksen Atrium, socially distanced. All library patrons, staff and volunteers are required to wear a mask or face covering at all times. Thank you!
---

The Friends of Fredricksen Library are hosting their annual basket raffle! You can enter to win one of EIGHT different baskets this year! Tickets are on sale NOW through September 30 in-house at the library AND ONLINE!
In-House Tickets Can Be Purchased At The Reference Desk For $2.00 Each, 3 For $5.00 OR 10 For $15.00! Online tickets can also be purchased.
SEE ALL THE BASKET DESCRIPTIONS HERE!

---

September Book Discussions
SPECIAL SATURDAY Fredricksen Reads:
A Gentleman in Moscow by Amor Towles
Saturday, September 19 - 9 am to 10 am via Zoom
A Gentleman in Moscow is an unforgettable tale about a man who is ordered to spend the rest of his life inside a luxury hotel. REGISTER ONLINE
Fredricksen Reads:
The Expatriates by Janice Y.K. Lee
Monday, September 28 - 7 pm to 8 pm via Zoom
Lee's The Expatriates explores the emotions, identities, and relationships of three very different American women living in the same small expat community in Hong Kong. REGISTER ONLINE
Curl Up with the Classics:
The Maltese Falcon by Dashiell Hammett
Tuesday, October 6 - 10 am to 11 am via Zoom
Can private investigator Samuel Spade find the jewel-encrusted falcon before he is found? REGISTER ONLINE

Moving Forward Book Group:
Swimming in the Sink by Lynne Cox
Wednesday, October 7 - 1 pm to 2 pm via Zoom
October's choice is Cox's memoir of life after loss. REGISTER ONLINE
---
DVDs now ON SALE @ Fredricksen daily!
Stock up for those cozy fall and winter nights coming our way! Now on sale at our Book Sale Table (near the Circ. Desk) DVDs - just $2 each, with new ones added frequently. Adult & Children's Movies! Thank you for your support of Fredricksen Library with your purchases.
---
Business & Career Center @ Fredricksen Programs
We are now offering virtual resume, employment and career guidance sessions via Zoom, several new virtual workshops to help with Stress Management and Social Media, including our now-virtual career workshops focused on all aspects of employment, whether returning to current employ or searching for a new job or career. AND now, IN PERSON Computer Workshops, held in the Community Room, socially distanced.
Stay tuned for more upcoming programming and other important announcements—your future starts here! DOWNLOAD A PRINTABLE PDF LISTING ALL BCC PROGRAMS
IN PERSON COMPUTER WORKSHOPS RETURN!
Document Basics
Monday, September 14 @ 3 pm
in the Ruggaber Community Room, Lower Level
Fredricksen BCC Specialists will be conducting an interactive workshop on creating and editing documents, whether using Microsoft Word or Google Docs. Bring your questions and improve your skills, beginner document creation and editing skills will be covered. Register online. *Masks and social distancing required. REGISTER ONLINE
A FEW OF THE MANY SEPTEMBER ZOOM PROGRAMS:
Managing Stress During Times Of Change
Tuesday, September 8 @ 3 pm via Zoom
Join us to refresh your perspective and add a few new tools to your career & life toolbox! Reducing stress is a major component to personal and professional success and happiness. Learn how basic breathing techniques, becoming mindful, reducing technology, and getting a good night sleep brings balance to each new day. Find out about positive stress, and how it can keep us moving forward! REGISTER ONLINE


Avoiding Identity Theft And Scams
Wednesday, September 9 @ 11 am via Zoom
We'll explore the various methods used to target and steal individual's identities, how to stop theft from occurring and what you can do if you suspect that your identity has been stolen. We will also review common scams and frauds, then discuss what you should do if presented with a financial offer that seems "too good to be true." This program is presented by the PA Dept of Banking and Securities. REGISTER ONLINE
---
Digital Mission Transition
Wednesday afternoons beginning September 9
Join Miss Kayla for weekly videos to prepare your child for kindergarten. These videos will feature skills your student will need to help them have a successful start to kindergarten for the 2021-2022 school year. Miss Kayla will recommend stories to read with your child from her favorite authors which will go along with the activities in the video. We will be using Seesaw to incorporate a social element to our virtual event. Seesaw allows you to have access to updates to the materials as well as the ability for your child to showcase their accomplishments with their peers. Registration for the event will add you to our Seesaw group. These videos will be posted on our website and our social media channels (Facebook, Instagram and Twitter) sometime in the afternoon. REGISTER ONLINE.

---
The Friends of Fredricksen Library would LOVE your unused gift cards and new or like-new treasures for the 21st Annual Online Auction in November! Each year, we are so grateful for the generosity of our community and the 100s of unique items and
gift cards they donate.
OR...Another great way to support Fredricksen AND local small businesses in this challenging time…
Support BOTH a local small business and the library by purchasing a gift card or item from your favorite shop or restaurant and donate it to the auction! It's a WIN-WIN! CLICK HERE for a list of local businesses that have generously donated to past auctions. OR - support a NEW business with your purchase!
Gift cards & donations can be dropped off at the library's reference desk, or sent by mail to:
Friends of Fredricksen Library, 100 N. 19th Street, Camp Hill, PA 17011.
Gift cards & donations should be received no later than Friday, October 16. If you have questions about donations, please call the Development Office at 717-761-3900, ext. 244 or email lmckissick@ccpa.net.

---
THANK YOU FOR ANOTHER GREAT YEAR OF
SUMMER READING!

Our 2020 Summer Reading Programs was virtual this year but still over 1,000 adults, children and teens registered for their respective reading programs at Fredricksen Library & East Pennsboro Branch! 100s of people became NEW cardholders over the summer and enjoyed our theme "Imagine Your Story!" with many related zoom programs.

CHILDREN'S:Fredricksen Children's Library still held their Summer Reading Program – virtually! Our summer readers totaled 600, and we awarded lots of free books and free Bruster's ice cream. We also held many virtual programs with over 1000 attendees and Grab & Go Bags!

TEENS: Fredricksen's Teens were also busy – virtually! The Summer Reading Program had 137 registrants with just as many book prizes. Our virtual offerings had close to 200 attendees, with our virtual Murder Mystery Party being the most popular! Our Teen's Create contest brought forth 51 teens sharing their creative endeavors, ranging from poetry to painting. Fredricksen's Gallery Wall was transformed for a few summer weeks with our teen's artwork.

ADULTS: Over 375 people registered to participate in this year's summer reading program for adults at Fredricksen Library. The participants read over 500,000 minutes, showed their love for the library and their neighborhoods, and imagined their own stories to earn entries for opportunities to win prizes. The 39 prizes were gift cards to local grocery stores and restaurants as well as free admission coupons to Longwood Gardens. Thanks to the Friends of Fredricksen for their ongoing support!

EAST PENNSBORO ALL-AGES: East Pennsboro Branch Library had 44 children, 14 teens, and 50 adults registered for this year's virtual summer reading. Our super dedicated summer readers read for an impressive 124,733 minutes. Thank you to all of our participants for a great summer! And a big thanks to the Friends of East Pennsboro Library for their ongoing support!

---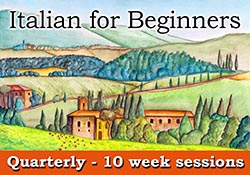 Italian For Beginners I - Fall Session
Thursdays, October 8 - December 17
5 pm - 6 pm ONLINE via Zoom
If you have always wanted to learn the Italian language and to share this passion with people who live in this area, this is a great time to do it in the comfort and safety of your home and in a fun and relaxed atmosphere. The current situation has opened up the opportunity to explore online instruction options to make the learning experience even more effective and enjoyable. GET ALL THE DETAILS HERE


---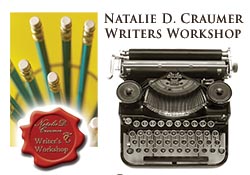 Natalie D. Craumer Writers' Workshop: Write Right Now
Tuesdays, September 8 – October 27
(no class September 22 or 29)
6:30 pm – 8:30 pm
in the Community Room, Lower Level*
Join author Catherine Jordan as she guides you on your writing path. Each class will open with a writing lesson followed by questions. At least one hour of time will be devoted to writing with the goal of learning to set a habit and overcome the "no time to write" excuse. Submission opportunities will be shared. Ages 18 and up. (Two make up classes will be held on Wednesdays in October via Zoom - TBD). *Please note - all in person events will require masks and social distancing. REGISTER ONLINE

---
During this unprecedented time, Fredricksen Library wants to do everything we can to support you from afar! Some of our Children's Library Staff will be posting online story times and videos about science, art and more! Watch for the videos and story times on social media OR see them all on our website HERE!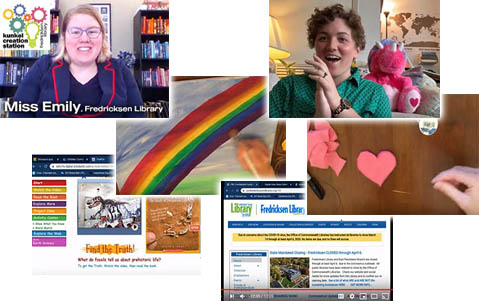 ---

FOR MORE INFORMATION ABOUT CYS, PLEASE CLICK HERE
---

Our electronic resources can be used from your own phone or computer to view movies (Kanopy), read books (Overdrive), catch up on studies (Tutor.com), see children's materials (Tumblebooks). Check databases to follow the stock market or do research. (Databases).
---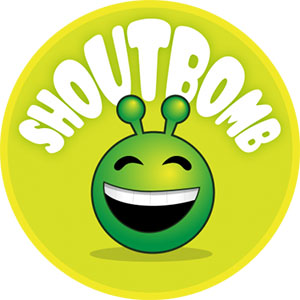 What Is Shoutbomb?
Shoutbomb is a service that helps you manage your library account via text messages – including renewals. In addition to receiving your library notifications via email, phone, or print, you have the option to receive text message notifications.
We'll text you:
Holds now available
Overdue notifications
Items due soon notifications
And you can even Renew eligible items via text
READ MORE
---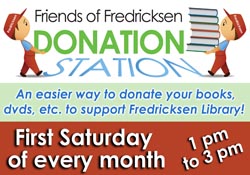 BOOK DONATIONS AND
DONATION STATION CANCELED
UNTIL FURTHER NOTICE
---
NOW! - Cardholders have FREE access to Tutor.com!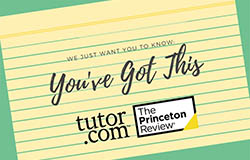 Tutor.com gives access to live, online tutoring and resume help as well as thousands of academic and career resources. It is for K-12 and college students who need help with homework, studying, projects, essay writing and test prep in every subject, including algebra, statistics, chemistry, physics, social studies and English. It is for adults who need help with job searches, GED prep and academic support. All sessions are online with professional academic or career tutors. Library cardholders and visitors in the library can work with an online tutor 7 days a week between the hours of 12 PM and 12 AM. ACCESS TUTOR.COM NOW!
---