STARTS TOMORROW AT NOON!
Come support the Friends of Fredricksen Library and help them "Clear the Basement!" with a Bag Book Sale! Purchase a bag from the reference or circulation desks for $10 and fill it up with ADULT NON-FICTION & FICTION. Thank you to KARNS for the reusable grocery bags!
There will NOT be any children's books or media at this sale. Only adult non-fiction and fiction books will be available. There will be a limit of 25 guests in the Community Room at a time to maintain social distancing. This may cause lines at the beginning of the sales.
Masks will be required by everyone who participates in the sale, as any other library event.
You can purchase as many bags as you want at the desks – there is no limit.
Books will continuously rotated every day, allowing for new titles on the tables every day.
You must use the bag that the library provides – no bins or personal bags will be accepted.
Coupons will not be accepted during this sale. Please hold on to your "Free Book" coupons for future sales in 2021.
---
Friday, October 16
5 pm to 8 pm via Zoom
It's a Mystery! We're bringing our popular Murder Mystery event to the web! Register online in advance to get information about your character, then join us by Zoom to figure out whodunit! This program is for grades 7 - 12.

Archibald Grim was a coldhearted miser who despised everyone in the town of Graymire. A greedy recluse, Mr. Grim only left his castle for his lucrative job as the president of First National Bank. Archibald spent his life hoarding his wealth and spewing hatred, sorrow, and despair across the city. It was no surprise when Archibald Grim's body was found by his housekeeper this morning. It appears that someone has slipped the chap a bit of poison. The burning question is - who is guilty? Is the killer an employee of the bank? A former colleague? His butler? Or might it be a family member who wants an inheritance? The Graymire police have listed you as a suspect in the murder of Archibald Grim. You must journey to the Grim Castle at the exact time on the notice that was sent to your home. It would be dangerous not to attend, as the police might consider your absence a confession. This is where your story begins. JOIN US!

---
TICKET SALES END TODAY!
6 PM IN THE LIBRARY AND 11:59 PM ONLINE

The Friends of Fredricksen Library are hosting their annual basket raffle! You can enter to win one of EIGHT different baskets this year! Tickets are on sale NOW through September 30 in-house at the library AND ONLINE!
In-House Tickets Can Be Purchased At The Reference Desk For $2.00 Each, 3 For $5.00 OR 10 For $15.00! Online tickets can also be purchased.
SEE ALL THE BASKET DESCRIPTIONS HERE!

---

Upcoming Book Discussions
Curl Up with the Classics:
The Maltese Falcon by Dashiell Hammett
Tuesday, October 6 - 10 am to 11 am via Zoom
Can private investigator Samuel Spade find the jewel-encrusted falcon before he is found? REGISTER ONLINE

Moving Forward Book Group:
Swimming in the Sink by Lynne Cox
Wednesday, October 7 - 1 pm to 2 pm via Zoom
October's choice is Cox's memoir of life after loss. REGISTER ONLINE
Fredricksen Reads: The Gifted School by Bruce Holsinger
Monday, October 26: 7 pm - 8 pm via Zoom
Holsinger's novel explores a group of friends and families that is nearly destroyed by their own competitiveness when an exclusive school for gifted children opens in the community. REGISTER ONLINE

Curl Up with the Classics: Babette's Feast by Isak Dinesen
Tuesday, November 3: 10 am - 11 am via Zoom
This novel describes the mysterious arrival of Babette into the life of two sisters and their pious community. REGISTER ONLINE
---
DVDs now ON SALE @ Fredricksen daily!
Stock up for those cozy fall and winter nights coming our way! Now on sale at our Book Sale Table (near the Circ. Desk) DVDs - just $2 each, with new ones added frequently. Adult & Children's Movies! Thank you for your support of Fredricksen Library with your purchases.
---
Business & Career Center @ Fredricksen Programs
We are now offering virtual resume, employment and career guidance sessions via Zoom, several new virtual workshops to help with Stress Management and Social Media, including our now-virtual career workshops focused on all aspects of employment, whether returning to current employ or searching for a new job or career. AND now, IN PERSON Computer Workshops, held in the Community Room, socially distanced.
Stay tuned for more upcoming programming and other important announcements—your future starts here! DOWNLOAD A PRINTABLE PDF LISTING ALL BCC PROGRAMS
Attitude is Everything! Staying Positive during Times of Change
As part of our "Personal (and Professional) Best" Series, join us for inspiration on how to frame your daily interactions, at work and home, into a mindset that increases your positive outlook. The bridge to personal and professional success is built by maintaining a positive attitude!
VIRTUAL WORKSHOP—Tuesday, October 13 from 3 pm – 4 pm- REGISTER ONLINE
IN-PERSON/BCC CLASSROOM—Tuesday, October 27 from 3 pm – 4 pm- REGISTER ONLINE


Budgeting Basics—VIRTUAL WORKSHOP
New to budgeting, or trying to get back on track? Discover the difference between "needs" and "wants", with information on how to handle each purchase type and create smart personal goals. Get useful tips for creating a spending plan that works for your income, putting you on the path to achieve your financial goals- REGISTER ONLINE.
Wednesday, October 14 from 11:00am – 12:00pm
Monday, October 19 from 6:00pm – 7:00pm


Virtual Resume Consultations and Career/Employment Guidance Sessions
BCC Specialists will be available for one-on-one virtual assistance with those who need guidance compiling their resume, completing online job applications and general help with employment and career resources. Please have your digital document (s) ready for sharing on Zoom! See below for times: Register now for a Zoom session, invite for virtual consult will be sent via email. We will be offering 30-minute virtual appointments via Zoom during the following days/times:
Mondays from 10:30 am - 1:30 pm and 4:30 pm - 7:30 pm via Zoom
Tuesdays, Thursdays and Fridays from 12 pm - 1:30 pm and 6 pm - 7:30 pm via Zoom REGISTER ONLINE

---
Digital Mission Transition
Wednesday afternoons
Join Miss Kayla for weekly videos to prepare your child for kindergarten. These videos will feature skills your student will need to help them have a successful start to kindergarten for the 2021-2022 school year. Miss Kayla will recommend stories to read with your child from her favorite authors which will go along with the activities in the video. We will be using Seesaw to incorporate a social element to our virtual event. Seesaw allows you to have access to updates to the materials as well as the ability for your child to showcase their accomplishments with their peers. Registration for the event will add you to our Seesaw group. These videos will be posted on our website and our social media channels (Facebook, Instagram and Twitter) sometime in the afternoon. REGISTER ONLINE.

---
DONATIONS ACCEPTED THRU OCTOBER 16
The Friends of Fredricksen Library would LOVE your unused gift cards and new or like-new treasures for the 21st Annual Online Auction in November! Each year, we are so grateful for the generosity of our community and the 100s of unique items and
gift cards they donate.
OR...Another great way to support Fredricksen AND local small businesses in this challenging time…
Support BOTH a local small business and the library by purchasing a gift card or item from your favorite shop or restaurant and donate it to the auction! It's a WIN-WIN! CLICK HERE for a list of local businesses that have generously donated to past auctions. OR - support a NEW business with your purchase!
Gift cards & donations can be dropped off at the library's reference desk, or sent by mail to:
Friends of Fredricksen Library, 100 N. 19th Street, Camp Hill, PA 17011.
Gift cards & donations accepted through Friday, October 16.
If you have questions about donations, please call the Development Office at 717-761-3900, ext. 244 or email lmckissick@ccpa.net.

---
---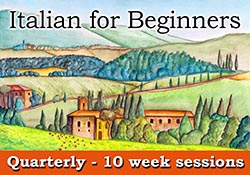 Italian For Beginners I - Fall Session
Thursdays, October 8 - December 17
5 pm - 6 pm ONLINE via Zoom
If you have always wanted to learn the Italian language and to share this passion with people who live in this area, this is a great time to do it in the comfort and safety of your home and in a fun and relaxed atmosphere. The current situation has opened up the opportunity to explore online instruction options to make the learning experience even more effective and enjoyable. GET ALL THE DETAILS HERE


---
September 8 through November 20
Register @ fredricksen.beanstack.org starting September 8.
ALL ages can participate in Fredricksen Library's Fall Reading Challenges!
Virtual Field Trip and Reading Challenge!
Ages: Kindergarten - Age 12 (Families are invited to participate)
STEAM at Home Challenges
Ages: All ages, families are encouraged to do it together!
10 to Try! Teen Fall Challenge
Ages: 12 - 18
and the Adult Reading Challenge!
Register your whole family at fredricksen.beanstack.org for the fall reading challenges starting September 8. Have a question? Use the Contact Us link at the bottom of the page at fredricksen.beanstack.org. Is there an app for that? Yes! You can use the Beanstack Tracker app (optional). JOIN US!
---
During this unprecedented time, Fredricksen Library wants to do everything we can to support you from afar! Some of our Children's Library Staff will be posting online story times and videos about science, art and more! Watch for the videos and story times on social media OR see them all on our website HERE!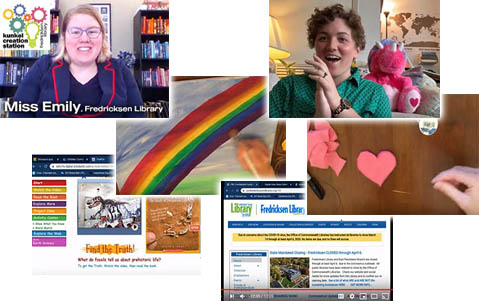 ---

FOR MORE INFORMATION ABOUT CYS, PLEASE CLICK HERE
---

Our electronic resources can be used from your own phone or computer to view movies (Kanopy), read books (Overdrive), catch up on studies (Tutor.com), see children's materials (Tumblebooks). Check databases to follow the stock market or do research. (Databases).
---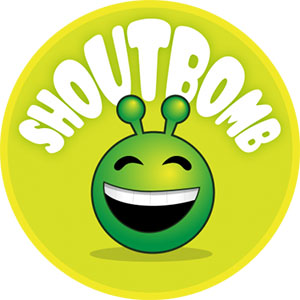 What Is Shoutbomb?
Shoutbomb is a service that helps you manage your library account via text messages – including renewals. In addition to receiving your library notifications via email, phone, or print, you have the option to receive text message notifications.
We'll text you:
Holds now available
Overdue notifications
Items due soon notifications
And you can even Renew eligible items via text
READ MORE
---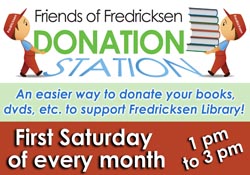 BOOK DONATIONS AND
DONATION STATION CANCELED
UNTIL FURTHER NOTICE
---
NOW! - Cardholders have FREE access to Tutor.com!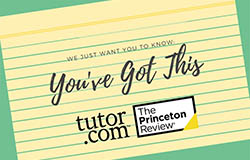 Tutor.com gives access to live, online tutoring and resume help as well as thousands of academic and career resources. It is for K-12 and college students who need help with homework, studying, projects, essay writing and test prep in every subject, including algebra, statistics, chemistry, physics, social studies and English. It is for adults who need help with job searches, GED prep and academic support. All sessions are online with professional academic or career tutors. Library cardholders and visitors in the library can work with an online tutor 7 days a week between the hours of 12 PM and 12 AM. ACCESS TUTOR.COM NOW!
---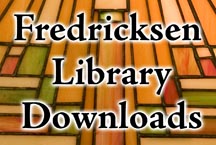 Get information and registration dates
on all programs!
DOWNLOAD the Fredricksen Library Newsletter
---