PRINT OUT A LIST OF ITEMS TO BROWSE
Get ready for the gift-giving season by bidding in our 2020 ONLINE Silent Auction!
With over 400 items, there is something for everyone! Artwork, gifts, books, children's items, local recreation & activities, holiday decor, food, gift cards and certificates, as well as special packages like Orthodontic services and more all donated by our patrons and local business partners. We are so grateful for the generosity of our community and the 100s of unique items and gift cards they donate.
BIDDING OPEN
FRIDAY, NOV. 6, 8 AM THRU
THURSDAY, NOV. 19, 8 PM

---
Fredricksen Library is a Polling Place, and to accommodate voting and adhere to CDC Covid-19 guidelines, all voters must enter and exit through the LOWER LEVEL ENTRANCE on Walnut Street. There will be NO ACCESS to the Lower Level from the Main Level. There are 2 parking lots on the Lower Level, including 4 handicapped spots and street parking. The Children's Library on the Lower Level will be CLOSED on Election Day. The Main Level of the library and all regular services will be available. Thank you.
---
WINTER WELLNESS
Tuesday, November 10
from 7 pm to 8 pm via Zoom
Join nutritionist, Sarah Glunz, MS, CNS, LDN, for ideas on how to thrive throughout winter. She'll discuss topics such as the importance of hydration even in the colder weather, how to combat carb cravings that often increase in winter and some ways to incorporate winter fruits and veggies. Bring your questions for a lively discussion that will get us more motivated to focus on our health and wellness throughout the winter months. Registration is required for Zoom link. REGISTER ONLINE
Sarah is the nutritionist at Natural Paths to Wellness, an alternative medicine center in Camp Hill. Visit their website at www.NaturalPathstoWellness.com for more information.

---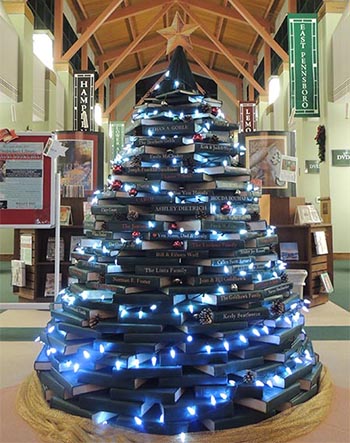 November
& December
in the Atrium
Honor a loved one and support Fredricksen Library on the 2020 Holiday Book Tree!
Dedications open Sunday, November 8 for this volunteer project, fundraiser and Fredricksen tradition, created entirely from withdrawn books.

For a donation in the amount you choose (minimum $10), patrons can have a name or family name placed on the spine of a book for the 2020 holiday season. Dedications available November 8 through December 18. Holiday cards are available for you to send to the recognized person or family if desired. If you can't get to the library to see your dedication, or for those long distance, all dedications will be posted on Social Media. Forms will be available at the Reference and Circulation Desks, can be printed from the website and mailed OR make your dedication request easily ONLINE, starting Sunday, November 8. GET MORE INFO HERE
---

Upcoming Book Discussions
Curl Up with the Classics: Babette's Feast by Isak Dinesen
Tuesday, November 3: 10 am - 11 am via Zoom
This novel describes the mysterious arrival of Babette into the life of two sisters and their pious community. REGISTER ONLINE

Moving Forward Book Group: Grit
by Angela Duckworth
Wednesday, November 4 - 1 pm to 2 pm via Zoom
November's choice is Duckworth's nonfiction book about the power of passion and perseverance. REGISTER ONLINE

Fredricksen Reads: Before We Were Yours by Lisa Wingate
Monday, November 23 - 7 pm to 8 pm via Zoom
Wingate's novel "reminds us how, even though the paths we take can lead to many places, the heart never forgets where we belong." REGISTER ONLINE



Curl Up with the Classics: Christmas-themed Short Stories
Tuesday, December 1 - 10:00 am to 11:00 am via Zoom
Join us online as we discuss "What Love Can Do" by Louisa May Alcott, "Christmas Day in the Morning" by Pearl S. Buck, "A Christmas Memory" by Truman Capote, and "The Burglar's Choice" by Willa Cather. REGISTER ONLINE

Moving Forward Book Group: Lucky Man:
A Memoir by Michael J. Fox
Wednesday, December 2 - 1 pm to 2 pm via Zoom
December's choice is Michael J. Fox's story of appreciating his life and career and sharing his work for a cure for Parkinson's.
REGISTER BEGINNING November 15
---
Digital Skills Club with the Kunkel Creation Station
Thursdays at 4 pm via Zoom
We're all spending a little more time in the digital world right now, so why not learn some new skills and have fun along the way? Join us weekly to learn new digital skills like making memes, turning a story into emojis, make your own comic strips, and more! Best for kids ages 9-15, please contact emcquiggan@ccpa.net if you are a younger or older person who wants to participate! REGISTER ONLINE for the Zoom link. *No program 11/26.

---
Business & Career Center @ Fredricksen Programs
We are now offering virtual resume, employment and career guidance sessions via Zoom, several new virtual workshops to help with Stress Management and Social Media, including our now-virtual career workshops focused on all aspects of employment, whether returning to current employ or searching for a new job or career. AND now, IN PERSON Computer Workshops, held in the Community Room, socially distanced.
Stay tuned for more upcoming programming and other important announcements—your future starts here! DOWNLOAD A PRINTABLE PDF LISTING ALL BCC PROGRAMS
The First Step:
Starting and Planning a Small Business Webinar
Thursday, November 5 from 9 am to Noon
This workshop will help aspiring entrepreneurs to begin the process of successful business
ownership including evaluating business ideas, developing a business plan, and exploring
financing options.
Attendees will learn:
Unique lifestyle requirements involved in owning a business
How to assess the feasibility of their business idea
Differences between business organization structures
How to develop a business plan
How to obtain financing
How to market their product or service
The applications and licenses needed to start their company
Cost: FREE
Registration: Register with the Shippensburg SBDC:
Register online at www.ship.edu/sbdc Email vkneiderer@ship.edu Call 717-477-1935
Location: The workshop will be held as a webinar. A link to attend the workshop will
be provided to attendees after registering for the workshop.
Contact: Call 717-477-1935 for more information or questions about the event.
---
Managing Stress during Times of Change
Tuesdays, November 10 and 17 at 3 pm via Zoom
Join us to refresh your perspective and add a few new tools to your career & life toolbox! Reducing stress is a major component to personal and professional success and happiness. Learn how basic breathing techniques, becoming mindful, reducing technology, and getting a good night sleep brings balance to each new day. Find out about positive stress, and how it can keep us moving forward! Register online for the Zoom link.
REGISTER FOR NOV. 10 REGISTER FOR NOV. 17

---
Keep it to Yourself: Controlling your Social Media
Fridays November 13 and 20 at 3 pm via Zoom
Social Media has become the new town hall with news articles, opinions, and, best of all, updates and photos from family and friends. In this workshop, we will talk about privacy settings, appropriate postings, and determine "what's what" on various platforms. We will place a focus on Facebook, the "granddaddy" of these outlets, with ways to find the right privacy settings for you, and keep your name, updates and information shared with only the people you choose. Register online for the Zoom link. REGISTER FOR NOV. 13 REGISTER FOR NOV. 20
---
Mark your calendars for these December Holiday programs!
4 Week Cozy Storytime: November 30 thru December 21
Baking & Sweet Treats! Videos are posted Monday afternoons.

Curl Up with the Classics Discussing Christmas -themed Stories
Tuesday, December 1, 10 am online via Zoom
Ages 18 and older. REGISTER ONLINE

Peaceful Poses Kids Yoga: Nutcracker Yoga Story Time
Thursday, December 3 at 11 am via Zoom, Registration Required

Fredricksen's Gingerbread Man Event Week!
Saturday, December 5 through Saturday December 12,
Ongoing Grab & Go Bag Events and Virtual Events
While Supplies Last!
Registration for all Gingerbread Events will open on Nov.15
Grab & Go Bag: Gingerbread Man Cookies with Icing and Decorations (Available December 5) Children of all Ages!
Grab & Go Bag: Winter-Inspired Craft with Miss Katharine and Pre-Recorded Video (Available December 5) Younger Children!
Grab & Go Bag: Gingerbread-Themed Painting with Miss Kayla and Pre-Recorded Video (Available December 12) Older Children!
Interactive Zoom Reading of The Gingerbread Man with Fredricksen Children's Staff (Wednesday, December 9 at 6 pm.)

Joy to the World! The Stories Behind Our Favorite Christmas Carols
Tuesday, December 8, 7 pm to 8:30 pm Via Zoom REGISTER ONLINE Nov. 15

A Christmas Stocking: Three Tales from Christmases Past
Thursday, Dec. 10 thru Sunday, Dec.13 (You pick the date!) Via YouTube
Register for the YouTube link beginning Nov. 15.
Holiday Harp Concert ONLINE!
Monday, December 14, 7 pm to 8:30 pm Via Facebook Live No registration necessary.

Kanopy Christmas Movie Watch Party: The Man Who Invented Christmas
Friday, December 18, 7 pm – 9:30 pm Via Kanopy & Facebook
Kanopy: www.kanopy.com
Facebook Event Page: https://fb.me/e/1J8WRecfE


There's still time to participate!
Now through November 20
Register @ fredricksen.beanstack.org starting September 8.
ALL ages can participate in Fredricksen Library's Fall Reading Challenges!
Virtual Field Trip and Reading Challenge!
Ages: Kindergarten - Age 12 (Families are invited to participate)
STEAM at Home Challenges
Ages: All ages, families are encouraged to do it together!
10 to Try! Teen Fall Challenge
Ages: 12 - 18
and the Adult Reading Challenge!
Register your whole family at fredricksen.beanstack.org for the fall reading challenges starting September 8. Have a question? Use the Contact Us link at the bottom of the page at fredricksen.beanstack.org. Is there an app for that? Yes! You can use the Beanstack Tracker app (optional). JOIN US!
---
During this unprecedented time, Fredricksen Library wants to do everything we can to support you from afar! Some of our Children's Library Staff will be posting online story times and videos about science, art and more! Watch for the videos and story times on social media OR see them all on our website HERE!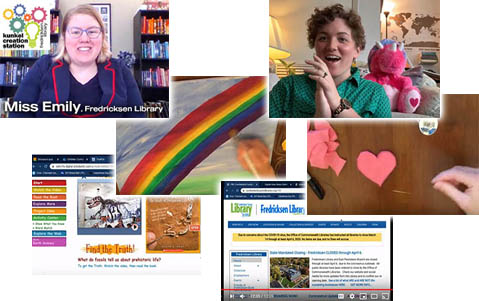 ---

FOR MORE INFORMATION ABOUT CYS, PLEASE CLICK HERE
---

Our electronic resources can be used from your own phone or computer to view movies (Kanopy), read books (Overdrive), catch up on studies (Tutor.com), see children's materials (Tumblebooks). Check databases to follow the stock market or do research. (Databases).
---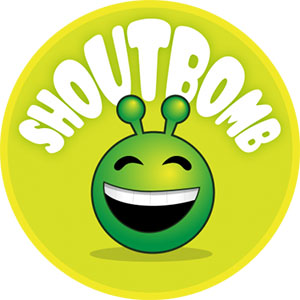 What Is Shoutbomb?
Shoutbomb is a service that helps you manage your library account via text messages – including renewals. In addition to receiving your library notifications via email, phone, or print, you have the option to receive text message notifications.
We'll text you:
Holds now available
Overdue notifications
Items due soon notifications
And you can even Renew eligible items via text
READ MORE
---
NOW! - Cardholders have FREE access to Tutor.com!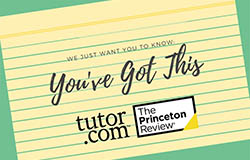 Tutor.com gives access to live, online tutoring and resume help as well as thousands of academic and career resources. It is for K-12 and college students who need help with homework, studying, projects, essay writing and test prep in every subject, including algebra, statistics, chemistry, physics, social studies and English. It is for adults who need help with job searches, GED prep and academic support. All sessions are online with professional academic or career tutors. Library cardholders and visitors in the library can work with an online tutor 7 days a week between the hours of 12 PM and 12 AM. ACCESS TUTOR.COM NOW!
---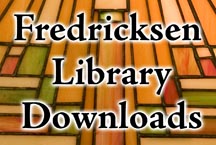 Get information and registration dates
on all programs!
DOWNLOAD the Fredricksen Library Newsletter
---