Start your holiday shopping, take a fabulous travel experience, try a new restaurant with a gift card, find a treasure for your home and support Fredricksen Library at the same time! With many starting bids under $10, and our many generously donated SPECIAL ITEMS below, there is something for everyone. This year we are privileged to offer these SPECIAL ITEMS:
Hilton & Diminick – Orthodontic Package
Value $6400 / Starting Bid $4500
YMCA Family Membership for a year - Value $1000 / Starting Bid $700
Just Plain Yoga - 3 months unlimited - Value $280 / Starting Bid $200
Camp Hill Animal Hospital $100 Gift Cert. - Value $100 / Starting Bid $75
Capital City Car Wash - Value $180 / Starting Bid $100
In addition, up for bids are restaurant gift cards, books, gifts, children's items, home decor pieces, Lenox and cut glass, food, retail gift certificates, theater, sports tickets and activities, West Shore Farmers' Market certificates and more all donated by our generous local business partners.
SEE THE AUCTION ITEMS & REGISTER!
NEW THIS YEAR!
Four Fabulous Travel Experiences! ...
Choice of Broadway Show, Dinner, 2-Night Stay at the Fairmont Chicago,
Millennium Park with Airfare for Two - Starting Bid: $2,950.00

Key West Marriott Beachside Hotel 3-Night Stay with Airfare for Two:
Starting Bid: $3,095.00

Hamilton Broadway Tickets, Rear Mezzanine, 3-Night Stay for Two:
Starting Bid: $3,095.00

Jack Daniel Distillery Tour and Tastings, Lunch, Transportation,
3-Night Stay in Nashville for Two: Starting Bid: $1,995.00
Help us reach our goal for our 20th Annual
Auction with your bids!
Thank You.
---
Oliver! The Musical @ Oyster Mill Playhouse
hosted by the Friends of Fredricksen
Tuesday, November 12
7:00 pm – Reception & Basket Raffle
7:30 pm – Curtain
Tickets are $30.00. Limited number of tickets available at the Reference Desk,
or call (717) 761-3900 x225.
"Bringing Charles Dickens' beloved novel to life, Lionel Bart's Oliver! takes audiences on a wild adventure through Victorian England. Join young, orphaned Oliver Twist
as he navigates the London's underworld of theft and violence, searching for a home, a family, and – most importantly – for love. With spirited, timeless songs like
"As Long as He Needs Me," "Food, Glorious Food," and "Where is Love," Oliver!
is a musical classic."
---
Attorney Brian J. Hinkle from
Mette, Evans & Woodside and Anthony M. Conte from Conte Wealth Advisors will address strategies for successful retirement planning. Learn more about:
• Tax-deferred savings opportunities
• Tax-free distributions opportunities
• Saving for and spending in retirement
• Planning for long term care costs
• Estate planning considerations

---
Murder at the Devonshire Manor
A Murder Mystery Party!
Wednesday, November 13 at 5:00 pm
The Devonshire Manor is an 18th century mansion on the outskirts of the town of Pinehorn. It was once owned by the wealthy Devonshire family and is a legendary estate to the citizens of Pinehorn. In their day, the Devonshires were beloved, treated as royalty, as they owned more than half of the businesses in town. The Devonshire Manor has exquisite architectural features, albeit weathered throughout the years. Weeds and high grass have long since replaced the flowering shrubs and ornamental trees that adorned the property in its day. The remaining Devonshire lineage passed away in the early 1900's, leaving their estate in the hands of the town of Pinehorn.

The townspeople have neglected to keep up with the place, mostly due to the legend that the Devonshires still roam the corridors at night. The mayor of Pinehorn has made it her quest to remodel and reinstate the Devonshire Manor as a historical bed and breakfast. She believes that the old estate can generate tourism and an income for the town of Pinehorn. Most of the townspeople stand behind her, although a few people are adamantly against her pursuit – stating that the place is haunted and should be left alone. The mayor cleaned up the dusty cobwebs and is hosting a fundraiser bash for the townspeople of Pinehorn. She hopes to raise enough funds for her remodeling endeavors.

You have been invited to attend the event and this is where your story begins… You will receive a character assignment and description in advance. This event includes games, dinner, dessert, and intrigue! For teens ages 12 - 18. Registration is required and a $3.00 ticket price to be paid at the event. CLICK HERE TO REGISTER
---
Library for Lunch –Celebrate the Harvest!
Monday, November 18 or Wednesday, November 20
12 pm to 1 pm
This event will be filled with stories, songs, and activities to correspond to the theme! Children should bring a bagged lunch and the library will provide a sweet treat. Registration is required and begins October 16. This program is recommended for ages 3 - 6 but younger and/or older siblings may attend.

---
2019
Annual Appeal
"Alone, we can do so little.
Together, we can do so much."
– Helen Keller
Pat yourself on the back. This year marks the completion of three construction projects that make a real difference in our service to you and your community. A new lower level entrance provides easy access to the Pollock Children's Library, the Ruggaber Community Room, and curbside drop off straight to the elevator. The Business and Career Center is up and running providing much needed job training classes, access to community resources, technology to enhance your at-home or online business, and a pathway to the jobs of the future. Finally, the Hoyt Reading Plaza provides a pleasant outdoor space to read, meet your friends, and enjoy the lovely grounds surrounding the library.READ MORE
---
The annual Volunteer Appreciation Dinner was held on Sunday, October 20 to thank our many volunteers for the time and dedication they provide to the Fredricksen Library and the East Pennsboro Branch. Over 135 volunteers attended the event, including Board of Trustees, Teen Advisory Group, Friends members and staff. The volunteers enjoyed sharing an evening together with those who hold one common interest, the love of the library. We thank our generous sponsors of the event, Gregg Aversa and The Friends of Fredricksen Library. Thank You to Al Holliday for many years of event photography and for the donation of prints for our volunteers.


Our volunteers donate approximately 15,000 hours a year, to the Library. During the volunteer dinner we recognize volunteers who demonstrated dedication and commitment towards the vision and goals of the library. Paula Shaner of Fredricksen Library and Mona Kreitzer of East Pennsboro Branch were honored as this year's Volunteer of the Year. In addition to our library volunteers, the Friends of Fredricksen Library and the Friends of East Pennsboro Library give hours of time and energy at fundraising events such as book sales, silent auctions and bake sales. This year the Friends of Fredricksen Library honored Betty Jordan and Friends of East Pennsboro Library honored Kathleen Ness & Debbie Lupold, as Friend of the Year.
A big Thank You to all our volunteers. We couldn't do it without you!
SEE PHOTOS OF THE VOLUNTEER DINNER
---
November & December in the Atrium...
The Fredricksen Library Holiday Book Tree Returns!
Honor a loved one and support Fredricksen Library on the 2019 Holiday Book Tree!
Dedications open Monday, November 4 for this volunteer project, fundraiser and Fredricksen tradition, created entirely from withdrawn books.
For a donation in the amount you choose (minimum $10), patrons can have a name or family name placed on the spine of a book for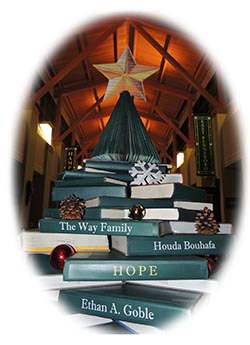 the 2019 holiday season. Dedications available NOW through December 18. Holiday cards are available for you to send to the recognized person or family if desired. And watch for YOUR dedications on Social Media. Forms are available at the Reference and Circulation Desks, OR make your dedication request ONLINE, starting Monday, November 4th.
---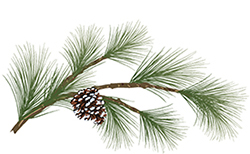 Holiday Closings
Thursday, November 28 - Closed
Tuesday, December 24 - Closed
Wednesday, December 25 - Closed
Tuesday, December 31 - Closing at 5 pm
Wednesday, January 1 - Closed
---
Business & Career Center
Upcoming Programs
Get complete info and REGISTER HERE!

Mock Interview Sessions - BCC HUB - Register now, by appointment - 2nd Wednesdays from 2:00 pm – 4:00 pm
Career Exploration Workshops
Tuesdays from 10:30 am-11:30 am and from 4:30 pm-5:30 pm

Resume Writing Workshops
Thursdays from 11:30 am-12:30 pm and from 5:30 pm-6:30 pm

Get That Job! Workshops
Fridays from 10:30 am-11:30 am and from 4:30 pm-5:30 pm

Walk-in Sessions - BCC Classroom - No registration necessary
Mondays, Tuesdays and Fridays from 11:30 am to 1:30 pm
Mondays, Tuesdays and Fridays from 5:30 pm to 7:30 pm
Thursdays from 12:30 pm to 1:30 pm
Thursdays from 6:30 pm to 7:30 pm

Home-Based Business Roundtables with SCORE
2nd Tuesdays of each month, 12 pm - 1:30 pm
4th Tuesdays of each month, 6:00 pm - 7:30 pm
AND...watch for additional Computer Courses and Banking, Budgeting & Retirement Courses returning in the new year!
GET COMPLETE INFO AND REGISTER HERE

---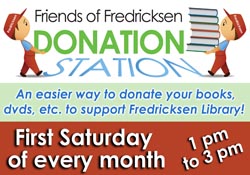 DRIVE IN DONATION OF YOUR BOOKS, DVDS, CDS, GAMES, ETC!
The Friends of Fredricksen have established Donation Station on the first Saturday of every month from 1 pm to 3 pm to process the donation of books and media for our Spring and Fall Book sales. Volunteers will be able to assist unloading your donations. We hope to provide convenience to you, our donors, and streamline our process for donations. During Donation Station hours, please park on the Walnut Street side parking area at the lower level employee entrance door. Donations at all other times can be given at the Reference Desk.

---
Kanopy Streaming Service!
Cumberland County library card holders can now stream four movies a month with Kanopy, our new media streaming service. A wide range of foreign films, documentaries, and classics can be streamed from any computer, television, mobile device, or platform by downloading the Kanopy app for iOS, Android, AppleTV, Chromecast, or Roku. Loan periods allow patrons three days of unlimited viewing per film and simultaneous use. GET MORE INFORMATION BROWSE THE 1000s of FILMS
---
Create a Username!

You now have the option of creating a username which you can use
instead of your library card number to log in to many
Cumberland County Library System Services!

Usernames work with the following services:
Your Library Account ~ Self-Checkout Stations ~ SAM Sign-Up Stations
Public Internet Computers ~ SmartPay Online Fine Payment

Usernames work with the following databases:
Learning Express Library ~ Morningstar ~ MyHeritage
Novelist Plus ~ Reference USA
Create a Username NOW
---
At our East Pennsboro Branch....
Holiday Story Times with Mrs. B
Tuesdays November 26 through December 17
Join Mrs. B for holiday story times and activities at the library for children ages 2 ½ to K. Choose either the 10:00 (ages 3 1/2 to K) or 11:00 am (ages 2 ½ to 3 ½) session. Sessions run about 30 minutes. Register by calling (717) 732-4274.
Girl Scouts Story Time

Thursday, November 14 at 6:30 pm
Join the Girl Scouts for a fun story time and craft! Registration required.
---
@ Fredricksen Library
Harp & Handbells Concert - Mon 12/16 @ 7 pm
Trivia After Hours: Holiday Pop Culture & Ugly Sweater Contest! (B.Y.O.B.) - Sat - 12/14/ @ 7 pm
Library for Lunch - The Gingerbread Man! -
Mon 12/2 at 12 pm or Wed 12/4 at 12 pm or Tues 12/10 at 6 pm
Perler Bead Ornaments - Tue 12/3 or Thurs 12/5 at 5:30 pm
Peaceful Poses Nutcracker Yoga Story Time - Fri 12/13 at 10:15 am
Teen DIY Card Making - Mon 12/09 at 4 pm
@ East Pennsboro Branch
Holiday Storytimes with Mrs. B - Tue 11/26, 12/3, 12/10, 12/17 at 10 am and 11 am
Annual Tree Lighting Ceremony and Visit with Santa - Wed 12/4 at 5 pm Christmas Magic Show - Sat 12/7 at 10:30 am