The BETTER New Normal
Greetings from the inside of the quiet Fredricksen Library. It is different from the hustle and bustle of normal daily service…but… like a seed planted in the rich spring soil, we are putting down roots that will soon bear fruit.
These times can be challenging, that's for sure. We praise the steadfast efforts of healthcare workers, families with too much togetherness, and those who wish they had more togetherness. Every individual's experience seems to be different, in ways that previously didn't seem as obvious. We aren't all experiencing this in the same way. As I read the other day, "We are all in the same storm, but not all in the same boat."
What we are discovering at Fredricksen and the East Pennsboro Branch, as we work onsite and remotely, is that operations are being strengthened in ways that could never have happened without a shut-down. When we reopen to the public, perhaps in early June, we will be BETTER.
Children's programmers

have worked tirelessly to put programs online. These programs have been viewed 1000s of times. Stuffed animals that make an appearance in our storytimes have become "stars," and children at home can even learn Spanish through our bilingual story times. The STEM MakerSpace is online, too, for science and craft enrichment, as well as Quaran-TEEN Talks about what we have been reading and watching. We are investigating ways to get craft/activity packets into the community for families to pick up. The beautiful Grandon Story Walk will be installed at Creekview Park in Hampden Township soon. This has all vastly improved our outreach.
Adult programs

are being moved online as well.Book groups, business and job seeking resources, exercise classes, garden tours, films, electronic book collections…all are available now from our website at

www.fredricksenlibrary.org

or Facebook and Instagram. It may be a while before we can welcome concert crowds again to our grounds, but in the meantime, innovation is driving remarkable offerings available from your phone or laptop.

Funding the library

. Our Blueberries for Books ordering period just opened, so please place your orders soon. We have also been surprised and grateful for unexpected donations during the shut-down. We are especially grateful for little notes that have accompanied donations: Miss you Guys. Please open again soon. Life isn't the same without Fredricksen.
When we do re-open, activity will be clean and safe. Operations are streamlined and creative in new ways. As long as face coverings are required, we will use them, but please know that the eyes above those masks are smiling at you, making sure that your experience at Fredricksen is good in ever new ways. The new normal will be better.

Bonnie Goble
Director
Cleve J. Fredricksen Library
---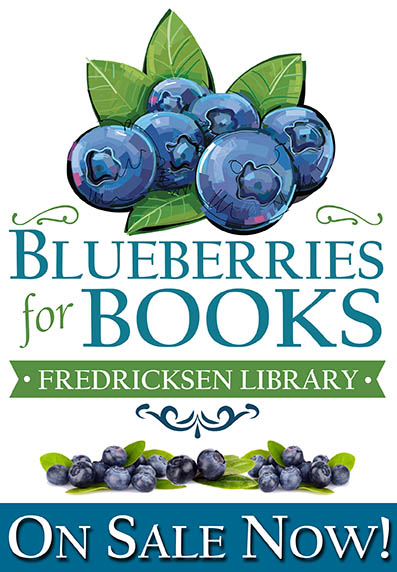 The Blueberries are Coming! Order NOW ONLINE
with PayPal, or mail in your ORDER FORM and payment to the library.

During these unprecedented times, the Fredricksen Library and East Pennsboro Branch are relying on donations which enable us to offer the very best programs and online services. These services are needed now more than ever. When you support library fundraising, YOU are helping your community!

GIVEAWAY!!
For every box of blueberries you order in the month of May, you will be entered to win an EXTRA BOX of blueberries and a Very Blueberry cookbook! Once you submit your orders, you will automatically be entered to win! Click below for easy ordering!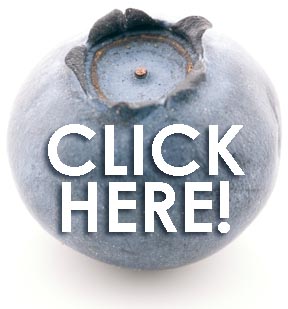 ORDER ONLINE or in the library upon reopening.
Pick up Thursday, July 2 from 10 am to 6 pm with easy drive-thru pickup - staff will load boxes into your car.
10 lb boxes are only $30! (+ $1 fee for online ordering)
DOWNLOAD an ORDER FORM to mail in to Fredricksen with your payment
AND remember to take your best guess every Monday in May with our Blueberry Facebook Trivia and you could win a gift card!

---
THANK YOU STITCHERS CORP OF CENTRAL PA!
Stitchers Corp of Central PA is a group of volunteers determined to protect those on the front lines of the COVID19 Crisis in Central Pennsylvania. Formed on March 20, the brainchild of Sean Patrick Quinlan and coordinated by Sarah Yerger and Jessica Beamesderfer, the group's members are of all genders and races, committed to caring for our community. Crafters, shoppers, (self-described) hoarders and drivers are putting their special skills to work. As of May 1st, volunteers have made and distributed 15,400 masks!
With Fredricksen Library happily preparing to reopen, a search for face masks began. Stitchers Corp came through and made masks for the entire staff! Thank you to this wonderful organization! Learn more about the group on their facebook page - or consider a go fund me donation.

---

Have you read a good book lately? So have we! Let's talk books!
Our Book Discussions have moved ONLINE for May. Join us--
1) Register for the book discussion(s) that you would like to attend. Register early, limited registrations will be accepted to facilitate good discussions
2) You must have read or listened to the book to attend. Ages 18 and older.
3) The day before the book discussion, watch for an email that gives you the information to attend the book discussion via the Zoom platform.
Zoom is easy to use! On the day and time of the book discussion, you'll use the web address in the email either in your web browser or in the Zoom app (for Apple devices). Then, you'll enter the meeting login information from the email to join us. See all the selections, Register, and Get More Info below.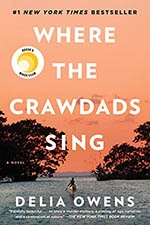 Fredricksen Reads - Where the Crawdads Sing by Delia Owens
Saturday, May 16, at 10:00 am via Zoom
Where the Crawdads Sing is at once an exquisite ode to the natural world, a heartbreaking coming-of-age story, and a surprising tale of possible murder. REGISTER NOW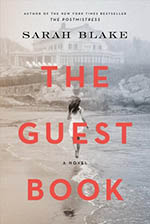 Fredricksen Reads - The Guest Book by Sarah Blake
Monday, May 18 at 7 pm via Zoom
The Guest Book is an unforgettable love story, a novel about past mistakes and betrayals that ripple throughout generations.
REGISTER NOW


Curl Up with the Classics - Ulysses by James Joyce
Thursdays in June & July at 8 pm via Zoom
Join us as we discuss James Joyce's Ulysses in nine sessions:
June 4—Part I: Telemachus & Nestor & Proteus; June 11—Part II: Calypso & Lotus Eaters ; June 18—Part II: Hades & Aeolus ; June 25—Part II: Lestrygonians & Scylla and Charybdis ; July 2—Part II: Wandering Rocks & Sirens ; July 9—Part II: Cyclops & Nausicaa ; July 16—Part II: Oxen of the Sun & Circe ; July 23—Part III: Eumaeus & Ithaca ; July 30—Part III: Penelope
You must have read or listened to the applicable sections of the book to attend. Ages 18 and older, please. Register now and you will be contacted with more information. REGISTER NOW
---



Trying to keep busy while you're cooped up at home, but don't have a library card? Now's your chance! Sign up for a Digital Access Card online and you can have access to many resources right at your fingertips such as:

· Tutor.com where students can access live online tutoring, essay writing help, and test prep in every subject. Adults can get help with resumes, GED prep, and academic support.
· eBooks and eAudiobooks through Overdrive and Libby, TumbleBooks, TrueFlix, and BookFlix.
· MyHeritage to start or continue your genealogy research.
To sign up or for more information, go to DIGITAL ACCESS CARD SIGN UP

---
Enjoy this collection of videos, musical performances, websites, virtual tours, the arts, nature and more from the comfort of your home! Enjoy virtual experiences like...
Vienna Philharmonic / 'Imperial March' / Star Wars SEE MORE!
---
Bilingual Storytimes, Trivia, STEM Activities, Crafts,
Quaran-Teen Talks and MORE!
During the State Mandated Closure, Fredricksen Library wants to do everything we can to support you from afar! Our Children's Library Staff have been posting online story times and videos about science, art and more! Watch for the videos and story times on social media daily OR see them all stored on our website HERE!
---
The Business & Career Center @ Fredricksen (BCC) can help you navigate through these unsure times - on our website is a list of updated resources that you or your business may need in the immediate future, or to assist in the journey with your long term goals. Check our BCC Resource Corner regularly for the most up-to-date information. CLICK HERE to access the dozens of resources.
---
Fredricksen Library Summer Reading Program 2020
June 8 through August 9
WE'RE GETTING READY!
Register for this program starting June 8th, and read great books! Participate by logging your reading and activities completely online using Beanstack or on a paper log from the library. However you do it, you will be entered to win one of our grand prizes! NEW THIS YEAR--Families who read together can all earn tickets for the grand prize drawing. Sponsored by Friends of Fredricksen Library.
* If you register JUNE 8th through JUNE 21st for Summer Reading and/or register for a new library card, you will be eligible to win a fun summer prize such as family pool memberships OR an iPad! Watch for more details!
---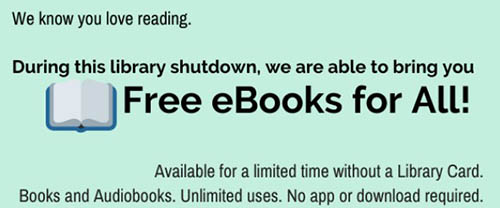 Our electronic resources can be used from your own phone or computer to view movies (Kanopy), read books (Overdrive), catch up on studies (Tutor.com), see children's materials (Tumblebooks). Check databases to follow the stock market or do research. (Databases).
---
Please check on our website homepage for the latest info on our reopening date and if programs are canceled or postponed.
Recurring programs returning soon:
Mock Interview Sessions
Career Exploration Workshops
Resume Writing Workshops
Get That Job! Workshops
Walk-in "Question & Answer" Sessions
Excel Q & A and QuickBooks Q & A
Home-Based Business Roundtables with SCORE
GET COMPLETE INFORMATION ON UPCOMING PROGRAMS
---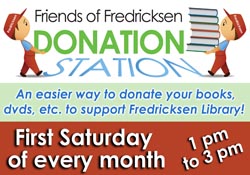 CANCELED UNTIL FURTHER NOTICE -DONATION STATION
DRIVE IN DONATION OF YOUR BOOKS, DVDS, CDS, GAMES, ETC!
During Donation Station hours, 1 pm to 3 pm, please park on the Walnut Street side parking area at the lower level employee entrance door. Donations at all other times can be given at the Reference Desk.

---
Due to the closure, we are pushing back our Earth Day writing contest and including it in the Teens Create Contest for summer 2020! Details are on our website.
Teens Create! Contest
Saturday, June 6 - Sunday, July 12
Enter our 4th Annual Teen Creative Expression Contest. Submissions will be accepted in 5 categories: painting/illustration, photography, poetry, short story, and a new category--audio/visual.
---
NOW! - Cardholders have FREE access to Tutor.com!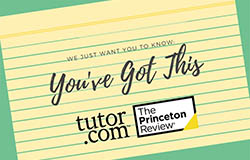 Tutor.com gives access to live, online tutoring and resume help as well as thousands of academic and career resources. It is for K-12 and college students who need help with homework, studying, projects, essay writing and test prep in every subject, including algebra, statistics, chemistry, physics, social studies and English. It is for adults who need help with job searches, GED prep and academic support. All sessions are online with professional academic or career tutors. Library cardholders and visitors in the library can work with an online tutor 7 days a week between the hours of 12 PM and 12 AM. ACCESS TUTOR.COM NOW!
---
For The Safety Of Our Patrons, Staff And Volunteers, All May Programs Will Be Postponed Or Canceled. Check Back Upon Our Reopening For Information On Summer Programs.
---