A (Virtual) Celtic Concert with Seasons!
Wednesday, March 17
7 pm – 8 pm via Facebook Live
We may not be able to gather for a concert, but we won't let St. Patrick's Day pass us by without the musical styling of Seasons! The Lee siblings have toured in multiple states and countries and have opened for artists as varied as Grammy-award-winner Ashley Cleveland, Scythian, and Celtic Fiddle Festival. Seasons has performed on both regional and national television and been featured at many national Celtic festivals. Now they will whisk you away to the Emerald Isle and leave you humming a merry tune this St. Patrick's Day! No registration necessary.
WATCH ON FREDRICKSEN FACEBOOK LIVE on 3/17
Sponsored by the McCormick Family Foundation.
---
Cumberland County
Library System
Mobile App
Download our mobile app, Library2Go, which provides quick and easy access to your library account and many of our services! The app is free and can be downloaded to mobile devices. Search for Cumberland County Libraries PA in the Apple App Store and Google Play Store, or scan this QR code with the camera app on your mobile device. GET MORE INFO.
---
The Friends need your help!

An anonymous donor is willing to donate $1,000 to the Friends of Fredricksen Library if they receive 100 memberships by the end of March! Help them reach their goal and become a Friend today!

JOIN THE FRIENDS!

You might be wondering...who are the Friends of Fredricksen Library?
The Friends are your neighbors who are dedicated to supporting the Fredricksen Library by volunteering, advocating for library funding and raising funds to help meet the costs of the Fredricksen's special programs and new equipment. Proceeds from membership fees, and various fundraisers are used in consultation with library staff to continue the programming and services offered. Every year, the Fredricksen Library provides free resources and services to millions of patrons with the help of the Friends of the Library. Thanks to our friends, the library is able to fill budget needs not covered by the library budget.
Just last year, the Friends donated over $44,000 to library programming and building needs! Funds raised in 2021 will be used for children's, teen and adult programming, summer reading prizes, staff appreciation, and book pages subscription.

If you join today, your membership will help aid the library in supporting all of the valuable resources that our community has come to love! If you have any questions about the Friends of Fredricksen, please contact the Development Office at (717) 761-3900 x244, or at lmckissick@ccpa.net.

---
Celebrating Longwood Gardens Community Reads Book!
In coordination with the Longwood Gardens Community Reads Book, you are invited to decorate a birdhouse and enter it into our Birdhouse Decorating Contest! The birdhouses may be submitted on March 26 & 27 and will be displayed at the library during the month of April. The prize categories are Best for the Birds, Most Creative Upcycle, and Favorite Book Character. Open for all ages! Get more details and the contest rules and entry form at the Reference Desk OR DOWNLOAD HERE.
Fredricksen Reads:
The Home Place
by J. Drew Lanham
Monday, March 22 - 7 pm to 8 pm via Zoom
Join us for this month's discussion of The Home Place: Memoirs of a Colored Man's Love Affair with Nature. Read this year's Longwood gardens Community Reads book choice to "follow the author's journey as a successful, wildlife ecologist who along the way uncovers lessons about legacy and his own need to inject deeper sense of human caring into his life and work." You must have read or listened to the book to attend. Ages 18 and older, please. REGISTER NOW for the Zoom link.
STEM Storytime - Ruby's Birds
Wednesday, March 24 at 5 pm via Zoom
Join us for a special virtual event to celebrate this year's Longwood Gardens Community Read: Ruby's Birds! We will read the Book Ruby's Birds by Mya Thompson and do activities related to the book. Sign up online to reserve your space! Best for children 3 to 5 years old, but all are welcome! REGISTER NOW AND - The Fredricksen StoryWalk (Creekview Park North, 4630 Creekview Road, Mechbg) book for Spring will be Ruby's Birds!
---
Gardening with Nature: Small Gardens for Big Impact
Thursday, March 18 - 7 pm to 8:30 pm via Zoom
Fredricksen Library has teamed up with Penn State Master Gardeners to bring you a series of workshops that will show you how to garden with nature. In this session, Master Gardener June Hoch will discuss designing tiny gardens for maximum natural benefit. Cost: $5.00. REGISTER NOW
THIS MONTH IN THE FREDRICKSEN DISPLAY CASE:
Penn State Extension Master Gardeners
Master Gardener volunteers support Penn State Extension's educational programs in consumer horticulture. They develop their horticultural expertise through participation in educational training classes conducted by Penn State University faculty and Extension staff. Watch for their upcoming programs at Fredricksen!
---
Join us on Zoom to chat about Guys and Dolls while we watch it together on Kanopy! You'll get fun pop-up facts throughout the movie. All you need is a library card! For teens ages 12 – 18. REGISTER NOW in order to receive the Zoom link.
---
Soar the Sky with
The Little Prince
Tuesday, March 16
at 6 pm via Zoom
Enjoy a reading from the classic French tale by Antoine de Saint-Exupery, and then make a beautiful hot air balloon craft to inspire the explorers in all of us! Recommended Ages, 5 - 10. Registration required for Zoom link and begins March 1. Bag available March 13. REGISTER NOW.


---
Truman Presidential Library & Museum (Virtual) Tour and Discussion
Monday, March 15 from 7 pm to 8 pm via Zoom
Established in 1957, the Harry S. Truman Presidential Library & Museum preserves and provides access to President Truman's historical materials. The Truman Library is one of fourteen Presidential Libraries operated by the Federal government. It's all the way out in Missouri, but now you can experience it virtually! Join Mr. Sam Rushay, supervising archivist at the Truman Library as he introduces you to the library's history and leads you through a virtual tour, followed by a Q&A session. Registration is required for Zoom link. This program is in partnership with the World Affairs Council of Harrisburg. REGISTER NOW

---

You must have read or listened to the applicable sections of the book to attend.
Ages 18 and older, please. Registration required.
Fredricksen Reads:The Water Keeper By Charles Martin
Saturday, March 13 - 9 am to 10 am via Zoom
Join us on this Saturday morning to discuss a story of love, loss, and redemption—Charles Martin's The Water Keeper. REGISTER NOW for the Zoom link.
Fredricksen Reads: The Home Place by J. Drew Lanham
Monday, March 22 - 7 pm to 8 pm via Zoom
REGISTER NOW for the Zoom link.
Curl Up with the Classics:
The Three Musketeers
Thursday, March 25 - 8 pm to 9 pm via Zoom
Join us online as we discuss Alexander Dumas' The Three Musketeers in a special 6-week series. REGISTER NOW for the Zoom link. March 25 - chapters 1-10, April 1 - chapters 11-20, April 8 - chapters 21-30, April 15 - chapters 31-43, April 22 - chapters 44-56, April 29 - chapters 57-epilogue.
Curl Up with the Classics: The Hound of the Baskervilles
Tuesday, April 6 - 10 am - 11 am via Zoom
Join us online as we discuss this month's Curl Up with the Classics book choice The Hound of the Baskervilles by Sir Arthur Conan Doyle. How will Sherlock Holmes and Dr. Watson solve this mystery surrounding the Baskerville family? REGISTER NOW

Moving Forward Book Group:
In the Springtime of the Year
Wednesday, April 7 - 1 pm – 2 pm via Zoom
Moving Forward is geared towards those who have suffered a loss or tragedy and could use an infusion of hope. In cooperation with Hospice of Central PA, we will be reading Susan Hill's novel about a young widow's "quiet determination to emerge from this tragedy with her integrity and independence intact." REGISTER NOW

Fredricksen Reads: Midnight in Chernobyl

Monday, April 26 - 7 pm - 8 pm via Zoom
Join us for this month's discussion of Midnight in Chernobyl: The Untold Story of the World's Greatest Nuclear Disaster by Adam Higginbotham on the anniversary of when it happened. REGISTER NOW
---
DEADLINE APPROACHING!
PAVERS @ Fredricksen Library
You can still become a permanent part of the Fredricksen Library today!
We are planning another installation for the Spring of 2021! Orders will be due no later than March 31, 2021.
Help us "Pave the Way to Open Doors" by engraving a paver (or two!) in honor or in memory of family, friends, loved ones, pets, an organization, or special occasion. Paver order forms can be downloaded HERE.
Please fill out the brochure and mail it to the Fredricksen Library, ATTN: Development Office, 100 N. 19th Street, Camp Hill, PA 17011. Please include either a check or your credit card information.
If you order through PayPal, you will still need to send in a completed order form to the library, or you can email the completed form to lmckissick@ccpa.net.
If you would like to order over the phone, please call Development at (717) 761-3900 x236. You can also stop by the Reference Desk at the library to order. Thank You!
---
Spring Story Time with Miss Emily and Roasty the Cat
Monday Afternoons,
March 22 - April 26
Join Miss Emily and Roasty the Cat Librarian for stories and songs about Incredible Insects! Miss Emily will be sharing themed story times from her cozy home each week to keep us all connected. Best for ages 3 - 6. Posted Monday afternoons to our website and social media, no registration required.
---
Join us for our first-ever spring reading challenge for ALL ages. It starts on the first day of spring (March 20) and ends on Arbor Day (April 30). We'll be reading and doing activities related to new beginnings, fresh starts, and growth!
REGISTER starting March 20 - read great books and you could win great prizes!
---
Business & Career Center @ Fredricksen Programs
We are now offering virtual resume, employment and career guidance sessions via Zoom, and several new virtual workshops to help with Time Management and Job Searches. Our now-virtual career workshops focus on all aspects of employment, whether returning to current employ or searching for a new job or career. AND now, IN PERSON Computer Workshops, held in the Community Room, socially distanced. Stay tuned for more upcoming programming and other important announcements—your future starts here!
---
Home-Based Business Roundtable with SCORE — VIRTUAL Session
Has it always been your desire to become an entrepreneur, or has the pandemic caused you to consider starting an online or home-based small business? Facilitated by SCORE on Zoom, join other small business owners in similar circumstances to network and share ideas about how to move forward in the capacity which suits your individual situation. Register online to receive a Zoom invite.
2nd Tuesdays of each month from 12 pm – 1:30 pm - REGISTER
4th Tuesdays of each month from 6 pm – 7:30 pm - REGISTER
---
Crafting the Cover Letter
VIRTUAL WORKSHOP— Thursdays, March 11, April 8 and May 27 at 3 pm
Finalizing the application process with a targeted cover letter can leave us weary and frazzled to produce one more important step before pressing that "submit" button! Join us to learn the best tips to follow when crafting a short, concise, yet powerful statement that will introduce your highlights to put you in the "keep" pile for a future interview. Register online for Zoom link. REGISTER NOW

---
Avoiding Identity Theft
and Scams
VIRTUAL WORKSHOP—Tuesday, March 9 at 6 pm and Tuesday, March 23 at 11 am
We'll explore the various methods used to target and steal individual's identities, how to stop theft from occurring and what you can do if you suspect that your identity has been stolen. We will also review common scams and frauds, then discuss what you should do if presented with a financial offer that seems "too good to be true." This program is presented by the PA Dept of Banking and Securities. Registration is required for Zoom link. REGISTER NOW

---
Virtual Career Guidance Sessions
BCC Specialists will be available for one-on-one virtual assistance with those who need guidance compiling their resume, completing online job applications and general help with employment and career resources. Please have your digital document (s) ready for sharing on Zoom! See below for times: Register now for a Zoom session, invite for virtual consult will be sent via email We will be offering 30-minute virtual appointments via Zoom during the following days/times:
Mondays Tuesdays, Thursdays and Fridays from 12 pm through 1:30pm and
from 6 pm through 7:30 pm REGISTER ONLINE
See more upcoming 2021 Business & Career Center programs HERE
---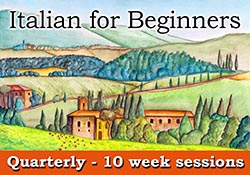 Italian for Beginners I - Spring Session
Thursdays, April 1 - June 3
5:00 pm - 6:00 pm ONLINE via Zoom
GET DETAILS & REGISTER
Italian for Beginners II - Spring Session
Thursdays, April 1 - June 3
6:30 pm - 7:30 pm ONLINE via Zoom
GET DETAILS & REGISTER
---
Virtual Author Talk
with Phaedra Patrick
hosted by the State Library of Pennsylvania
Wednesday, April 7 at 12:00 pm
In February we read and discussed the book The Curious Charms of Arthur Pepper, this year's One Book One Community choice. Join the State Library of Pennsylvania to meet and chat with author Phaedra Patrick on April 7 at 12:00 pm.
Phaedra Patrick is the international bestselling author of several books including The Curious Charms of Arthur Pepper, which has been translated into over twenty languages worldwide. She enjoyed her first real writing success when she entered and won several short story competitions, and she now writes full time. She lives in Saddleworth, UK.
Registration: Send an email with your name and the name of the event you want to attend to ra-edmakerspace@pa.gov in order to receive a secure link to participate in this free live virtual event via the Zoom platform.
This program is being hosted by the State Library of Pennsylvania. Please contact them at the email above with any questions.
---
Travel Live Thursdays - Galapagos
Thursday, March 25
5:30 pm - 7 pm via Zoom or Facebook Live
In partnership with the World Affairs Council of Harrisburg and Philadelphia, we are pleased to offer you Travel Live Thursdays! Join us at 5:30 pm EST on the last Thursday of each month to experience the best of virtual travel. Each month will be a new location to discover! In March, we "travel" to the Galapagos with Darrel Schoeling, Director of Expedition Development Ecuador & Peru, Karen Kuttner Dimitry of Lindblad Expeditions, and Dr. Joyce M. Davis, President of World Affairs Council - Harrisburg. Join via Zoom if you want to actively participate or Facebook Live if you prefer to just observe. REGISTER ONLINE or watch at www.facebook.com/WACHarrisburg. (April 29 - Tanzania, May 27 - France)
---
During this unprecedented time, Fredricksen Library wants to do everything we can to support you from afar! Some of our Children's Library Staff will be posting online story times and videos about science, art and more! Watch for the videos and story times on social media OR see them all on our website HERE!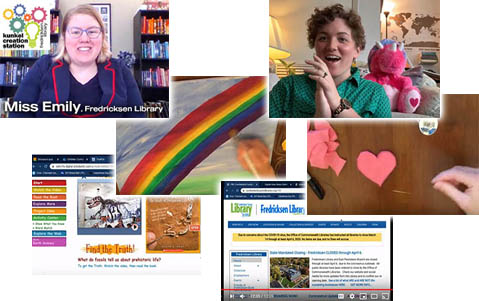 ---

Our electronic resources can be used from your own phone or computer to view movies (Kanopy), read books (Overdrive), catch up on studies (Tutor.com), see children's materials (Tumblebooks). Check databases to follow the stock market or do research. (Databases).
---
NOW! - Cardholders have FREE access to Tutor.com!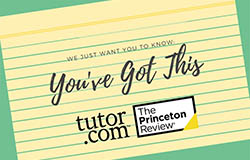 Tutor.com gives access to live, online tutoring and resume help as well as thousands of academic and career resources. It is for K-12 and college students who need help with homework, studying, projects, essay writing and test prep in every subject, including algebra, statistics, chemistry, physics, social studies and English. It is for adults who need help with job searches, GED prep and academic support. All sessions are online with professional academic or career tutors. Library cardholders and visitors in the library can work with an online tutor 7 days a week between the hours of 12 PM and 12 AM. ACCESS TUTOR.COM NOW!
---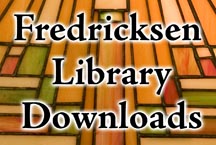 Get information and registration dates
on all programs!
DOWNLOAD the Fredricksen Library Newsletter
---