Music of the West African Kora
Sunday, March 11 - 1:30 pm to 2:30 pm
The kora is native to the Mande peoples who live within the countries of Gambia, Senegal, Mali, Guinea, and Guinea Bissau. Sean Gaskell has studied extensively under the instruction of Malamini Jobarteh and Moriba Kuyateh of Brikama, The Gambia, and Kane Mathis of Brooklyn, NY. He has been featured at numerous festivals in the US, Gambia, and Senegal. No registration needed. HEAR SEAN GASKELL.
Sponsored by the McCormick Family Foundation.
A Celtic Concert with Seasons!
Sunday, March 18 - 1:30 pm
The Lee siblings have toured in multiple states and countries and have opened for artists as varied as Grammy-award-winner Ashley Cleveland, Scythian, and Celtic Fiddle Festival. Seasons has performed on both regional and national television, and been featured at many national Celtic festivals. Now they will whisk you away to the Emerald Isle and leave you humming a merry tune over St. Patty's Day weekend! Free refreshments and our beautiful atmosphere round out the afternoon of fun!
Coming in April & May...
Folk Music with Andy & Judy Daigle ~ Monday, April 16 - 7:00 pm to 8:00 pm
Mando-Music with the Harrisburg Mandolin Ensemble
Sunday, May 20 - 1:30 pm to 2:30 pm

---
We are looking for your stories about Fredricksen Library & East Pennsboro Branch.
Tell us how you or someone you know has been positively impacted by library programs and services, volunteers and staff.
Share your best library experiences and you will be entered to win one of two gift cards. Participants agree to allow Fredricksen to use submissions in future marketing efforts to promote programs and services (by name or anonymously). Multiple stories will be accepted. Please submit by March 30.
Use this link to tell us YOUR story. Thank You.
---
It's time to VOTE for Simply the Best Library 2018!
If you have enjoyed programming Fredricksen has offered, borrowed books, CDs and DVDs, utilized our free internet computers, learned something new at a workshop, or just needed a beautiful place to get away, please take the time to VOTE HERE. We appreciate your votes! There have been some changes to the voting procedure to make it easier this year, with a nomination period until March 15, then actual voting from the top five nominees starting April 15.
---
NEW FOR CHILDREN'S PROGRAMS IN 2018!
We are now offering online registration for many of our Children's Programs! On the phone and in person registrations are also still available for programs.
Check out all of our UPCOMING CHILDREN'S PROGRAMS.
---
Once Upon a Time:
A Play
Thursday, March 15
7 pm to 8 pm
The Performance Class of Gamut Theatre Group presents: Once Upon a Time, a collection of famous fairy tales scenes geared for children ages 4 and up and their families. No registration necessary.
Gamut Theatre Group is the combined theatre company of Popcorn Hat Players Children's Theatre and Harrisburg Shakespeare Co. and has been entertaining students and families since 1993.
---
Faith's Fandom Frenzy - COMICS!

Friday, March 30
from 6:30 pm to 7:30 pm

Everyone has something they're passionate about. Join other tweens who are fans of different books and movies for a fun new program. We'll talk about things we love and then do an art or craft project to show our appreciation for our fabulous fandoms!
Participants will be making their own comics! For fandom fanatics ages 10 – 13. Online registration begins March 16.
---
At our East Pennsboro Branch...

With technology advancing every day, it is important to stay vigilant and protect your identity. Learn how identities are compromised, how to avoid being a victim, and how to recover a stolen identity. Presented by Jane Adams of First National Bank in Enola. Register at the library or call (717) 732-4274.
Saving & Budgeting - Wednesday, March 21 at 1 pm
Saving and BudgetingLearn how to curb spending, realign budgets and save money to put towards the things you really need and want! Presented by Jane Adams of First National Bank in Enola. Register at the library or call (717) 732-4274.

Join us as we participate in Longwood Garden's Community Read of The Tree Lady. Children ages 3 to 8 and their caregivers will hear stories and make pinecone birdfeeders. Register at the library or call (717) 732-4274.

---
Next Tuesday!

In May 2017 the curtain came down on "the greatest show on earth": the Ringling Bros. and Barnum & Bailey Circus. This program takes a nostalgic look back at Ringling's 146-year history. Born out of P.T. Barnum's traveling "menagerie and museum," the circus went on to thrill generations of Americans with a three-ring mix of crazy clowns, daredevil acrobats, and performing jungle beasts. Laid low by high costs and changing public tastes, the vanishing world under the "big top" lives on in some of our fondest childhood memories. No registration necessary.
---

Wonder Woman and the Tale of Female Superheroes
Tuesday, March 13 from 7 pm to 8 pm
(6:30 pm meet & greet) in the Community Room, Lower Level
In cooperation with the AAUW (American Association of University Women), join Dr. Charles Kupfer, PhD., Penn State Harrisburg, for this fascinating presentation. The origins of Wonder Woman, the first female superhero, will surprise and amaze you. Created by a man in the early 1940s to aid in the empowerment of women, she has "all the strength of Superman plus all the allure of a good and beautiful woman." No registration necessary.
---
Buying or selling a home is one of the largest and most complex transactions of your life. Find out how to protect your interests and help avoid problems with residential real estate transactions. Join Mette Evans & Woodside for a discussion with experienced real estate lawyer, Attorney James L. Goldsmith, about what you need to know about residential real estate transactions. You'll get practical tips on how to make your real estate transaction go more smoothly. Attendees will receive a complimentary copy of the 32-page Consumer's Guide to the Agreement of Sale, published by the Pennsylvania Association of Realtors® (Quantities are limited.) No registration necessary.
Presenter: Attorney James L. Goldsmith – Mette Evans & Woodside
---
"Let's make the most of this beautiful day..."
Mr. Rogers Sweater Day!
Join us Tuesday, March 20th as we celebrate one of our favorites - Fred Rogers, on what would have been his 90th birthday, landing on the first day of spring! Stop in Fredricksen Library on March 20th in
YOUR Mr. Rogers sweater and get your photo taken. We will be sharing the photos of patrons and staff on facebook and instagram. If you can't make it in, post your best sweater-selfie on our facebook page! All of our Mr. Rogers' neighborhood friends that day will be entered to win a Fred Rogers color-
changing mug! 2018 also celebrates the 50th Anniversary of Mr. Rogers' Neighborhood and the release of a Mister Rogers forever stamp on Friday, March 23. Learn more about Fred Rogers' legacy at fredrogerscenter.org and newsinteractive.post-gazette.com
---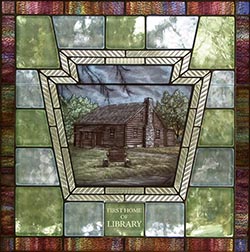 Fredricksen Library
Stained Glass Window Replicas

Window replicas are 12" x 12", 1/4" plexiglass with white backing, two drilled holes for hanging (optional) with a narrow black U channel frame. Priced @ $65.00 a piece. Proceeds will support programs and services at Fredricksen Library.
DOWNLOAD an order form showing the 28 different windows available.
---
Device Advice

By Appointment only
Reference Desk, Main Floor
We are pleased to offer free one-on-one consultations for up to an hour to help you navigate the basics of your eDevice! Just call in to reserve up to one hour with one of our trained Reference Librarians who will assist you with downloading eBooks and eAudiobooks, as well as offer basic help with your tablet. You must have the device, login name and password for your appointment. To register, call 717-761-3900 x225.
---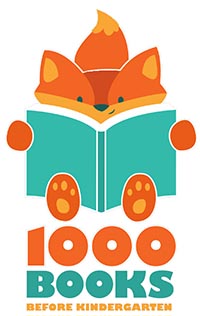 1000 Books Before Kindergarten
Our brand new program will help prepare your child for one of their biggest milestones: kindergarten! Reading aloud to your child is one of the best ways to prepare them for kindergarten. With 1000 Books Before Kindergarten, parents are challenged to read to their children to get them ready to read. Stop by the Children's Desk to register for the program and learn more! Registration NOW OPEN!
---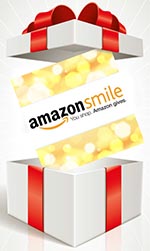 Support Fredricksen with your Amazon Purchases!
When you shop on AmazonSmile, 0.5% of the price of eligible purchases will be donated to the charitable organizations you select. Use the link from our website or go to smile.amazon.com and select Fredricksen Library. Use your regular Amazon login and password - no need to re-register.
Click HERE or on the AmazonSmile logo to get started!

---
Connect with US!

Do you know all the places Fredricksen can be found on Social Media? We're on Facebook, Pinterest, Instagram (fredricksenlibrary) and Twitter @cjfredricksen! You can also find photos of our events on our Flickr page. Click on any of the links at the bottom of this email, or on our website homepage to follow us and stay up to date with what's happening. Please like, share, pin and retweet our posts as well. (And tell all your friends and family too!)
---