Fredricksen Library
Kickoff & Concert
Saturday, June 9
1 pm to 4 pm
This summer, we're celebrating how much LIBRARIES ROCK at our Summer Reading Kickoff! There's no better band to kick things off than Tonks & the Aurors, the internationally-celebrated wizard rock band! Tonks & the Aurors play music about the Harry Potter series and are great for all ages! We'll also have a Professional Photo Booth, Face Painting, Balloon Animals, Fun with Bubbles, Fun Crafts, FREE Cupcakes, Prize Give-Aways, Snacks for Sale and much more!
Summer Reading for ALL AGES – LIBRARIES ROCK!
Join us at Fredricksen and East Pennsboro Branch for another great summer of reading, music and programs for adults, children and teens. It's easy to do! If you register JUNE 1st to JUNE 15th for Summer Reading and/or signup for a NEW library card, you will be eligible to win a fun summer prize such as family pool memberships, an iPad Mini and Hershey Park tickets! If you register ONLINE, you must come to the libraries for your entry.
The 2018 Summer Reading Program is sponsored by Friends of Fredricksen Library, a donation in Memory of Ashley Dietrich, Weis Markets, UGI Utilities, Riverview Bank, our municipalities and additional generous sponsors. Concert sponsored by the McCormick Family Foundation.
REGISTER JUNE 1st for FREDRICKSEN LIBRARY Programs
REGISTER JUNE 4th for EAST PENNSBORO BRANCH Program
East Pennsboro Branch Kickoff & Concert
Tuesday, June 12
from 12 pm to 2:30 pm
Join us from 12:00 pm to 2:30 pm as we kick off a rockin' good summer of reading, discovering, and learning for all ages! Starting at noon, enjoy a picnic and make your own instrument and your own library bag (all materials will be provided). Then at 1:30, come inside to enjoy the music of Steven Courtney. All ages welcome; under 13 must be accompanied by an adult. No registration required. The 2018 Summer Learning Program is sponsored by Friends of East Pennsboro Library, Weis Markets, UGI Utilities, Riverview Bank and additional generous sponsors.
---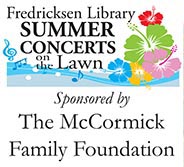 2018 CONCERT LINEUP
7:00 pm on the Lawn
Thursday, June 14 - Trinidad & Tobago
Thursday, July 12 - Ernie Fields Motown Band
Tuesday, July 24 - Shea Quinn & Friends - British Invasion!
Thursday, August 9 - Final Fling - Janelle Verones Band
---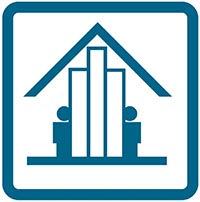 Friends Spring Book Sale 2018
Thank you, thank you, thank you to everyone who helped make this Spring Book Sale a huge success! We raised $11,314 in just four days.
A special thanks to everyone who donates books and materials to the library. Your daily book donations at the reference desk and monthly donation station offerings allow us to hold two successful books sales each year as well as offer left over books to East Pennsboro, Salvation Army, and to Better World Books which provides donated books to libraries around the world. We are the original recycling program in that all our donations are sold at the book sale, become part of the library collection, or are passed on to other groups for use and sale in the community and abroad. Please continue to donate and think of us when you're doing spring and fall cleaning. Lots of people, young and old, still like to hold and read a book.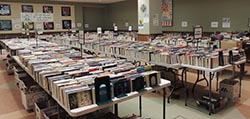 Special thanks to all our book sorters, book sale workers, and helpers who make these sales possible. During the sale time alone, volunteer hours totaled 266. Huge thanks to our teen librarian and her crew of eager teens who helped box the books after the sale and take down tables. We couldn't do it without all of you! Monies from Friends fundraisers go to the library upon request to cover things the budget can't afford.
We are proud to support our local library and welcome you to look at the Friends page on the website for an application to join us and for listings of future events. JOIN THE FRIENDS OR GET MORE INFO

---
BLUEBERRIES FOR BOOKS We have hit 500 boxes SOLD - help us reach our goal of 1500 boxes!
Last year Fredricksen sold a record 1,250 boxes of blueberries – thank you! Order your fresh New Jersey blueberries for just $30.00 to benefit the Cleve J. Fredricksen Library. Pick up on June 28 – just in time for your July 4th picnics! Payments may be made by cash, credit card or check at the Reference Desk
until June 24 at 5 pm. Prefer to order online? Easy ordering below and pay through Paypal ($1.00 extra per box). For more information, call 761-3900, ext. 236 ORDER ONLINE
---
LAST DAYS TO VOTE! Voting closes June 15th
It's time to VOTE for Simply the Best Library 2018!
If you have enjoyed programming Fredricksen has offered, borrowed books, CDs and DVDs, utilized our free internet computers, learned something new at a workshop, or just needed a beautiful place to get away, please take the time to VOTE! We appreciate your votes! There have been some changes to the voting procedure to make it easier this year. Organizations and businesses were nominated by voting in March, those nominated are now listed for final voting. Voting is open until June 15th. VOTE ONLINE NOW!

---
ALL AGE SING-ALONGS!
Sing your heart out to your favorite films! Costumes are encouraged but not required. We'll provide the popcorn, you bring any other snacks or drinks to keep you singing! We've got a few surprises up our sleeves. Seating limited, first come, first served.
Sing Alongs - Friday, June 1 at 6:30 pm - The Wizard of Oz
Friday, July 6 at 2 pm – Frozen; 6:30 pm - Annie
Friday, August 3 at 6:30 pm - The Lion King
Friday, August 17 at 2 pm - Moana

---
At our East Pennsboro Branch...
Tape Town!
Monday, June 4 from 2 pm to 5 pm
You'll stop around our town to visit the train station, the zoo, the store, the construction zone, and other stations where you can build, play, and create. Bring your favorite car or train (6 inches or under please) or borrow one from the library. Drop in any time between 2:00 to 5:00 pm. All ages welcome; under 13 must be accompanied by an adult. No registration required.

Sleeping Beauty Storytime with Central Pennsylvania Youth Ballet
Saturday, June 30 at 1:30 pm
Join the Central Pennsylvania Youth Ballet at our library as we read and dance during Sleeping Beauty Storytime. Ages 3 and up please; under 13 must be accompanied by an adult. No registration required.
---
Bike RaffleTickets
ON SALE NOW
Tickets are $5 per ticket, $12 for three tickets. The drawing will be held on July 12 at the Ernie Fields Motown concert.
WE LOVE HOLMES!
For the fifth year in a row, Holmes is donating a bike (with a value of $450) to Fredricksen Library. The family-owned, Camp Hill shop has provided quality customer service and products since 1974. They are also great neighbors who support the library! Thank you! www.holmescycling.com
---
Teen Plus – Rockumentaries & Musicals!

Our Teen Plus film series offers a chance for teens to share a music event with an older friend, parent, brother/sister or grandparent. For teens ages 12-18. Adults 18+ may attend in the company of a teen. No registration necessary.
Mondays from 6:30* pm to 8:30 pm
June 11 - The Beatles: Eight Days a Week - The Touring Years
June 25 - Rent July 9 - Sound City July 23 - It Might Get Loud
August 6 - Lagaan (*5 pm – 9 pm with intermission)
---
Drive-In Movie!
Thursday, June 14
10:30 am to 11:15 am
Come decorate your own car before enjoying snacks in front of a short film at Fredricksen Library's very own Drive-In Movie Theatre! For ages 5-7 with registration starting May 31.

---
Teens Create! Contest
Saturday, June 9 to Sunday, July 8
Enter our 3rd Annual teen creative expression contest! Submissions will be accepted in 4 categories - painting/illustration, photography, poetry and short story. Detailed instructions regarding themes and dimensions for each category will be available May 1st. Submissions are accepted June 9th - July 8th and will be on display in the library July 9th - July 31st. The best entry in each category will be chosen by a panel of judges and the winners will receive $50. You may enter once in each category. For teens ages 12 -18. DOWNLOAD Information and submission forms HERE
---
Fredricksen's Foreign Language Collection has a new home!
Our foreign language books and media have a new home! Located in the back of the upper level, this beautiful display houses our audiobooks, DVDs and books on foreign language self-instruction and foreign language literature. The display contains both Adult and Children's materials. We are grateful to the Pollock Foundation who awarded us a grant for this foreign language display unit, as well as new foreign language books, books that feature other countries and cultures and our recent children's bookjoy celebration. Be sure to look for it during your next visit! (Foreign Films are still located in the DVD section of the library.)
---
Bus Trip to the Smithsonian Folklife Festival in Wash. D.C.
Just a few seats left! Register NOW!
At the annual Smithsonian Folklife Festival, you can meet communities from around the world presenting music, dance, crafts, foodways, storytelling, and other living traditions. Their goal is to strengthen and preserve these cultures by presenting them on the National Mall in Washington, D.C. This year's focus is Armenia and Catalonia. Learn about feasting and handmade craft traditions, meet artisans, taste ancient wine varietals, and picnic on the National Mall with Armenia folk and jazz music. More information HERE.
Price includes: round trip motor coach transportation from Camp Hill, boxed continental breakfast served en route to Washington, D.C., free time to explore and participate in the Smithsonian Folklife Festival, and gratuity for bus driver. The bus departs from the Camp Hill Radisson's parking lot at 8:30 am. On the way home, we will make a stop for dinner on your own. We will return by 9:30pm. Cost: ONLY $45.00 per person. Register in person or online HERE!
---
Fredricksen Library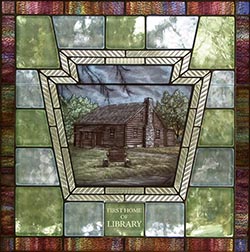 Stained Glass Window Replicas

Window replicas are 12" x 12", 1/4" plexiglass with white backing, two drilled holes for hanging (optional) with a narrow black U channel frame. Priced @ $65.00 a piece. Proceeds will support programs and services at Fredricksen Library.
DOWNLOAD an order form showing the 28 windows available.
---
Device Advice

By Appointment only
Reference Desk, Main Floor
We are pleased to offer free one-on-one consultations for up to an hour to help you navigate the basics of your eDevice! One of our trained Reference Librarians will assist you with downloading eBooks and eAudiobooks, as well as offer basic help with your tablet. You must have the device, login name and password for your appointment. To register, call 717-761-3900 x225.
---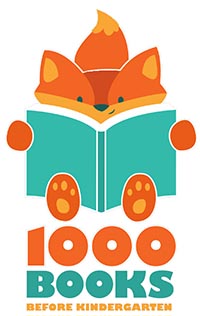 1000 Books Before Kindergarten
Our brand new program will help prepare your child for one of their biggest milestones: kindergarten! Reading aloud to your child is one of the best ways to prepare them for kindergarten. With 1000 Books Before Kindergarten, parents are challenged to read to their children to get them ready to read. Stop by the Children's Desk to register for the program and learn more! Registration NOW OPEN!
---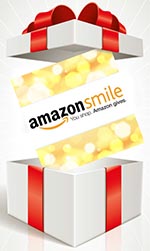 Support Fredricksen with your Amazon Purchases!
When you shop on AmazonSmile, 0.5% of the price of eligible purchases will be donated to the charitable organizations you select. Use the link from our website or go to smile.amazon.com and select Fredricksen Library. Use your regular Amazon login and password - no need to re-register.
Click HERE or on the AmazonSmile logo to get started!

---
Connect with US!

Do you know all the places Fredricksen can be found on Social Media? We're on Facebook, Pinterest, Instagram (fredricksenlibrary) and Twitter @cjfredricksen! You can also find photos of our events on our Flickr page. Click on any of the links at the bottom of this email, or on our website homepage to follow us and stay up to date with what's happening. Please like, share, pin and retweet our posts as well. (And tell all your friends and family too!)
---