Bright Star Touring Theatre, a national professional touring theatre company based in Asheville, NC is going virtual with their heralded production of Struggle for Freedom: The Life of Dr. King. This inspiring production has received nationwide acclaim. Struggle for Freedom is a 45-minute production that seeks to honor the American Civil Rights Movement. The life and work of Dr. Martin L. King, Jr. provides the backdrop to scenes that recreate the Montgomery bus boycott, the March on Washington, the Woolworth Sit-ins and much more. With excerpts of famous speeches, Civil Rights era songs and a variety of characters, this moving production is best appreciated by grades 3 through adult. This LIVE production will be followed by time for Q&A with the actors.
Registration NOW OPEN and is required for Zoom link.

---
How The Heck Do I
Buy A Used Car?
Sunday, January 10
2 pm to 3:30 pm via Zoom
From budgeting to negotiating, join Chaya Milchtein, automotive writer, educator and owner of Mechanic Shop Femme, as she walks you through the car buying process so you get the best deal on the best car for you. Q&A is encouraged throughout and after the program. Chaya is here to give you the confidence you need to get exactly what you want. Registration is open and is required for Zoom link.
---
Teen Murder Mystery
Murder in 1985
5 pm to 8 pm via Zoom
Join us for a night of mystery solving and deception! We're bringing our popular Murder Mystery event to the web! We'll be playing Murder in 1985. Register online in advance to get information about your character, then join us by Zoom to figure out whodunit! For grades 7 - 12.
---
Annual Meeting Notice
The Board of Trustees of the Cleve J. Fredricksen Library will hold meetings
on the following 2021 dates: January 13, March 10, May 12, August 11, October 13
and December 8. All meetings begin at 5:30 pm.
Wednesday, January 13 will be the Annual Meeting with the regular meeting directly following. Please contact the library for meeting details or updates.
---
Milk & Cookies Pre-Recorded Story Time With Miss Olga
Saturday, January 16
Miss Olga will be recording our favorite winter story, The Mitten! Stop in to Fredricksen to pick up a bag of cookies to enjoy in your favorite PJs at home. Snuggle in and watch for a bedtime story! Bag available and video posted on January 16. REGISTER NOW ONLINE
---

Winter Reading Challenge for Adults--January 25 to February 28 on Beanstack
Show how thankful you are for Fredricksen Library, and join us for our #ReadGrateful challenge by reading a library book for at least 20 minutes per day. Books, audiobooks, e-books, and e-audiobooks all count! Borrow some today, read, and log your minutes. Tell your friends about your favorite books on social media, and tag us (@fredricksenlibrary). Be sure to include #ReadGrateful and #IheartFRElibrary.

Children's Winter Reading Challenge - January 25 to February 28 on Beanstack. Ages 0 - 12.
Join us for a Winter Reading Challenge! Log your minutes on Beanstack and win prizes during the chilly winter months. Grownups may participate when reading to their little ones. Older children can curl up with their favorite stories and stop in to win prizes when they complete the challenges.
Teen Reading Challenge: 100 Books Before Graduation-- Starting January 25-- Ages 12-18
This winter, we are launching a new challenge for teens! Use Beanstack to log any books you read, with the goal of reading at least 100 before graduation. Along the way you'll have chances to win prizes and books. Start logging on January 25, and remember to count every book (even the ones you read for school!) The only end date for this challenge is your graduation.
All ages can register January 25 @ fredricksen.beanstack.org
---
Thank you to all those who participated in the Friends of Fredricksen Library's 21st Annual Auction this past November! The Friends were able to raise over $12,500, surpassing their original goal! These donations will help support the myriad of programming at Fredricksen as well as the annual Summer Reading Program. Special thanks to all of the small businesses who donated to the auction this year! Please consider supporting these businesses who generously donated despite the challenges they are facing this year!
LIST OF 2020 BUSINESS AUCTION DONORS


Interested in JOINING the Friends of Fredricksen?
---
Kanopy Friday Film Discussions
Join us for our first-ever film discussion series! Much like a book group, you will watch the film on your own and then join us on Zoom for a moderated discussion. All films will be available on the free film platform, Kanopy.com. All you need to access the film is your library card! You must have watched the film to participate in the discussion.
Lost in Paris
Friday, January 22 at 7 pm via Zoom
Our first film, Lost in Paris, tells the story of a small-town Canadian librarian and a strangely seductive, oddly egotistical vagabond. This film is not rated. REGISTER NOW.
The Farewell
Friday, February 26 at 7 pm via Zoom
February's film, The Farewell, tells the funny, heartfelt story of Billi's (Awkwafina), as her family returns to China under the guise of a fake wedding to stealthily say goodbye to their beloved matriarch--the only person that doesn't know she only has a few weeks to live. Golden Globe winner and Sundance Film Festival selection. Rated PG. Registration for discussion begins January 15.
---
Snooze-Fest!
Tuesday, January 19
at 6 pm via Zoom
Wear your coziest PJ's and softest blankets to read an adorable story about a sloth who goes to sleeping camp! We will make our own no-sew fleece pillows to achieve maximum cuddliness! Recommended ages 5 - 10. Registration required for Zoom link. Bag Available January 16.
.
---
Civil War Visual Culture
Tuesday, January 26
7 pm to 8 pm via Zoom
Join art historian, Sarah Kate Gillespie as she discusses visual culture of the Civil War era, based on a course she teaches at Gettysburg College. Gillespie will discuss photography, painting and sculpture of the Civil War era. Sarah Kate teaches courses in Civil War Era Studies, Public History, and Art History. She was previously Curator of American Art at The Georgia Museum of Art, University of Georgia, where she also taught in the department of Art History. Prior to that Sarah Kate was assistant professor of Art History at York College, CUNY, and Curator of Fine Art and the Brooklyn Historical Society. Registration NOW OPEN. and is required for Zoom link.


---


Curl Up with the Classics: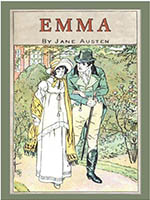 Discussing Emma by Jane Austen
Tuesday, February 2 from 10 am to11 am via Zoom
Join us online as we discuss this month's Curl Up with the Classics book choice Emma. The content single Emma Woodhouse decides to play matchmaker and a delightful story about exploring relationships unfolds. You must have read or listened to the book to attend. Ages 18 and older, please. Registration NOW OPEN and is required for the Zoom link.

Moving Forward Book Group:
It's OK that You're Not OK: Meeting Grief and Loss in a Culture That Doesn't Understand
Wednesday, February 3 from 1 pm to 2 pm via Zoom
Join us for Moving Forward, our book discussion series geared towards those who have suffered a loss or tragedy and could use an infusion of hope. In cooperation with Hospice of Central PA, we will be reading books focusing on the redemptive power of the human spirit. February's choice is Megan Devine's nonfiction book about how to carry and tend to grief and loss. Ages 18 and older, please. Registration NOW OPEN and required for the Zoom link.


Fredricksen Reads:
One Book, One Community choice
The Curious Charms of Arthur Pepper
by Phaedra Patrick
Monday, February 22 from 7 pm to 8 pm via Zoom
Sixty-nine-year-old Arthur Pepper lives a simple life. He gets out of bed at precisely 7:30 a.m., just as he did when his wife, Miriam, was alive. He dresses in the same gray slacks and mustard sweater vest, waters his fern, Frederica, and heads out to his garden.
But on the one-year anniversary of Miriam's death, something changes. Sorting through Miriam's possessions, Arthur finds an exquisite gold charm bracelet he's never seen before. What follows is a surprising and unforgettable odyssey that takes Arthur from London to Paris and as far as India in an epic quest to find out the truth about his wife's secret life before they met—a journey that leads him to find hope and healing in the most unexpected places.
You must have read or listened to the book to attend. Ages 18 and older, please.
Registration NOW OPEN and is required for the Zoom link.

---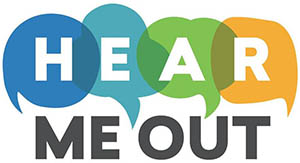 Hear Me Out:
Will I be Vaccinated?
Wednesday, January 27
5:30 pm to 7:30 pm
via Zoom
In partnership with the Carnegie Library of Pittsburgh, the Coy Public Library of Shippensburg, and the Northland Public Library, and the Free Library of Philadelphia, we present Will I be Vaccinated?: A 'Hear Me Out' dialogue. Join us to learn about the science behind vaccines and then have a chance to voice YOUR opinion. Do you feel the vaccine is safe? Is it being fairly distributed? We will gather virtually to connect with individuals from across the state and build community around the world we share! Advanced registration through Eventbrite is required *Please note, you will receive a link to the Zoom session before it begins via email.

---
Business & Career Center @ Fredricksen Programs
We are now offering virtual resume, employment and career guidance sessions via Zoom, and several new virtual workshops to help with Time Management and Job Searches. Our now-virtual career workshops focus on all aspects of employment, whether returning to current employ or searching for a new job or career. AND now, IN PERSON Computer Workshops, held in the Community Room, socially distanced. Stay tuned for more upcoming programming and other important announcements—your future starts here!
---
Managing our Time in a 24/7 World -
VIRTUAL WORKSHOP
Tuesday, January 12 - 3 pm – 4 pm
Tuesday, January 26 - 3 pm – 4 pm
Who doesn't have enough time in a day? Planning ahead is one of the keys to making time work for our busy lives--learn how to make time your friend with a variety of planning tips & tools. We all have the same amount of time in each new day, now is the time to make every minute count! REGISTER NOW

---
Budgeting for the New Year -
VIRTUAL WORKSHOP
Tuesday, January 12 at 6 pm
Tuesday, January 26 at 11 am
The New Year is coming--be ready to face any new challenges in 2021 by planning ahead! Get useful tips for creating a spending plan that works for your income, putting you on the path to achieve your financial goals. Facilitated by the PA Dept. of Banking and Securities. Register now for a Zoom session, invite will be sent via email from the Business & Career Center (BCC)
REGISTER NOW
---
On Target: Finding the Best Job Search Sites - VIRTUAL WORKSHOP Friday, January 15 from 3 pm – 4 pm
Friday, January 29 from 3 pm – 4 pm
Looking for employment on the web is a tough job! It takes time and determination to sort through endless listings to find the "perfect fit", and with the threat of job scams lurking, finding the best online job search sites can be an overwhelming task. Join us for a professionally-researched overview with a list of sites and tips that will aid in getting that job. REGISTER NOW

See more upcoming 2021 Business & Career Center programs HERE

---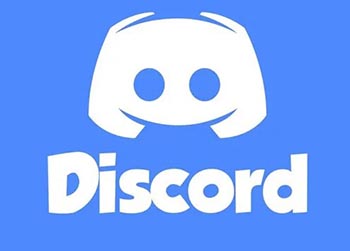 Teen Discord Server
Want a place online to virtually hang out with other Fredricksen Teens? You're in luck! We've started our own Discord server! Join us there to coordinate online games like Among Us, and chat about things like books and movies. Fill out this quick form and we'll email you instructions on how to join! REGISTER HERE!
---
Crafternoon: Winter Décor

Sunday, January 24
1:30 pm - 4:30 pm in the Ruggaber Community Room, Lower Level*
Come join the Ladies of DIY, professional crafters, as they lead you through making some new décor for Winter! We'll have options for different projects. Basic supplies provided by the library. $10.00 per person, ages 16 and older. Register in person or on the phone NOW. *Masks and social distancing required.
---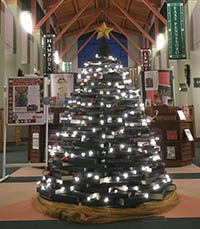 THANK YOU to all who made dedications or enjoyed the Holiday Book Tree in this challenging year for all. $1500.00 was raised with dedications, in addition to over $150.00 from sales of buttons and magnets, surpassing our total from last year by hundreds of dollars. 2020 Dedications.
---
NEW YEAR - LEARN A NEW LANGUAGE!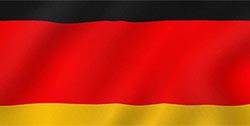 German for Beginners - Winter Session
Wednesdays, January 6 - March 24
7 pm – 8:30 pm via Zoom Ages 16 and older.
Cost: $100 for 12 classes.
GET ALL THE DETAILS HERE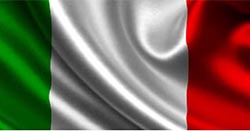 Italian for Beginners II - Winter Session
Thursdays, January 7 - March 11
5 pm - 6 pm ONLINE via Zoom Ages 16 and older. Cost: $100 for 10 classes.
GET ALL THE DETAILS HERE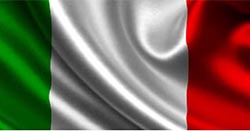 Italian for Beginners I - Winter Session
Thursdays, January 7 - March 11
6:30 pm - 7:30 pm ONLINE via Zoom Ages 16 and older. Cost: $100 for 10 classes.
---
During this unprecedented time, Fredricksen Library wants to do everything we can to support you from afar! Some of our Children's Library Staff will be posting online story times and videos about science, art and more! Watch for the videos and story times on social media OR see them all on our website HERE!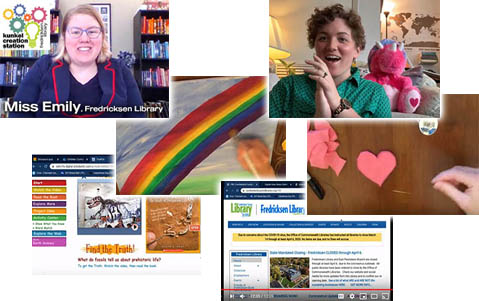 ---

Our electronic resources can be used from your own phone or computer to view movies (Kanopy), read books (Overdrive), catch up on studies (Tutor.com), see children's materials (Tumblebooks). Check databases to follow the stock market or do research. (Databases).
---
NOW! - Cardholders have FREE access to Tutor.com!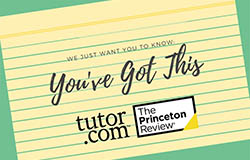 Tutor.com gives access to live, online tutoring and resume help as well as thousands of academic and career resources. It is for K-12 and college students who need help with homework, studying, projects, essay writing and test prep in every subject, including algebra, statistics, chemistry, physics, social studies and English. It is for adults who need help with job searches, GED prep and academic support. All sessions are online with professional academic or career tutors. Library cardholders and visitors in the library can work with an online tutor 7 days a week between the hours of 12 PM and 12 AM. ACCESS TUTOR.COM NOW!
---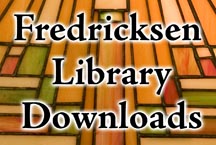 Get information and registration dates
on all programs!
DOWNLOAD the Fredricksen Library Newsletter
---