Friends of Fredricksen Welcome
Author Stephen Fried
Tuesday, January 14 at 6:00 pm
Join us as we host Stephen Fried, award-winning journalist and New York Times bestselling author of "Benjamin Rush: Revolution, Madness and the Visionary Doctor Who Became a Founding Father". A two-time winner of the National Magazine Award, he has written frequently for Vanity Fair, GQ, The Washington Post Magazine, Smithsonian, Rolling Stone, Glamour, and Philadelphia Magazine. He has written seven acclaimed nonfiction books. No registration necessary. The annual Meeting of the Friends of Fredricksen Library immediately follows Stephen Fried's presentation. Please join us to learn more about the Friends and all they do for Fredricksen. The 2020 Budget will be adopted which designates funds for library programs and projects, and officers will be elected. Friends are engaged and dedicated lovers of books, music, films, and all things Fredricksen! Please consider joining us for 2020 by stopping in the library or downloading a membership form ONLINE. Thank you!
---
Get Funky with
The Don Johnson Project LIVE!
Sunday, January 12 at 1:30 pm
Let's warm up this cold weather with some hot tunes from local favorite, the Don Johnson Project. They'll keep you dancing in your seat or on your feet with Funky Blues, Motown, and much more. If you like Hendrix, Otis, and BB King, get ready to push away those winter blues for an afternoon. No registration necessary.
---
STaRT—Start Today
and Retire Tomorrow
Monday, January 13 at 6:00 pm
in the Business & Career Center
Do you think that you don't make enough money to save for retirement right now? If you are saving and investing, do you think you are saving and investing enough? Think again…join us for an informative workshop on saving for retirement at YOUR stage of life, no matter where you fall on the retirement timeline. Program facilitated by the PA Dept. of Banking and Security. Register ONLINE
---
Let It Shine:
The American Civil Rights Movement 1955-1968
Monday, January 20 at 1:00 pm
Join us as we welcome Bright Star Touring Theatre this Martin Luther King Jr. Day. Their powerful production will introduce audiences to poignant events and notable names of the Civil Rights Movement. This acclaimed show focuses on the tumultuous years between 1955 and 1968 and shines light on important milestone in our history, including: the Montgomery Bus Boycott, the SCLC, Brown v. Board of Education, the Sit-In Movement, the Freedom Riders, the March on Washington, and the assassination of Dr Martin Luther King, Jr. Viewers can expect to meet important figures and hear inspiring songs of the era. Recommended for 3rd grade – adult. No registration necessary.
---
Medical Marijuana in PA:
What You Need to Know
Thursday, January 30
7:00 pm to 8:30 pm
Medical Marijuana was legalized in PA back in 2016, but where can we turn to learn more about it? Join Mary Werdebaugh, Director of Community Outreach at Organic Remedies Medical Marijuana Dispensary and Adjunct Instructor at HACC. She'll lead you through the science, the stigma, and the process of obtaining medical cannabis in PA. She'll explain the approved conditions in PA, the endocannabinoid system, the different types of products available and the pharmacy/patient connection. Following her presentation, stay for a Q&A session. No registration necessary.
---

Wednesdays, January 15 - February 19
10:30 am to 11:00 am
Join Miss Olga for our special story times in Spanish! For children ages 2 – 6. This story time will be appropriate for those looking for an introduction to Spanish. No fluency is required. Registration now open.
---
After Hours Hide and Seek
Wednesday, January 22
5:45 pm to 7:45 pm
All teens ages 12-18 are invited to the library for a fun game of hide and seek among the bookshelves! Meet us in the Community Room at 5:45 before the library closes and get ready to play! No registration necessary.
---
Upcoming Programs in the BCC
Mock Interview Sessions - BCC HUB - Register now, by appointment - 2nd Wednesdays from 2 pm – 4 pm
Career Exploration Workshops
Tuesdays from 10:30 am-11:30 am & 4:30 pm-5:30 pm

Resume Writing Workshops
Thursdays from 11:30 am-12:30 pm and from 5:30 pm-6:30 pm

Get That Job! Workshops
Fridays from 10:30 am-11:30 am and from 4:30 pm-5:30 pm

Walk-in Sessions - BCC Classroom - No registration necessary
Mondays, Tuesdays and Fridays from 11:30 am to 1:30 pm
Mondays, Tuesdays and Fridays from 5:30 pm to 7:30 pm
Thursdays from 12:30 pm to 1:30 pm
Thursdays from 6:30 pm to 7:30 pm

Home-Based Business Roundtables with SCORE
2nd Tuesdays of each month, 12 pm - 1:30 pm
4th Tuesdays of each month, 6:00 pm - 7:30 pm
AND...watch for additional Computer Courses and Banking, Budgeting & Retirement Courses returning in the coming months!
GET COMPLETE INFO AND REGISTER HERE
---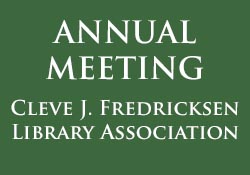 Wednesday, January 15
at 5:00 pm
in the Ruggaber Community Room, Lower Level
Join us at the Annual Meeting of the Library Association. Every patron with a library card is a member and we will be voting to adopt the 2020 Budget and elect trustees to the board.
---
Wanda Metzger - Over 3000 Hours of Service and Inspiration
It is with a heavy heart that we inform you of the passing of beloved and devoted volunteer Wanda Metzger, 94 yrs, on Dec 21st, 2019. Wanda began volunteering at Cleve J. Fredricksen Library upon her retirement in 1997 and has given over 3000 hrs to the library. In her 21 years of volunteer service, she received the Volunteer of the Year Award twice
and co-chaired the Friends' Spring and Fall Book Sales for many years.
A passionate and enthusiastic supporter of the library, Wanda was an inspiration to volunteers and employees alike. Her energy and dedication as a volunteer was unprecedented and her spirit was infectious. We will miss her passion and commitment to the library and community. Wanda will be fondly remembered by all of those she inspired.
---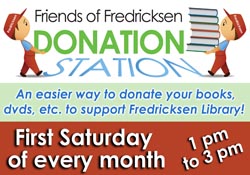 FIRST SATURDAYS!
DRIVE IN DONATION OF YOUR BOOKS, DVDS, CDS, GAMES, ETC!
During Donation Station hours, 1 pm to 3 pm, please park on the Walnut Street side parking area at the lower level employee entrance door. Donations at all other times can be given at the Reference Desk.

---
The Oscar Nominated Short Films
Friday, January 31 at 2 pm and 7 pm
and Saturday, February 1 at 2 pm
Fredricksen Library gives you a chance to choose the Oscar winners before the Academy announces them! No registration necessary. Sponsored by Jane and Bill Murray. Join us on Friday as we view the nominees from the following categories:
Friday, 2 pm to 5 pm - Documentary Short Films*
Friday, 7 pm to 9 pm - Live Action Short Films*
Saturday, 2 pm to 4 pm for the Animated Short Films
*Not recommended for ages 17 & under without parental permission.
---
Sketchbook Review for Teens

By Appointment in the Kunkel Creation Station
Calling all artists! Are you ready to take your skills to the next level? Need a few pointers to develop your powers of observation and personal style? Fredricksen is now hosting one-on-one reviews. Bring your sketchbook or a handful of drawings. Finished work is not required. This is an informal feedback session to share your work, ask questions, and come away with some actionable suggestions to build on what you know. Tuesdays and Thursdays starting at 4:30 pm. For teens ages 12 – 18. Contact Emily to set up your private session at emcquiggan@ccpa.net.
---
Library for Lunch -
Penguins & Polar Bears
Monday, January 27 OR Wednesday, January 29 from 12 pm to 1 pm
This event will be filled with stories, songs, and activities to correspond to the theme! Children should bring a bagged lunch and the library will provide a sweet treat. Registration is required and begins Jan 13. This program is recommended for ages 3 - 6 but younger and/or older siblings may attend. Please indicate younger sibling when registering.
---

A Santa visit, Story times, Holiday Trivia & Ugly Sweaters, Books for Tots, Candy Cane Walk, Holiday Harp and Handbells Concert, A Tree Lighting, Gingerbread Men, STEM & Crafts and a Holiday Book Tree - ALL during the 2019 holiday season!
AND a BIG Thank You for your dedications on the Holiday Book Tree! We are grateful to all for a wonderful holiday season AND for the many books dedicated on the seventh year of the Holiday Book Tree, meeting our goal with $1226 raised! OVER 50 beautiful new books were donated for Books for Tots, and delivered for the Toys for Tots Camp Hill Borough Parade. THANK YOU!

---