The Music of
Los Monstros
LITE Combo
Sunday, January 13
1:30 pm - 3:00 pm in the Atrium
Join us as we heat up a cold winter day with the hot Latin & Caribbean tunes of Los Monstros! Melt those winter blues away with favorite current hits, re-arrangements of classic songs from all genres ranging from popular American love songs to classic salsa, bachata & merengue, and classic reggae standards in a way you've never heard them before! Truly a unique listening experience, Los Monstros will breathe a fresh breath of life into your cold winter day with their genuine love of music and entertainment! No registration necessary.

---
Pennsylvania Books: The Story of Our State
Tuesday, January 15 from 6:00 pm - 7:00 pm
Join us as we host Brian Lockman, President and CEO of the Pennsylvania Cable Network. PCN has produced more than 800 episodes of Brian's popular interview show, PA Books. He will share some of his favorite books and stories from 20 years of talking with authors. Sponsored by Friends of Fredricksen Library. No registration necessary.


The Friends of Fredricksen Annual Meeting will be held following the program at 7:00 pm in the Ruggaber Community Room. Through Friends membership fees and fundraising projects such as the Spring and Fall Book Sales, the Oyster Mill Play, and the Silent Auction, we make things happen! Friends are engaged and dedicated lovers of books, music, films, and all things Fredricksen! Please consider joining us for 2019. A membership would also make a great New Year's gift for your friends or family. Join us by stopping in the library or ONLINE. Thank you!

---
Martin Luther King Jr.
The Man, the Myth, the Martyr
Monday, January 21
18 years and up: 1:00 pm - 2:30 pm in the Community Room
All ages: 7 pm – 8 pm in the Atrium
Martin Luther King Jr. is an icon of justice, peaceful protest,and civil rights, but he was also so much more. On this Martin Luther King Jr. Day, we will hear from Joseph Robinson, president of the Martin Luther King Leadership Development Institute, who will delve into the layers of who MLK was beyond the surface. Come expecting
an engaging, eye-opening, and interactive discussion of Dr. King's life and life's work. Discussion and book-signing follow the presentation. No registration necessary. Two presentations available for differing age groups: 1 pm: 18 years and up, 7 pm: all ages
Mr Robinson is president of the Martin Luther King Leadership Development Institute, Harrisburg, PA, and author of "7 Leadership Imperatives from a Wild Man" (Judson Press, 2008). He holds a B.A. in English from the University of Virginia, and an Honorary Doctor of Humane Letters from Central Penn College, Summerdale, PA, where he previously taught African-American History as an adjunct professor.
Won't You Meet My Neighbor?
Monday, January 21
9:30 am - 11:00 am
In celebration of Martin Luther King Jr. day, take time to gather together. Drop in anytime during the program to enjoy juice and breakfast snacks. Then take a moment to talk to the neighbors at your table and get to know the people in your community. For ages 0 – 100 with no registration.
---
Teen Makerspace Nights @ the Kunkle Creation Station
Tuesday, January 29 @ 6 pm
Wednesday, January 30 @ 3:30 pm
Thursday, January 31 @ 6:00 pm
Makerspaces are creative community workspaces where people can build and experiment with art, craft and technology projects while sharing tools and ideas with other community members. This week the Kunkel Creation Station will serve as an idea lab and creation space for teens to explore their creativity and cultivate their imaginations in interactive, hands-on ways! For ages 12 -18. Activities throughout the week include building a Chaos Tower, creating things out of cardboard and duct tape, and working with the 3D printer! No registration necessary.
---
Index Card RPG Nights
Fridays, January 4 and 18
(1st & 3rd Fridays of each month)
6:00 pm - 9:00 pm
Interested in Dungeons & Dragons but wished it was less time-consuming? Here is your chance to try the Index Card Role Playing Game(ICRPG). Join us on the 1st and 3rd Fridays of every month while we play in this new format. The game play is shorter and more interactive, the rules are simpler, there is minimal math involved, and it's still a great time gaming together! Perfect for first-timers or gamers with busy schedules, come give it a try as RPG expert/Game Master, Jon Langer, leads you through an evening of tabletop gaming. Ages 18 and older, please. Register ONLINE.
---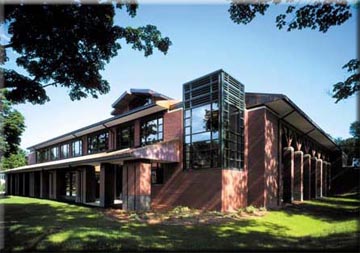 Every Gift is an Investment in YOUR Community.
There's still time to contribute to our Annual Appeal, mailed to over 13,000 residents in Camp Hill, Wormleysburg and Lemoyne Boroughs, and Hampden, Lower Allen and East Pennsboro Townships. We need community members like you to help us sustain the role we play in the community. Fredricksen Library has big plans for exciting, new programs and projects. Your contribution will help us realize our goals. Every single dollar makes a difference. Thank you for being a part of the Fredricksen Library and East Pennsboro Branch family!

READ MORE & MAKE YOUR GIFT ONLINE.
---
At our East Pennsboro Branch....
New Year, New Job:
Resume Workshop
Tuesday, January 8 - 1:00 pm
Is your New Year's resolution to find a better job, or would you just like to improve your career profile? In today's education and work environment, everyone should have an up-to-date resume on hand even if they are not actively looking for a new job. East Pennsboro Branch Library is offering a workshop for anyone who needs to create a resume or would like to improve their current resume. Materials are provided by the library, but participants should have access to information about education, work and volunteer history so that they can begin building their resume with the assistance of the library staff. Register by contacting the library at (717) 732-4274.


Craftapalooza!
Saturday, January 12 - 12 pm - 1:30 pm
We are putting out all kinds of craft supplies, so bring your creativity. Drop in anytime between 12:00 pm and 1:30 pm to make a one-of-a-kind creation that you can take home. All ages welcome; under 13 must be accompanied by an adult. No registration required.
---
NEXT TUESDAY!
Hawaiian Luau for Kids!
Tuesday, January 8 - 5 pm to 6 pm
Come escape from the dreary January cold and join our Hawaiian Luau! Listen to island music, play games, and feel free to wear your favorite vacation outfit! For children ages 6 – 12. Register NOW!
---
Winter STEM Wonderland @ the KCS
Wednesday, January 9 OR 16
4:30 pm - 5:30 pm in the Kunkel Creation Station
Don't let the cold weather get you down! Join your friends at the KCS and learn about the science of winter with fun, hands-on STEM activities! For ages 6 - 8 with registration now open.
---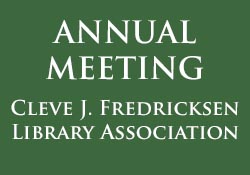 Wednesday, January 9
at 5:00 pm
The 2019 Annual Meeting of the the
Cleve J. Fredricksen Library Association
will be held in the Ruggaber Community Room, Lower Level. The public is welcome to attend.
---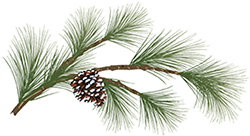 Holiday Fun at Fredricksen Library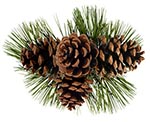 & East Pennsboro Branch
A Santa visit, Story times, A Magical Ball, Holiday Trivia & Ugly Sweaters, Books for Tots, Candy Cane Walk, Holiday Harp and Handbells Concert, A Tree Lighting, Gingerbread Men, Teen Gingerbread Houses, Holiday Book Groups, STEM & Crafts and a Holiday Book Tree - ALL during the 2018 holiday season!
SEE PHOTOS of ALL the fun!

2018 Holiday Book Tree - THANK YOU!
We are grateful to all for a wonderful holiday season AND for the many books dedicated on the sixth year of the Holiday Book Tree raising over $1600. Thank you to all for your dedications, sharing your stories about the folks you were honoring and warm holiday wishes. We hope you will participate in this tradition next year!
In October, Volunteer Joseph Franklin Smolinski represented Fredricksen Library at the Pennsylvania Library Association with a presentation on the Holiday Book Tree fundraiser. He spoke with hundreds of staff members from libraries across PA, sharing information on starting a book tree fundraiser of their own. A step by step guide was available (and ONLINE) for libraries detailing the process. Over the last six years, almost $12,000 has been raised at Fredricksen with over 700 dedications. We hope to see more Holiday Book Trees popping up at libraries across PA! (Along with ours!) THANK YOU! SEE PHOTOS OF THE DAY
---
PAVE THE WAY
The Fredricksen Library is raising funds for a new Lower Level Entrance and Business & Career Center by holding a paver fundraiser. Please help us "pave the way" by engraving a paver (or two!) in honor or in memory of family, friends, loved ones, pets, an organization, or special occasion. Paver order forms can be found ONLINE HERE OR you can stop by the Library to pick one up!
For questions, please call Development at (717) 761-3900 x 236.

---
Fredricksen Library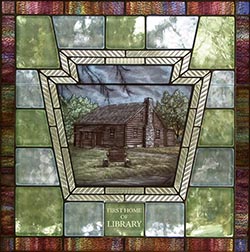 Stained Glass Window Replicas

Window replicas are 12" x 12", 1/4" plexiglass with white backing, two drilled holes for hanging (optional) with a narrow black U channel frame. Priced @ $65.00 a piece. Proceeds will support programs and services at Fredricksen Library.
DOWNLOAD an order form showing the 28 windows available.
---
Device Advice

By Appointment only
Tuesdays, 10 am - 12 pm
Thursdays, 5:30 pm - 8:30 pm
Reference Desk, Main Floor
We are pleased to offer free one-on-one consultations for up to an hour to help you navigate the basics of your eDevice! One of our trained Reference Librarians will assist you with downloading eBooks and eAudiobooks, as well as offer basic help with your tablet. You must have the device, login name and password for your appointment. To register, call 717-761-3900 x225.
---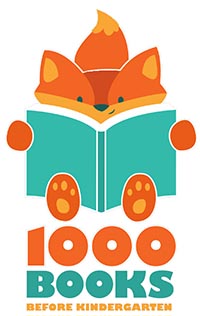 1000 Books Before Kindergarten
Our reading program will help prepare your child for one of their biggest milestones: kindergarten! Reading aloud to your child is one of the best ways to prepare them for kindergarten. With 1000 Books Before Kindergarten, parents are challenged to read to their children to get them ready to read. Stop by the Children's Desk to register for the program and learn more! Registration NOW OPEN!
---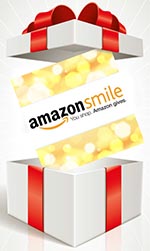 Support Fredricksen with your Amazon Purchases!
When you shop on AmazonSmile, 0.5% of the price of eligible purchases will be donated to the charitable organizations you select. Use the link from our website or go to smile.amazon.com and select Fredricksen Library. Use your regular Amazon login and password - no need to re-register.
Click HERE or on the AmazonSmile logo to get started!

---
Connect with US!

Do you know all the places Fredricksen can be found on Social Media? We're on Facebook, Pinterest, Instagram (fredricksenlibrary) and Twitter @cjfredricksen! You can also find photos of our events on our Flickr page. Click on any of the links at the bottom of this email, or on our website homepage to follow us and stay up to date with what's happening. Please like, share, pin and retweet our posts as well. (And tell all your friends and family too!)
---