Stepping In To History:
The Civil Rights Movement
Sunday, January 14
1:30 pm to 2:30 pm
Join us as Betty Garman Robinson shares her experiences as a young Northern white woman who went South where she found a different world while learning about civil rights. She'll share with us why she went, what her family's reaction was and what she learned during those years. Not realizing she would be taking part in a critical period of US history, she will encourage us to think about our own roles in our local communities and how we are shaping history. Ms. Garman Robinson is a lifelong community organizer, activist and speaker. She worked as a staff member for the Student Nonviolent Coordinating Committee (SNCC) from 1960-1964. She is the co-editor of Hands on the Freedom Plow: Personal Accounts of Women in SNCC.
This program is part of the Daytime Academy, made possible by a grant from Harsco Corporation, honoring the memory of Derek C. Hathaway and his passion for life-long learning.No registration necessary.


---
Holiday Fun at Fredricksen Library
& East Pennsboro Branch
A Santa visit, Story times, A Harry Potter Yule Ball, Books for Tots, Holiday Harp and Handbells Concert, A Tree Lighting, Gingerbread Men, Teen Gingerbread Houses, and a Holiday Book Tree - ALL during the 2017 holiday season!
SEE PHOTOS of ALL the fun!

2017 Holiday Book Tree - THANK YOU!
We are grateful to all for a wonderful holiday season AND for the many books dedicated on the fifth year of the Holiday Book Tree raising a total of $2583 - our highest total ever. Thanks to you, $1,291,50 (half) will be sent to DIRECT RELIEF.org for much needed Puerto Rico & US Virgin Islands hurricane relief. Thank you to all for your dedications, sharing your stories about the folks you were honoring and warm holiday wishes. In addition, thank you for the generous donations again this year for Books for Tots.

---
Library for Lunch –Bring Your Dinosaur to Lunch!
Wednesday, January 10 OR
Friday, January 12
12 pm to 1 pm
Children ages 3-6 will hear stories and sing songs and do activities about those wonderful dinosaurs. A snack and drink will be provided. Children must bring a bag lunch. Toy dinosaurs are welcome to attend, but it is optional. Cost is $1 per person.
Register ONLINE NOW! - 1/10 session OR 1/12 session

---
NEW FOR CHILDREN'S PROGRAMS IN 2018!
We are now offering online registration for many of our Children's Programs! Registration is currently open online for these upcoming January programs - American Girl Book Club, Library for Lunch - Dinosaurs, Artist Alley, STEM Exploration Lab. LEGO Club and Faith's Fandom Frenzy. On the phone and in person registrations are also still available for programs.
Check out all of our UPCOMING CHILDREN'S PROGRAMS.
---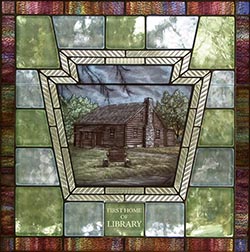 Fredricksen Library
Stained Glass Window Replicas

Your visit to the Cleve J. Fredricksen Library would not be complete without noticing the distinctive stained glass panels hanging in our large windows. When the building was designed in 1998, each of the six municipalities served by the library – Camp Hill, Lemoyne and Wormleysburg boroughs and East Pennsboro, Lower Allen and Hampden townships – submitted significant and historic sites to be memorialized in stained glass. As a result, familiar scenes depicted in vibrant colors grace nearly every window.
In celebration of Fredricksen Library's 60th Anniversary, we are offering replicas of the beautiful panels for your home, office or to use as special gifts. Proceeds will support programs and services at Fredricksen Library.

Window replicas are 12" x 12" square, 1/4" plexiglass with white backing, two drilled holes for hanging (optional) with a narrow black U channel frame. Priced @ $65.00 a piece. Please see the samples at Fredricksen Library and the East Pennsboro Branch. A few window designs are available in the library for immediate sale, with no ordering. All other orders require prepayment, two weeks for production and must be picked up upon phone or email notification.

CLICK HERE to see or DOWNLOAD an order form showing the 28 different windows available.

---
Great Decisions 2018
Eight sessions: every other Monday beginning February 5
1:00 pm to 2:30 pm
Great Decisions is America's largest discussion program on world affairs. The program model involves reading the Great Decisions Briefing Book, watching the DVD and meeting expert speakers in a Discussion Group to discuss the most critical global issues facing America today. Registration now open. Cost: $10 per individual session or $50 covers all 8 sessions. First session: The Waning of Pax Americana?
Monday, February 5 at 1 pm
Register online @ https://wacharrisburg.ticketleap.com/great-decisions-2018/ or send a check to World Affairs Council of Harrisburg /Walnut St. & N. 4th St/ 234 Strawberry Square/ Harrisburg, PA 17101. Payment via check, credit card or cash at door is also available.

---
At the East Pennsboro Branch...
Drive-In Movie
Monday, January 15
at 10:30 am
Decorate a "car" with your family. Then sit in your car and enjoy a snack as you watch a short movie. All supplies and snacks provided. Recommended for ages 2 to 8 years old with an adult; older siblings welcome. No registration required.
Homemaking Habits: Declutter & Organize
Saturday, January 27 at 10:00 am
You can organize your home this year! Come learn tips for decluttering and organizing during this monthly workshop. Held on the fourth Saturday of the month. Register at the library or by calling the library at (717) 732-4274.
January 27--Kitchen ~ February 24--Bathroom ~ March 24--Bedroom
April 28--Living Room ~ May 26--Hidden Spaces
---
Game Day for All!

Sundays, January 21, February 18
and March 18
from 1:30 pm to 4:30 pm
Board games are fun for everyone, so come drop in and play with us! We will have board games available to play, but please feel free to bring your own too! It's always fun to share a game you love. All ages are welcome; ages 12 & under must be accompanied by an adult. No registration necessary.

---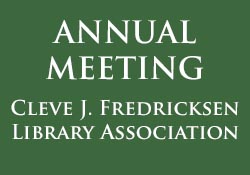 Wednesday, January 10
at 5:00 pm
The Annual Meeting of the the Cleve J. Fredricksen Library Association will be held in the Ruggaber Community Room, Lower Level. The public is welcome to attend.

---
Coming in February... SAVE THE DATE!
Lincoln's Highlights
Saturday, February 10
1:30 pm - 2:30 pm in the Atrium
President Lincoln himself talks about his family, some highlights from his life, and especially his battles with slavery. Don't miss this chance to see our favorite Lincoln aficionado and actor, James Hayney in our beautiful atrium. No registration necessary.

Film Fridays:
The 2018 Oscar-Nominated Short Films
Friday, February 23
at 2 pm & 7 pm
Saturday February 24 at 2 pm
The Oscars are almost here and we have your opportunity to see the Oscar-Nominated Short Films before the awards are given! These films are wildly popular, but often difficult to find. Look no further! Fredricksen Library gives you a chance to choose the winners before the Academy announces them. Join us on Friday, February 23 as we view the nominees from the following categories:
2:00 pm - 5:00 pm - Documentary Short Films
7:00 pm - 9:00 pm - Live Action Short Films
Saturday, February 24 at 2:00pm - 4:00pm - Animated Short Films
Not recommended for ages 17 & under without parental permission. No registration necessary. Sponsored by Jan and Bill Murray.

Mardi Gras Madness
with the Ben Mauger Band
Monday, February 12
from 7:00 pm to 8:30 pm
Laissez les bons temps rouler! If you can't get to New Orleans this Mardi Gras, never fear because we're bringing the sounds of Mardi Gras to Camp Hill! Ben Mauger's New Orleans Jazz Band will play the songs that make you feel like you're sauntering down by the bayou. So get ready to catch some beads and let the good times roll because we are ready to celebrate! No registration necessary.

---
Device Advice

Tuesdays 10 am to 12 pm,
Thursdays 5:30 pm to 8:30 pm
Reference Desk, Main Floor
We are pleased to offer free one-on-one consultations for up to an hour to help you navigate the basics of your eDevice! Just call in to reserve up to one hour with one of our trained Reference Librarians who will assist you with downloading eBooks and eAudiobooks, as well as offer basic help with your tablet. You must have the device, login name and password for your appointment. To register, call 717-761-3900 x225.
---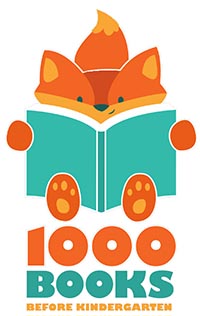 1000 Books Before Kindergarten
Our brand new program will help prepare your child for one of their biggest milestones: kindergarten! Reading aloud to your child is one of the best ways to prepare them for kindergarten. With 1000 Books Before Kindergarten, parents are challenged to read to their children to get them ready to read. Stop by the Children's Desk to register for the program and learn more! Registration NOW OPEN!
---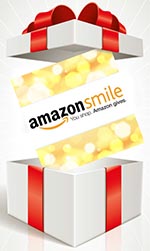 Support Fredricksen with your Amazon Purchases!
When you shop on AmazonSmile, 0.5% of the price of eligible purchases will be donated to the charitable organizations you select. Use the link from our website or go to smile.amazon.com and select Fredricksen Library. Use your regular Amazon login and password - no need to re-register.
Click HERE or on the AmazonSmile logo to get started!

---
Connect with US!

Do you know all the places Fredricksen can be found on Social Media? We're on Facebook, Pinterest, Instagram (fredricksenlibrary) and Twitter @cjfredricksen! You can also find photos of our events on our Flickr page. Click on any of the links at the bottom of this email, or on our website homepage to follow us and stay up to date with what's happening. Please like, share, pin and retweet our posts as well. (And tell all your friends and family too!)
---