Winter Reading Challenge for Adults--January 25 to February 28 on Beanstack
Show how thankful you are for Fredricksen Library, and join us for our #ReadGrateful challenge by reading a library book for at least 20 minutes per day. Books, audiobooks, e-books, and e-audiobooks all count! Borrow some today, read, and log your minutes. Tell your friends about your favorite books on social media, and tag us (@fredricksenlibrary). Be sure to include #ReadGrateful and #IheartFRElibrary.

Children's Winter Reading Challenge - January 25 to February 28 on Beanstack. Ages 0 - 12.
Join us for a Winter Reading Challenge! Log your minutes on Beanstack and win prizes during the chilly winter months. Grownups may participate when reading to their little ones. Older children can curl up with their favorite stories and stop in to win prizes when they complete the challenges.
Teen Reading Challenge: 100 Books Before Graduation-- Starting January 25-- Ages 12-18
This winter, we are launching a new challenge for teens! Use Beanstack to log any books you read, with the goal of reading at least 100 before graduation. Along the way you'll have chances to win prizes and books. Start logging on January 25, and remember to count every book (even the ones you read for school!) The only end date for this challenge is your graduation.
All ages can register January 25 @ fredricksen.beanstack.org
---

LIVE Concert with Caryn Lin: Electric Violinist, Composer, Education Innovator
Join "One Woman Musical Extravaganza," electric violinist, Caryn Lin as she literally transforms sound in front of your very eyes! With the technologies of looping & sound effects, Caryn Lin creates on-the-spot recordings, layering deceptively simple melodies to make music that is both other worldly & totally catchy. Years of concentrated experimentation with sound results in a live/virtual show that is spectacular. You will learn about the science behind this magical sound & see soundwaves come to life! Geared towards adults, this program is also appropriate for younger audiences. Don't miss this unique experience with a widely heralded artist/scientist/musician! See more at carynlin.com.
REGISTER NOW

---
Black History Month Discussion for Teens
Thursday, February 18
6 pm to 7:30 pm via Zoom
Join us and Harrisburg City Council Member Danielle Bowers as well as DCLS Library Board of Trustees Member Floyd Stokes to respectfully discuss topics of race as they relate to our community. Registration is required and limited. A Zoom link, password, and further instructions will be emailed. REGISTER NOW
---
Struggle for
Freedom: The
Life of Dr. King
Bright Star Touring Theatre, a national professional touring theatre company based in Asheville, NC joined us virtually with their heralded production of Struggle for Freedom: The Life of Dr. King. This inspiring production has received nationwide acclaim. Struggle for Freedom is a 45-minute production that seeks to honor the American Civil Rights Movement. The life and work of Dr. Martin L. King, Jr. provides the backdrop to scenes that recreate the Montgomery bus boycott, the March on Washington, the Woolworth Sit-ins and much more. With excerpts of famous speeches, Civil Rights era songs and a variety of characters, this moving production is best appreciated by grades 3 through adult. This Live production was followed by Q&A with the actors.
SEE THE RECORDING OF THIS ONE HOUR PROGRAM HERE!
---
THE COUNTDOWN IS ON! - JOIN US!
Virtual Makerspace: The Perseverance Rover
Thursdays, February 4 and February 11 at 4 pm
Thursday, Feb. 18 Register & watch live with us at 3:30 pm est!
On February 18, NASA's latest Mars Rover, Perseverance, will land on Mars! Join us in a series of programs to learn about the rover, do experiments, and watch the landing live. Best for ages 9+ but families are encouraged to attend together!
For Zoom information REGISTER NOW
---
Teen Movie Watch Party
Saturday, February 6
@ 3 pm via Zoom
Join us on Zoom to chat about The Secret of Kells while we watch it together on Kanopy! You'll get fun pop-up facts throughout the movie. All you need is a library card! For teens ages 12 – 18. REGISTER NOW for the Zoom link.
The Secret of Kells
About the movie: Young Brendan lives in a remote medieval outpost under siege from barbarian raids. But a new life of adventure beckons when a celebrated master illuminator arrives from foreign lands carrying an ancient but unfinished book, brimming with secret wisdom and powers. To help complete the magical book, Brendan has to overcome his deepest fears on a dangerous quest that takes him into the enchanted forest where mythical creatures hide. It is here that he meets the fairy Aisling, a mysterious young wolf-girl, who helps him along the way. But with the barbarians closing in, will Brendan's determination and artistic vision illuminate the darkness and show that enlightenment is the best fortification against evil?
---
This month in the Fredricksen Display Case:
Dauphin County 4-H Fur and Feathers
This month's display is a compilation of projects made by the Dauphin County 4-H Fur and Feathers, a club for small animal lovers in Harrisburg. 4-H is a community of young people (5-18) across America who are learning leadership, citizenship and life skills. 4-H also provides a place and opportunities for kids to showcase and improve their hobbies and interests. You don't need to live on a farm or have a pet/animal to be part of 4-H and you are not limited to just the clubs in your county. Check out what club(s) you might like to join HERE. See our club Facebook page: Dauphin County 4-H Fur and Feather Club.
---
Kanopy Friday Film Discussion
Join us for our first-ever film discussion series! Much like a book group, you will watch the film on your own and then join us on Zoom for a moderated discussion. All films will be available on the free film platform, Kanopy.com. All you need to access the film is your library card! You must have watched the film to participate in the discussion.
The Farewell
Friday, February 26
at 7 pm via Zoom
February's film, The Farewell, tells the funny, heartfelt story of Billi's (Awkwafina), as her family returns to China under the guise of a fake wedding to stealthily say goodbye to their beloved matriarch--the only person that doesn't know she only has a few weeks to live. Golden Globe winner and Sundance Film Festival selection. Rated PG. REGISTER NOW
---

Fredricksen Reads:
One Book, One Community choice
The Curious Charms of Arthur Pepper
by Phaedra Patrick
Monday, February 22 from 7 pm to 8 pm via Zoom
Sixty-nine-year-old Arthur Pepper lives a simple life. He gets out of bed at precisely 7:30 a.m., just as he did when his wife, Miriam, was alive. He dresses in the same gray slacks and mustard sweater vest, waters his fern, Frederica, and heads out to his garden.
But on the one-year anniversary of Miriam's death, something changes. Sorting through Miriam's possessions, Arthur finds an exquisite gold charm bracelet he's never seen before. What follows is a surprising and unforgettable odyssey that takes Arthur from London to Paris and as far as India in an epic quest to find out the truth about his wife's secret life before they met—a journey that leads him to find hope and healing in the most unexpected places. You must have read or listened to the book to attend. Ages 18 and older, please. Registration NOW OPEN and is required for the Zoom link
Curl Up with the Classics: The Screwtape Letters
Tuesday, March 2 - 10 am to 11 am via Zoom
Join us online as we discuss this month's Curl Up with the Classics book choice The Screwtape Letters, a compilation of fictional letters that are really a satire of human life. You must have read or listened to the book to attend. Ages 18 and older, please. REGISTER NOW for the Zoom link.

Moving Forward Book Group:
Born a Crime by Trevor Noah
Wednesday, March 3 - 1 pm to 2 pm via Zoom
Join us for Moving Forward, a book discussion series geared towards those who have suffered a loss or tragedy and could use an infusion of hope. In cooperation with Hospice of Central PA, we will be reading books focusing on the redemptive power of the human spirit. March's choice is Born a Crime: Stories from a South African Childhood, an autobiography full of wit and poignancy. You must have read or listened to the book to attend. Ages 18 and older, please. REGISTER NOW for Zoom link for the Zoom link.

Fredricksen Reads:The Water Keeper By Charles Martin
Saturday, March 13 - 9 am to 10 am via Zoom
Join us on this Saturday morning to discuss a story of love, loss, and redemption—Charles Martin's The Water Keeper. You must have read or listened to the book to attend. Ages 18 and older, please. REGISTER NOW for the Zoom link.
Fredricksen Reads: The Home Place by J. Drew Lanham
Monday, March 22 - 7 pm to 8 pm via Zoom
Join us for this month's discussion of The Home Place: Memoirs of a Colored Man's Love Affair with Nature. Read this year's Longwood gardens Community Reads book choice to "follow the author's journey as a successful, wildlife ecologist who along the way uncovers lessons about legacy and his own need to inject deeper sense of human caring into his life and work." You must have read or listened to the book to attend. Ages 18 and older, please. REGISTER NOW for the Zoom link.
Curl Up with the Classics: The Three Musketeers
Thursday, March 25 - 8 pm to 9 pm via Zoom
Join us online as we discuss Alexander Dumas' The Three Musketeers in a special 6-week series. You must have read or listened to the applicable sections of the book to attend. Ages 18 and older, please. REGISTER NOW for the Zoom link.
March 25 - chapters 1-10, April 1 - chapters 11-20, April 8 - chapters 21-30, April 15 - chapters 31-43, April 22 - chapters 44-56, April 29 - chapters 57-epilogue.

---
Winter Story Time With Miss Emily And Roasty The Cat
Monday Afternoons,
January 18 - February 22
Planes, trains, and buses - oh my! Join Miss Emily and Roasty the Cat Librarian for our next storytime series all about transportation! Each week we'll explore a different way of getting around with fun stories and lots of new songs. Best for ages 3 - 6. Posted Monday afternoons to our website and social media, no registration required.
---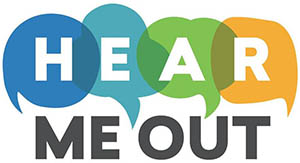 Hear Me Out:
Is My Data Private?
Wednesday, February 24
5:30 pm to 7:30 pm via Zoom
In partnership with the Carnegie Library of Pittsburgh, the Coy Public Library of Shippensburg, and the Northland Public Library, and the Free Library of Philadelphia, we present Is My Data Private?: A 'Hear Me Out' dialogue. Join us to learn about data privacy and then have a chance to voice YOUR opinion. Do you feel safe on social media? Have you been affected by a data breach? We will gather virtually to connect with individuals from across the state and build community around the world we share! Advanced registration through Eventbrite is required *Please note, you will receive a link to the Zoom session before it begins via email* REGISTER NOW

---
Business & Career Center @ Fredricksen Programs
We are now offering virtual resume, employment and career guidance sessions via Zoom, and several new virtual workshops to help with Time Management and Job Searches. Our now-virtual career workshops focus on all aspects of employment, whether returning to current employ or searching for a new job or career. AND now, IN PERSON Computer Workshops, held in the Community Room, socially distanced. Stay tuned for more upcoming programming and other important announcements—your future starts here!
---
Home-Based Business Roundtable w/ SCORE — VIRTUAL Session Register NOW!
Calling all home-based entrepreneurs! Selling on eBay, Etsy or Minted? Airbnb, pet care or other traditional home-based business? Network in a live virtual session with the like-minded and get information and inspiration. Register online to receive a Zoom invite for the sessions and times below.
2nd Tuesdays of each month from 12 pm – 1:30 pm - REGISTER
4th Tuesdays of each month from 6 pm – 7:30 pm - REGISTER
As a resource partner of the U.S. Small Business Administration (SBA), SCORE has helped more than 11 million entrepreneurs through mentoring, workshops and educational resources since 1964. For more information about the organization, please visit their website at www.score.org.

---
Setting Goals:
One SMART Step at a Time
Is it time to brainstorm your goals to realize results? Busy lives don't organize themselves, we can help put some structure in your future—join us for this interactive workshop and we'll aim to organize, maximize, and prioritize goals to hit your target every time! REGISTER NOW

VIRTUAL WORKSHOP—Tuesday, February 9 from 3 pm – 4 pm
VIRTUAL WORKSHOP —Tuesday, February 23 from 3 pm – 4 pm
---
Promoting Yourself: Creating a LinkedIn Profile
LinkedIn is the professional platform that hiring managers scope out most often. Join us for this workshop to learn how to set up a new profile, or reboot your existing profile, to experience the best professional results. Be prepared for the workshop by having access to a digital profile photo that effectively communicates your business image.
REGISTER NOW
VIRTUAL WORKSHOP—Friday, February 12 from 3 pm – 4 pm
VIRTUAL WORKSHOP —Friday, February 26 from 3 pm – 4 pm
---
Microsoft Office Workshops
In-person, masked, small groups socially distanced—Ruggaber Community Room. Get more info on these workshops below by
clicking on REGISTER.
Document Basics — Microsoft Word
Monday, February 8 from 3 pm – 4 pm - REGISTER
Presentation Basics — Microsoft PowerPoint
Thursday, February 18 from 3 pm – 4 pm - REGISTER
Cloud Storage Basics — Google Drive, Google Photos, OneDrive, Dropbox and others.
Monday, February 22 from 3 pm – 4 pm - REGISTER

See more upcoming 2021 Business & Career Center programs HERE
---
Great Decisions 2021 - NOW Every Thursday and evenings!
Thursdays, Feb. 4 - March 25
7 pm – 8:30 via Zoom
Great Decisions is America's largest discussion program on world affairs. This year's discussions will be held online and will be free to the public.
You will be provided links to reading materials and will be able to engage with experts in their fields on eight of the most important international issues of our day. You will watch a video produced by the Foreign Policy Association, and then hear from an expert selected by the World Affairs Council of Harrisburg to lead a moderated discussion. Registration is required to access the Zoom link. REGISTER NOW
February 4: Global supply chains and national security
February 11: Persian Gulf Security Issues
February 18: Brexit and the European Union
February 25: Struggles over the Melting Arctic
March 4: China's Role in Africa
March 11: The Korean Peninsula
March 18: Roles of International Organizations in a Global Pandemic
March 25: The End of Globalization?

---
Write On
Wednesday, February 17
7:30 pm - 9 pm via Zoom

Connect with others who love to write! This group welcomes beginning writers of all genres. Join us once a month to share your work, encouragement, and constructive feedback. Ages 18 and older.
REGISTER NOW for the Zoom link.
---
During this unprecedented time, Fredricksen Library wants to do everything we can to support you from afar! Some of our Children's Library Staff will be posting online story times and videos about science, art and more! Watch for the videos and story times on social media OR see them all on our website HERE!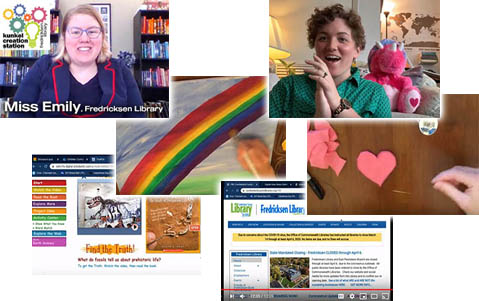 ---

Our electronic resources can be used from your own phone or computer to view movies (Kanopy), read books (Overdrive), catch up on studies (Tutor.com), see children's materials (Tumblebooks). Check databases to follow the stock market or do research. (Databases).
---
NOW! - Cardholders have FREE access to Tutor.com!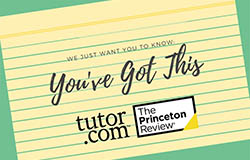 Tutor.com gives access to live, online tutoring and resume help as well as thousands of academic and career resources. It is for K-12 and college students who need help with homework, studying, projects, essay writing and test prep in every subject, including algebra, statistics, chemistry, physics, social studies and English. It is for adults who need help with job searches, GED prep and academic support. All sessions are online with professional academic or career tutors. Library cardholders and visitors in the library can work with an online tutor 7 days a week between the hours of 12 PM and 12 AM. ACCESS TUTOR.COM NOW!
---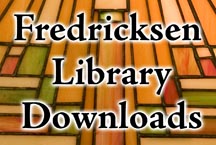 Get information and registration dates
on all programs!
DOWNLOAD the Fredricksen Library Newsletter
---