Lincoln - Lies, Legends, and Myths
Saturday, February 2
1:30 pm to 2:30 pm
in the Atrium
As part of our Daytime Academy Speaker Series, we welcome highly-acclaimed Abraham Lincoln aficionado and actor, James Hayney as President Abraham Lincoln. The sixteenth President will set the record straight, separating fact from fiction. The Daytime Academy is made possible by a grant from Harsco Corporation, honoring the memory of Derek C. Hathaway and his passion for life-long learning. No registration necessary.
Also coming in February...
What You Missed in History: The Radical Rosa Parks
presented by Say Burgin of Dickinson College
Tuesday, February 5 - 7:00 pm to 8:00 pm READ MORE

What You Missed in History: An Afternoon with Martha Washington
with Alisa Dupuy from Ladies of History
Sunday, February 10 - 1:30 pm to 2:30 pm READ MORE
---
Teen Blind Date with a Book
February 1 - 28
We all try not to judge a book by its cover, but now's your chance! Stop by the library, check out our Teen Book Display and pick out your "date." Once you are done reading, fill out the Rate Your Date card inside the book for a chance to win a prize. Drop off your cards at the Reference Desk.
---
Love and Kindness is in the Air

Thursday, February 14
4:30 pm – 5:15 pm
Surprise someone you know with an encouraging decorated written message to thank them for being in your life. For children ages 8 – 12. Registration open.
---
Keating Jazz Orchestra's Two-Beat Dames
Saturday, February 9
1:30 pm to 3:00 pm in the Atrium
For your entertainment, KJO's Two-Beat Dames will be performing music from the 1920s and Dixieland! They have played all over the Central PA area at venues such as The Hotel Hershey, The Emerald Foundation, The Gas House Dance Hall, Swing Kat Entertainment, Tellus360, The Carlisle Vault and Dardanella's Great Gatsby Lawn Party! They have also played at fundraisers for The MS Society, Gettysburg Community Theatre, The Emerald Foundation, The Woodrow Wilson Association, Adams County Rescue Mission, H.O.P.E., and the Cumberland County Historical Society. We hope you have a hotsy-totsy time!
---
The Cleve J. Fredricksen Library Association
The Cleve J. Fredricksen Library Association is pleased to announce
the officers for 2019:
President / Parliamentarian: Diane Myers
Vice-President: Gary Crowell
Secretary/Parliamentarian: Carolyn Pfeifer
Treasurer: Linda Haines
Assistant Treasurer: Yvette Kane
Past President: Kathy Bard

2019 Board Meetings:
March 13 | May 8 | August 14 | October 9 | December 11
All board meetings are open to the public and held at 5 pm in the
Ruggaber Community Room at Fredricksen Library.
2019 Friends of Fredricksen Library President: Cathy St. Pierre
2019 Friends of East Pennsboro Branch Library President: Debbie Lupold
---
At our East Pennsboro Branch...
All Aboard for Winter Reading for ALL Ages!
February 1 through February 28
Join us! Choose challenges from the Winter Reading Challenge sheet.
When you have completed that challenge, cut out a sticker and stick it onto a train car. After you have completed 5 and 10 challenges, come to the library for a small incentive. After you have completed 15 challenges, come to the library for a FREE book and an entry for the Grand Prize Drawing! Grand Prizes include 2 tickets to Hands On House, an Amazon Gift Card and an Enola Train Yards Stained Glass Replica. AND Join us for our Children's Train Themed Programs:
Let's Play Trains
Saturday, February 2 at 12 pm - No registration required.
Driving Trains
Monday, February 18 at 11 am - Registration required.
Train Town!
Saturday, February 23 at 11 am - No registration required.
Train Safety Presentation/Operation Lifesaver
Saturday, February 23 at 10 am - No registration required.

---
Blood Pressure Screenings
First Thursdays of every month starting February 7th
NEW for 2019! UPMC Pinnacle is now partnering with Fredricksen Library to offer free Blood Pressure Screenings the first Thursday of every month from 11 am - 1 pm. For your convenience, three parking spaces are reserved near the main entrance.
---
The Oscars are almost here and we have your opportunity to see the Oscar-Nominated Short Films before the awards are given! These films are wildly popular, but often difficult to find. Look no further! Fredricksen Library gives you a chance to choose the winners before the Academy announces them.
The Documentaries & Live Action Shorts are not recommended for ages 17 & under without parental permission.
No registration necessary. Sponsored by
Jane and Bill Murray.

SEE TRAILERS OF ALL THE NOMINEES HERE!
---
At our East Pennsboro Branch....
DIY Book Hideaway
Wednesday, February 13
1 pm to 3 pm
Make a book hideaway for yourself or to give as a gift. All materials will be provided for those who register in advance. All ages welcome; under 13 must be accompanied by an adult. This program is a partnership with the Schaner Adult Center. Register by contacting the library at (717) 732-4274.


Hands On: STEM
Monday, February 25
from 2:30 pm to 5:00 pm
Drop in any time between 2:30 pm and 5:00 pm to try some hands-on STEM.
February 25--Building (e.g. Lego WeDo, K'nex, etc.) This program is for all ages; under 13 must be accompanied by an adult.
---
Library for Lunch – Friendship Fun!
Wednesday, February 6 @ 12:00 pm OR
Friday, February 8 @ 12 pm
Join us for a fun filled story time geared towards children ages 3 - 6. We will enjoy stories and activities focusing on friendship and kindness before contributing to a group project that will be hung in the library! Children must bring a bag lunch. Cost is $1, Registration is now open.
---
Gardening with Nature: Open House
Tuesday, February 19
7:00 pm - 8:00 pm
Fredricksen Library has teamed up with Penn State Master Gardeners to bring you a series of workshops that will show you how to garden with nature. Join us for a preview of the workshops to be presented on the third Tuesday of every month from March through October of this year. Learn about events to be held at the Adams Ricci Park Butterfly Garden and get answers to gardening questions. Free. Light refreshments will be served. No registration required.
---
Great Decisions 2019
Eight sessions: every other Monday, starting February 4
1:00 pm - 2:30 pm
Great Decisions is America's largest discussion program on world affairs. The program model involves reading the Great Decisions Briefing Book, watching the DVD and meeting expert speakers in a Discussion Group to discuss the most critical global issues facing America today. Each year, eight topics are chosen by Foreign Policy Association's panel of experts. Discussion topics can be found here!
In partnership with the World Affairs Council of Harrisburg, this year's discussions will meet every other Monday afternoon at 1:00 pm (2/4, 2/18, 3/4, 3/18, 4/1, 4/15, 4/29, 5/13). Registration now open online.
---
The Fab Four @ Fredricksen!
Coming in February to the front lobby display case - don't miss our friend Terry's collection celebrating the 55th year of The Beatles arriving in the U.S.!
The display will include items as far back as 1964 to more current reproductions and promotional items, 45s and vinyl albums to cassettes and 8-track tapes to CDs, posters, books, McCartney concert programs and Yellow Submarine memorabilia. Don't miss it!
---
PAVE THE WAY
The Fredricksen Library is raising funds for a new Lower Level Entrance and Business & Career Center by holding a paver fundraiser. Please help us "pave the way" by engraving a paver (or two!) in honor or in memory of family, friends, loved ones, pets, an organization, or special occasion. Paver order forms can be found ONLINE HERE OR you can stop by the Library to pick one up!
For questions, please call Development at (717) 761-3900 x 236.
---
Fredricksen Library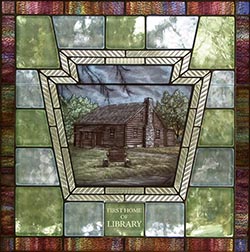 Stained Glass Window Replicas

Window replicas are 12" x 12", 1/4" plexiglass with white backing, two drilled holes for hanging (optional) with a narrow black U channel frame. Priced @ $65.00 a piece. Proceeds will support programs and services at Fredricksen Library.
DOWNLOAD an order form showing the 28 windows available.
---
Device Advice

By Appointment only
Tuesdays, 10 am - 12 pm
Thursdays, 5:30 pm - 8:30 pm
Reference Desk, Main Floor
We are pleased to offer free one-on-one consultations for up to an hour to help you navigate the basics of your eDevice! One of our trained Reference Librarians will assist you with downloading eBooks and eAudiobooks, as well as offer basic help with your tablet. You must have the device, login name and password for your appointment. To register, call 717-761-3900 x225.
---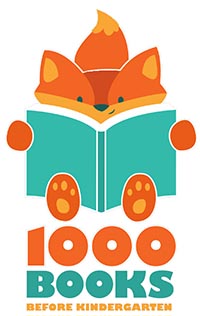 1000 Books Before Kindergarten
Our reading program will help prepare your child for one of their biggest milestones: kindergarten! Reading aloud to your child is one of the best ways to prepare them for kindergarten. With 1000 Books Before Kindergarten, parents are challenged to read to their children to get them ready to read. Stop by the Children's Desk to register for the program and learn more! Registration NOW OPEN!
---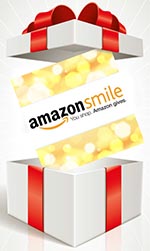 Support Fredricksen with your Amazon Purchases!
When you shop on AmazonSmile, 0.5% of the price of eligible purchases will be donated to the charitable organizations you select. Use the link from our website or go to smile.amazon.com and select Fredricksen Library. Use your regular Amazon login and password - no need to re-register.
Click HERE or on the AmazonSmile logo to get started!

---
Connect with US!

Do you know all the places Fredricksen can be found on Social Media? We're on Facebook, Pinterest, Instagram (fredricksenlibrary) and Twitter @cjfredricksen! You can also find photos of our events on our Flickr page. Click on any of the links at the bottom of this email, or on our website homepage to follow us and stay up to date with what's happening. Please like, share, pin and retweet our posts as well. (And tell all your friends and family too!)
---