As part of our Daytime Academy Speaker Series, come see highly-acclaimed Abraham Lincoln aficionado and actor, James Hayney as President Abraham Lincoln. The sixteenth President will let you in on the secrets of his search for the right General. The Daytime Academy is made possible by a grant from Harsco Corporation, honoring the memory of Derek C. Hathaway and his passion for life-long learning. No registration necessary.
---
The Oscar Nominated Short Films...
THIS Friday & Saturday!
Fredricksen Library gives you a chance to choose the Oscar winners before the Academy announces them! No registration necessary. Sponsored by Jane and Bill Murray. Join us on Friday as we view the nominees from the following categories:
Friday, 2 pm to 5 pm - Documentary Short Films* Rated R
Friday, 7 pm to 9 pm - Live Action Short Films* Rated R
Saturday, 2 pm to 4 pm for the Animated Short Films Rated PG-13
*Not recommended for ages 17 & under without parental permission.
SEE TRAILERS OF ALL THE NOMINEES HERE!
---
Saturday, February 15, Part 1 – Muhammad: Legacy of a Prophet
1:30 pm – 3:30 pm
Friday, February 28, Part 2 – Inside Islam: What a Billion Muslims Really Think 2:00 pm – 3:30 pm – film only (no Panel & Q&A)
7:00 pm – 9:00 pm full program (Panel & Q&A)
In this day and age of information (& misinformation) overload, we bring you directly to the source to learn more about your Muslim neighbors and their beliefs. During this series, you will view a film about one aspect of Islam and will then have the opportunity to ask questions to a panel. No registration necessary.
---
Medical Marijuana in PA:
What You Need to Know
Thursday, January 30
7:00 pm to 8:30 pm
Medical Marijuana was legalized in PA back in 2016, but where can we turn to learn more about it? Join Mary Werdebaugh, Director of Community Outreach at Organic Remedies Medical Marijuana Dispensary and Adjunct Instructor at HACC. She'll lead you through the science, the stigma, and the process of obtaining medical cannabis in PA. She'll explain the approved conditions in PA, the endocannabinoid system, the different types of products available and the pharmacy/patient connection. Following her presentation, stay for a Q&A session. No registration necessary.
---
At our East Pennsboro Branch...
All Aboard for Winter Reading for ALL Ages!
February 1 through February 29
Join us! Choose challenges from the Winter Reading Challenge sheet and you could WIN! Stop in for your Log and for details!
---

Fun With Coding!
Tuesday, February 11 - 4:30 pm to 5:30 pm
OR Thursday February 13 - 5 pm to 6 pm
Join us to play with some of our coding toys in the Kunkel Creation Station! This is a great time to get familiar with Bee Bots, Sphero Robots, and Makey Makeys. For ages 8 - 12 with registration beginning Jan 28.
---
DIY Zine Making with the LGBT Center of Central PA
Saturday, February 22
1:30 pm to 3:30 pm
Do you have a story to tell? Teens, along with their parents/caregivers, are invited for an afternoon of zine making with the LGBT Center of Central PA! Zines are short, DIY style magazines
that are easy to photocopy and distribute, and a perfect way to start sharing your unique story. Parents/Caregivers of participants are invited to check out our book display and browse information provided by the Center. All materials provided, no registration necessary. For teens ages 12-18.

---
February Programs in the
Business & Career Center
Document Basics
Wednesday, February 26 from 12:00 pm – 1:00 pm - REGISTER ONLINE
Fredricksen Library staff will be conducting an interactive workshop on creating and editing documents, whether using Microsoft Word or Google Docs. Bring your questions and improve your skills, beginner document creation and editing skills will be covered.
Banking Basics
Monday, February 24 from 6:00 pm - 7:00 pm - REGISTER ONLINE!
Take the mystery out of banking! What happens when I open a bank account, and why is it beneficial to me? Discover the differences between types of accounts, credit unions vs. banks, debit vs. credit cards and how good account management can benefit your future.
Mock Interview Sessions - BCC HUB - Register now, by appointment
2nd Wednesdays from 2 pm – 4 pm
Career Exploration Workshops
Tuesdays from 10:30 am-11:30 am & 4:30 pm-5:30 pm
Resume Writing Workshops
Thursdays from 11:30 am-12:30 pm and from 5:30 pm-6:30 pm
Get That Job! Workshops
Fridays from 10:30 am-11:30 am and from 4:30 pm-5:30 pm

Walk-in Sessions - BCC Classroom - No registration necessary
Mondays, Tuesdays and Fridays from 11:30 am to 1:30 pm
Mondays, Tuesdays and Fridays from 5:30 pm to 7:30 pm
Thursdays from 12:30 pm to 1:30 pm
Thursdays from 6:30 pm to 7:30 pm

Home-Based Business Roundtables with SCORE
2nd Tuesdays of each month, 12 pm - 1:30 pm
4th Tuesdays of each month, 6:00 pm - 7:30 pm
GET COMPLETE INFO AND REGISTER HERE
---
Great Decisions 2020
Eight sessions: every other Monday, starting February 3
1:00 pm – 2:30 pm
Great Decisions is America's largest discussion program on world affairs. The program model involves reading the Great Decisions Briefing Book, watching the DVD and meeting expert speakers in a Discussion Group to discuss the most critical global issues facing America today. Each year, eight topics are chosen by Foreign Policy Association's panel of experts.
February 3 - Climate Change | February 17 - India & Pakistan
March 2 – Red Sea Security | March 16 – Slavery & Trafficking
March 30 - Northern Triangle | April 13 – China/Latin America
April 27 – Philippines / U.S. | May 11 – Artificial Intel. / Data
DETAILS OF ALL DISCUSSIONS CAN BE FOUND HERE.
Cost: $10 per individual session or $65 covers all 8 sessions.
REGISTER ONLINE HERE Payment also available via check, credit card or cash at door.
---
The Cleve J. Fredricksen Library Association
The Cleve J. Fredricksen Library Association is pleased to announce
the officers for 2020:
President / Parliamentarian: Gary Crowell
Vice-President: Stephanie Andrejack
Secretary: Carolyn Pfeifer
Treasurer: Linda Haines
Assistant Treasurer: Yvette Kane
Past President / Parliamentarian: Diane Myers

2020 Board Meetings:
March 11 | May 13*| August 12 | October 14| December 19
All board meetings are open to the public and held at 5 pm in the
Ruggaber Community Room at Fredricksen Library.
*To be held at East Pennsboro Library
2020 Friends of Fredricksen Library President: Diane Myers
2020 Friends of East Pennsboro Branch Library President: Debbie Lupold
---
Gardening with Nature Series: Gardening Questions Answered
Tuesday, February 18 at 7 pm
3rd Tuesday of every month, February - October
Fredricksen Library has teamed up with Penn State Master Gardeners to bring you a series of workshops that will show you how to garden with nature. February's presentation features Catherine Scott, a Penn State Master Gardener and an employee at a local nursery. She truly enjoys answering questions about gardening and will share with you frequently asked questions that she encounters.
Workshops are $5.00 each. Walk-ins will be accepted only if space is available. Registration begins Februrary 1. To register for workshops in the series please visit https://extension.psu.edu and search for Gardening with Nature. Or call Penn State Events Registration toll-free at 1-877–345–0691 to register by phone Monday to Friday, 8 a.m. to 5 p.m.
---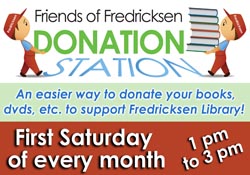 FIRST SATURDAYS!
DRIVE IN DONATION OF YOUR BOOKS, DVDS, CDS, GAMES, ETC!
During Donation Station hours, 1 pm to 3 pm, please park on the Walnut Street side parking area at the lower level employee entrance door. Donations at all other times can be given at the Reference Desk.

---
To celebrate the 50th anniversary of Earth Day, we invite all teens 12-18 to participate in our first anthology! We are looking for poems, essays, short stories, and drawings that can be reproduced in black and white about the themes of Earth Day, nature, and caring for the Earth.
Submit your work to the Teen Programmer at emcquiggan@ccpa.net or take it to the Fredricksen Library Reference Desk by April 1, 2020.
Want more information, or help working on your piece? Attend any of our Plot Twisters meetings for inspiration and feedback from your peers.
---

Sketchbook Review for Teens

By Appointment in the Kunkel Creation Station
Calling all artists! Are you ready to take your skills to the next level? Need a few pointers to develop your powers of observation and personal style? Fredricksen is now hosting one-on-one reviews. Bring your sketchbook or a handful of drawings. Finished work is not required. This is an informal feedback session to share your work, ask questions, and come away with some actionable suggestions to build on what you know. Tuesdays and Thursdays starting at 4:30 pm. For teens ages 12 – 18. Contact Emily to set up your private session at emcquiggan@ccpa.net.
---
Library for Lunch - Blanket Cuddles and Story Time!
Monday, February 24 OR Wednesday, February 26 at 12 pm
This event will be filled with stories, songs, and activities to correspond to the theme! Children should bring a bagged lunch and the library will provide a sweet treat. Registration is required and begins Feb 10. This program is recommended for ages 3 - 6 but younger and/or older siblings may attend. Please indicate younger sibling when registering.
---
NOW! - Cardholders have FREE access to Tutor.com!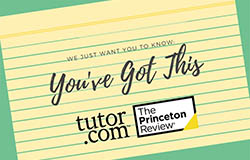 Tutor.com gives access to live, online tutoring and resume help as well as thousands of academic and career resources. It is for K-12 and college students who need help with homework, studying, projects, essay writing and test prep in every subject, including algebra, statistics, chemistry, physics, social studies and English. It is for adults who need help with job searches, GED prep and academic support. All sessions are online with professional academic or career tutors. Library cardholders and visitors in the library can work with an online tutor 7 days a week between the hours of 12 PM and 12 AM. ACCESS TUTOR.COM NOW!
---