Mardi Gras Madness
with the Ben Mauger Band!
Monday, February 12 from 7:00 pm to 8:30 pm
Laissez les bons temps rouler! If you can't get to New Orleans this Mardi Gras, never fear because we're bringing the sounds of Mardi Gras to Camp Hill! Ben Mauger's New Orleans Jazz Band will play the songs that make you feel like you're sauntering down by the bayou. So get ready to catch some beads and let the good times roll because we are ready to celebrate! No registration necessary.

---
Highlights
Saturday, February 10
1:30 pm - 2:30 pm
in the Atrium
President Lincoln himself talks about his family, some highlights from his life, and especially his battles with slavery. Don't miss this chance to see our favorite Lincoln aficionado and actor, James Hayney in our beautiful atrium. No registration necessary.
---
At the East Pennsboro Branch...
Candy Land: Winter Reading for All Ages!
Thursday, February 1 through 28
Read great books, color the spaces on your Candy Land game board, and earn prizes. When you finish the game, submit your card to enter to win one of our grand prizes. Register at the library starting February 1.
AND.... Check out the other Candy Land programs in February:
Life-Size Candy Land - Saturday, Feb. 10 at 10:30 am
& Candy Land House Extravaganza - Monday, Feb. 19 at 1:00 pm
---
NEW FOR CHILDREN'S PROGRAMS IN 2018!
We are now offering online registration for many of our Children's Programs! On the phone and in person registrations are also still available for programs.
Check out all of our UPCOMING CHILDREN'S PROGRAMS.
---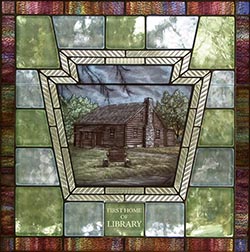 Fredricksen Library
Stained Glass Window Replicas

In celebration of Fredricksen Library's 60th Anniversary, we are offering replicas of the beautiful panels depicting historic sites in our service area for your home, office or to use as special gifts. Proceeds will support programs and services at Fredricksen Library.
Window replicas are 12" x 12" square, 1/4" plexiglass with white backing, two drilled holes for hanging (optional) with a narrow black U channel frame. Priced @ $65.00 a piece. A few window designs are available in the library for immediate sale, with no ordering. All other orders require prepayment, two weeks for production and must be picked up upon phone or email notification.
CLICK HERE to see or DOWNLOAD an order form showing the 28 different windows available.
---
The Oscars are almost here and we have your opportunity to see the Oscar-Nominated Short Films before the awards are given! These films are wildly popular, but often difficult to find. Look no further! Fredricksen Library gives you a chance to choose the winners before the Academy announces them. Join us on Friday, February 23 as we view the nominees from the following categories:
2:00 pm - 5:00 pm - Documentary Short Films
7:00 pm - 9:00 pm - Live Action Short Films
Saturday, February 24 at 2:00pm - 4:00pm - Animated Short Films
Not recommended for ages 17 & under without parental permission. No registration necessary. Sponsored by Jan and Bill Murray.
---
Library for Lunch!
Chinese New Year
Wednesday, February 14 or Friday, February 16
12 pm - 1 pm
Celebrate the Chinese New Year with stories, songs, dance and traditional cake. Children must bring a bag lunch. Cost is $1 per person. Registration is required starting January 31.
---
Handmade treats - like chocolates and cupcakes - make great gifts. This workshop will teach you how to turn an ordinary cupcake into a gift and how to make your own molded chocolates. Don't miss this workshop just in time for Valentine's Day. For ages 12 – 18. REGISTER ONLINE
---
It's time to VOTE!
It's time to VOTE for Simply the Best Library 2018!
If you have enjoyed programming Fredricksen has offered, borrowed books, CDs and DVDs, utilized our free internet computers, learned something new at a workshop, or just needed a beautiful place to get away, please take the time to VOTE HERE. We appreciate your votes! There have been some changes to the voting procedure to make it easier this year, with a nomination period until March 15, then actual voting from the top five nominees starting April 15.
---

The Friends of Fredricksen Library serve three functions: to advocate for library funding with local legislators; to raise funds to help meet the costs of special programming and new equipment; and to volunteer time at the library.

Special thanks to all the businesses and individuals who donated items and services to the 2017 Silent Auction. Proceeds from last year's book sales and Silent Auction have been dispersed this year to fund Children's, Teen, and Adult Programing, a popcorn machine, new book carts, Staff and Volunteer recognition, a new refrigerator and stack cutting machine, Book Pages (a monthly adult book reviewing paper), and two new chip enabled devices as well as a donation to the Building Fund to help with funding the new lower level entrance. Join the Friends of Fredricksen today!

Save the Dates for our Spring Book Sale - April 19 – 22!


---
Gardening
with Nature:
Why Master
Gardeners?
Tuesday, February 20,
7 pm to 8:45 pm
Fredricksen Library has teamed up with Penn State Master Gardeners to bring you a series of workshops that will show you how to garden with nature. Penn State Master Gardeners are volunteers trained by Penn State Extension to provide research-based home gardening information to the public. There are many benefits to becoming a Master Gardener! Come join us for a workshop, presented by Penn State Master Gardener Catherine Scott, on how and why to become a Master Gardener. Catherine's program will be followed by a sneak peak of the coming year's workshops. Free, no registration required. Future workshops cost $5.00 each and are offered on the 3rd Tuesday of each month (3/20, 4/17, 5/15, 6/19, 7/17, 8/21, 9/18 & 10/16). Registration for all programs now open. To Register Contact: Penn State Extension, Cumberland County 717-240-6500 or 1-888-697-0371 x6500
---
Watercolor Workshop
Saturday, February 17
1:30 pm to 3:00 pm
Come learn tips and tricks for how to use watercolors. Each child will leave with a painting they have created. Registration required and begins February 3. For children ages 10-12.

---
We are looking for your stories about Fredricksen Library & East Pennsboro Branch.
Tell us how you or someone you know has been positively impacted by library programs and services, volunteers and staff.
Share your best library experiences and you will be entered to win one of two gift cards. Participants agree to allow Fredricksen to use submissions in future marketing efforts to promote programs and services (by name or anonymously). Multiple stories will be accepted. Please submit by March 1.
Use this link to tell us YOUR story. Thank You.
---
Device Advice

By Appointment only
Reference Desk, Main Floor
We are pleased to offer free one-on-one consultations for up to an hour to help you navigate the basics of your eDevice! Just call in to reserve up to one hour with one of our trained Reference Librarians who will assist you with downloading eBooks and eAudiobooks, as well as offer basic help with your tablet. You must have the device, login name and password for your appointment. To register, call 717-761-3900 x225.
---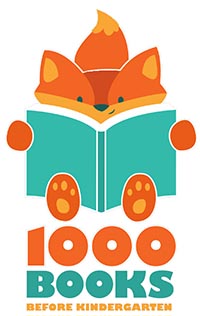 1000 Books Before Kindergarten
Our brand new program will help prepare your child for one of their biggest milestones: kindergarten! Reading aloud to your child is one of the best ways to prepare them for kindergarten. With 1000 Books Before Kindergarten, parents are challenged to read to their children to get them ready to read. Stop by the Children's Desk to register for the program and learn more! Registration NOW OPEN!
---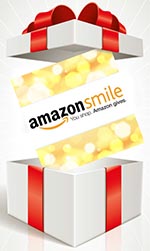 Support Fredricksen with your Amazon Purchases!
When you shop on AmazonSmile, 0.5% of the price of eligible purchases will be donated to the charitable organizations you select. Use the link from our website or go to smile.amazon.com and select Fredricksen Library. Use your regular Amazon login and password - no need to re-register.
Click HERE or on the AmazonSmile logo to get started!

---
Connect with US!

Do you know all the places Fredricksen can be found on Social Media? We're on Facebook, Pinterest, Instagram (fredricksenlibrary) and Twitter @cjfredricksen! You can also find photos of our events on our Flickr page. Click on any of the links at the bottom of this email, or on our website homepage to follow us and stay up to date with what's happening. Please like, share, pin and retweet our posts as well. (And tell all your friends and family too!)
---