Friday, December 6: 9 am to 8 pm and
Saturday, December 7: 1 pm to 5 pm in the Atrium
The Friends of Fredricksen Library will hold a special children's book sale in partnership with the Midtown Scholar Bookstore. A selection of NEW award winning, best selling and popular children's and youth books chosen by Midtown Scholar will be available for purchase. Categories for sale include: Toddler books; Beginning Readers/Picture books; Chapter books; Young Adult books, and Teen books priced from $2 - $10.
The sale will raise funds for the Friends to benefit the library and provide opportunities for children, teens and adults to buy new high quality books as holiday gifts for their family and friends at a fraction of list prices.
Join us for our first partnership with Midtown Scholar Bookstore!
---
Harp and Handbells Concert
Monday, December 16
7:00 pm to 8:30 pm in the Atrium
Get into the holiday spirit with a relaxing evening of carols and holiday music. This year, we welcome back Louis Lynch (harpist) and the First UMC Handbell Choir, who will delight your senses and transport you from the hustle and bustle of the holiday season with a variety of music to soothe and rest your soul. Sit and enjoy the concert while sipping hot apple cider and nibbling on homemade treats or browse the stacks and take in the tranquil atmosphere. No registration necessary.
---
Annual Tree Lighting Ceremony and Visit with Santa
Wednesday, December 4
5:30 pm – Families visit with Santa in the Township building, 2nd floor
7:00 pm – Tree lighting ceremony at the Township building
AND... Come back Saturday for the
Christmas Magic Show!
Saturday, December 7 at 10:30 am
Magical Nick with an interactive Magic Show for the entire family!
---
@ Fredricksen Library
Harp & Handbells Concert - Mon 12/16 @ 7 pm
Trivia After Hours: Holiday Pop Culture & Ugly Sweater Contest! (B.Y.O.B.) - Sat - 12/14/ @ 7 pm
Perler Bead Ornaments - Tue 12/3 or Thurs 12/5 at 5:30 pm
Peaceful Poses Nutcracker Yoga Story Time - Fri 12/13 at 10:15 am
Teen DIY Card Making - Mon 12/09 at 4 pm
@ East Pennsboro Branch
Holiday Storytimes with Mrs. B - Tue 12/3, 12/10, 12/17 at 10 am & 11 am
Annual Tree Lighting / Visit with Santa - Wed 12/4 at 5 pm
Christmas Magic Show - Sat 12/7 at 10:30 am
---
December Exhibits at Fredricksen
Front Lobby Display Case - 40+ Years of Star Wars Collecting
Representing more than 40 years of Star Wars collecting, this display includes mostly vintage Star Wars items spanning from the years 1978 through 1985. Many are from the original vintage Kenner Star Wars toy line, but some of the vintage toys from Kenner's foreign licensees are also represented. Also included are some original theatrical release movie posters, vinyl records, books and autographed pieces from the cast of the original Star Wars Trilology.
Lower Level Community Gallery - Bethany Towers Painting Group
During the month of December and January, The Bethany Towers Painting Group will be exhibiting their oil paintings at the Fredricksen Library lower level gallery, located at Camp Hill. Oil paintings to include a wide range in subject matter from portraits to still life to landscapes and florals. The artists are painting students of artist Barbara Passeri-Warfel. Participating in this group exhibit are: Vi Karper, Carol Pennington, and Tammy Carter of Mechanicsburg, Shirely Karper of Palmyra, Ruth Gleim of Etters and Barbara Passeri-Warfel of New Cumberland. The painting group meet on Friday mornings from 10:30 to 12:00 noon in the Bethany Towers Activity Room. For information on joining the painting group contact Barbara Passeri-Warfel via email warfelb@yahoo.com
---
2019
Annual Appeal
"Alone, we can do so little.
Together, we can do so much."
– Helen Keller
Pat yourself on the back. This year marks the completion of three construction projects that make a real difference in our service to you and your community. A new lower level entrance provides easy access to the Pollock Children's Library, the Ruggaber Community Room, and curbside drop off straight to the elevator. The Business and Career Center is up and running providing much needed job training classes, access to community resources, technology to enhance your at-home or online business, and a pathway to the jobs of the future. Finally, the Hoyt Reading Plaza provides a pleasant outdoor space to read, meet your friends, and enjoy the lovely grounds surrounding the library.READ MORE
---
Three weeks left to make your dedications on the Fredricksen Library Holiday Book Tree!
Honor a loved one and support Fredricksen Library on the 2019 Holiday Book Tree!
Dedications will be accepted through December 18 for this volunteer fundraiser and Fredricksen tradition, created entirely from withdrawn books.
For a donation in the amount you choose (minimum $10), patrons can have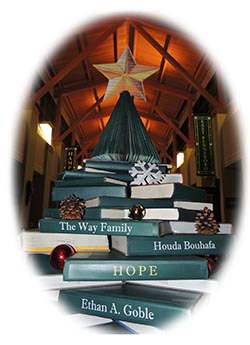 a name or family name placed on the spine of a book for the 2019 holiday season. Holiday cards are available to send to the recognized person or family if desired. And watch for YOUR dedications on Social Media. Forms are available at the Reference and Circulation Desks, OR make your dedication request ONLINE.
See the 2019 dedications HERE!
---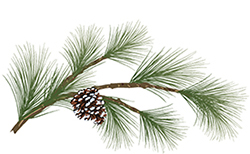 Holiday Closings
Tuesday, December 24 - Closed
Wednesday, December 25 - Closed
Tuesday, December 31 - Closing at 5 pm
Wednesday, January 1 - Closed
---
Business & Career Center
Upcoming Programs
Get complete info and REGISTER HERE!

Mock Interview Sessions - BCC HUB - Register now, by appointment - 2nd Wednesdays from 2 pm – 4 pm
Career Exploration Workshops
Tuesdays from 10:30 am-11:30 am & 4:30 pm-5:30 pm

Resume Writing Workshops
Thursdays from 11:30 am-12:30 pm and from 5:30 pm-6:30 pm

Get That Job! Workshops
Fridays from 10:30 am-11:30 am and from 4:30 pm-5:30 pm

Walk-in Sessions - BCC Classroom - No registration necessary
Mondays, Tuesdays and Fridays from 11:30 am to 1:30 pm
Mondays, Tuesdays and Fridays from 5:30 pm to 7:30 pm
Thursdays from 12:30 pm to 1:30 pm
Thursdays from 6:30 pm to 7:30 pm

Home-Based Business Roundtables with SCORE
2nd Tuesdays of each month, 12 pm - 1:30 pm
4th Tuesdays of each month, 6:00 pm - 7:30 pm
AND...watch for additional Computer Courses and Banking, Budgeting & Retirement Courses returning in the new year!
GET COMPLETE INFO AND REGISTER HERE
---
Interactive Star Wars Experience for Teens
Thursday, December 26
from 2 pm to 5:30 pm

Get ready to channel the Force during this interactive movie experience! Join Rey, Finn, and Poe in fighting the Dark Side. You will be given props and a script to follow along with during the movie. For teens ages 12 – 18. No registration necessary.
---
DRIVE IN DONATION OF YOUR BOOKS, DVDS, CDS, GAMES, ETC!
The Friends of Fredricksen have established Donation Station on the first Saturday of every month from 1 pm to 3 pm to process the donation of books and media for our Spring and Fall Book sales. Volunteers will be able to assist unloading your donations. We hope to provide convenience to you, our donors, and streamline our process for donations. During Donation Station hours, please park on the Walnut Street side parking area at the lower level employee entrance door. Donations at all other times can be given at the Reference Desk.

---
Kanopy Streaming Service!
Cumberland County library card holders can now stream four movies a month with Kanopy, our new media streaming service. A wide range of foreign films, documentaries, and classics can be streamed from any computer, television, mobile device, or platform by downloading the Kanopy app for iOS, Android, AppleTV, Chromecast, or Roku. Loan periods allow patrons three days of unlimited viewing per film and simultaneous use. GET MORE INFORMATION BROWSE THE 1000s of FILMS
---
Create a Username!
You now have the option of creating a username which you can use instead of your library card number to log in to many Cumberland County Library System Services!
Usernames work with the following services:
Your Library Account ~ Self-Checkout Stations ~ SAM Sign-Up Stations
Public Internet Computers ~ SmartPay Online Fine Payment
Usernames work with the following databases:
Learning Express Library ~ Morningstar ~ MyHeritage
Novelist Plus ~ Reference USA
Create a Username NOW
---