We are ending our summer programming with a bang this year! This is one evening you do not want to miss as we dance the night away with the ever-popular Janelle Verones Band! Performing the best hits of today and yesteryear, Janelle and her band will remind us that Libraries ROCK! In addition, we'll have some fun summer activities before the concert! Everyone attending will also have a chance to WIN Hershey Park or Longwood Gardens tickets! (Rain location: inside) No registration necessary.
Concert sponsored by the McCormick Family Foundation.
Special Event Schedule:
~ 4 pm to 5 pm - All-ages Drum Circle with Yvonne Sadowy!
~ 4 pm to 5 pm - Touch-A-Truck is Back!
~ 4:30 pm to 6:30 pm - Disney Princesses at the Library!
~ 5 pm to 6:30 pm - Family-friendly Disney movie sing-along
~ 6:15 pm to 6:45 pm - All-age Dance Party
~ 7 pm to 8:30 pm - The Janelle Verones Band LIVE!!!
Additional Activities!
~ Food trucks (including Banana Leaf Indian Cuisine, Sarah's Creamery Penn State Ice Cream & Philosopher's BBQ)
~ Prize Drawings (Hershey Park & Longwood Gardens Tickets)
~ Bubbles, Bubbles and more Bubbles!
~ Backyard Games (corn hole, ring toss and more!)
~ Crafts for the Kiddos
~ A Selfie Station
~ Just for Teens: Blackout Poetry & Painting Party
~ Sidewalk Chalk Games and Challenges
~ A Misting Tent to Cool Off
The 2018 Summer Reading Program is sponsored by Friends of Fredricksen Library, a donation in Memory of Ashley Dietrich, Weis Markets, UGI Utilities, Riverview Bank, our municipalities and additional generous sponsors.
Concert sponsored by the McCormick Family Foundation
---
Simply the Best 2018...
An Even Dozen!
by Bonnie Goble, Library Director
Fredricksen Library has won Simply the Best for 2018. That's twelve years that the library has taken the top honors among all libraries!
We are embarking on a time of wonderful expansion at the library. We are adding a Lower Level Entrance and a Business and Career Center on the Main Level. This summer, we opened the Kunkel Creation Station, a Children's MakerSpace, funded by grants from the Stabler and Kunkel Foundations. Fredricksen is definitely a "library on the move!"
Lots of projects, and lots of progress.
Thank you if you voted for us for Simply the Best. We hope that you will help us to better serve the public by giving generously when you receive the Annual Appeal in your mailbox in October. Only with your financial help can we move forward.
We are grateful for all of it.
---
WE NEED YOUR BOOK AND MEDIA DONATIONS!

THIS SATURDAY, Aug. 4
Donation Station @ Fredricksen
from 1 pm to 3 pm
OR drop off at the Reference Desk anytime!
The Friends of Fredricksen have established Donation Station on the first Saturday of every month from 1 pm to 3 pm to process the donation of books and media for our Spring and Fall Book sales. Volunteers will be able to assist unloading your donations. We hope to provide convenience to you, our donors, and streamline our process for donations. During Donation Station hours, please park on the Walnut Street side parking area at the lower level employee entrance door. Donations at all other times can be given at the reference desk. Get information on what kind of donations we accept HERE.
---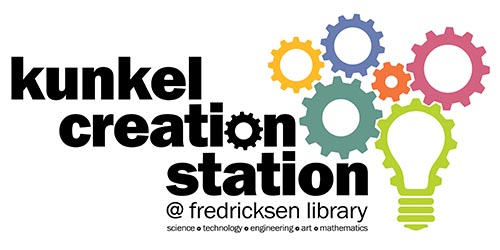 UPCOMING FALL PROGRAMS
Making Days @ the Kunkel Creation Station - Ages 6+
Saturday, September 1 OR Sunday September 2 from 1:30 pm to 4:30 pm
Food Science: Let's Cook It! - Ages 6-8
Tuesday, September 4 OR Thursday, September 6 from 5 pm to 6 pm
Food Science: Let's Cook It! - Ages 9-12
Tuesday, September 11 OR Thursday, September 13 from 5 pm to 6 pm
Girls in STEM: Food Science Laboratory - Ages 8-12
Monday, September 17 from 5 pm to 6 pm
Plant Science: Let's Grow It! - Ages 6-8
Tuesday, October 2 OR Thursday, October 4 from 5 pm to 6 pm
Plant Science: Let's Grow It! - Ages 9-12
Tuesday, October 9 OR Thursday, October 11 from 5 pm to 6 pm
Global Maker Day @ the Kunkel Creation Station - Ages 6-12
Tuesday, October 23 from 5 pm to 7 pm
Spooky STEM @ the Kunkel Creation Station - Ages 6-10
Monday, October 29 OR Tuesday, October 30 from 5 pm to 6 pm
Create Your Own Board Game @ the Kunkel Creation Station - Ages 6-8
Tuesday, November 6 OR Thursday, November 8 from 5 pm to 6 pm
Create Your Own Board Game @ the Kunkel Creation Station - Ages 9-12
Tuesday, November 13 OR Thursday, November 15 from 5 pm to 6 pm
Create Your Own Roller Coaster @ the Kunkel Creation Station - Ages 8-12
Monday, November 19 from 5 pm to 6 pm
Block Party: KEVA Plank Challenge - Ages 6-8
Monday, November 26 from 5 pm to 6 pm
Block Party: KEVA Plank Challenge - Ages 9-12
Thursday, November 29 from 5 pm to 6 pm
---
PAVE THE WAY to OPEN DOORS at Fredricksen Library!
Help us "Pave the Way to Open Doors" by engraving a brick (or two!) in honor or in memory of family, friends, loved ones, pets, an organization, or special occasion. Paver order forms can be found at fredricksenlibrary.org, or you can stop by the Library to pick one up! For more information on paver purchases, or additional naming opportunities available, call Development at 717-761-3900 x236.

---
TICKETS ON SALE NOW!
The Haunting of Hill House
Murder Mystery Play
@ Oyster Mill Playhouse
hosted by the Friends of Fredricksen
Tuesday, October 2
6:30 pm – Reception & Basket Raffle
7:30 pm – Curtain
Tickets are $25.00. (Limited #) at the reference desk, or call (717) 761-3900 x 236.
Watch for the specialty basket raffle tickets to go on sale in the library September 1!
Play Summary: Cut off from the outside world by it's remote location and shunned by all who know its forbidding and sinister reputation, Hill House has remained empty and silent. It's isolation is broken by the arrival of Dr. Montague, who has been granted a short lease by the present owner. His mission is to delve into the morbid history of the house and to come to grips with the occult forces that have made it uninhabitable for many years. He is joined by three unacquainted others who each have their reason for accepting his invitation. The visitors have all come to probe the secrets of the old house and to draw forth the mysterious powers that it is alleged to possess–powers which have brought madness and death to those who have lived there in the past.

---
Congratulations to this year's Bike Raffle winner Cher C.!

Her name was chosen from over 500 tickets that were sold. Cher has been riding the same bicycle since high school and is very excited to go to Holmes Cycling & Fitness to pick out a new bike! Thank you to all who participated in our fundraiser and to our friends at Holmes for their generous sponsorship.
---
Butterfly Gardening
Tuesday, August 21
from 7:00 pm to 8:00 pm
Join the Cumberland County Master Gardeners and learn how to create a garden that provides the resources to sustain butterflies from generation to generation. Topics include host and nectar plants, important design tips, and recommended gardening practices. The Adams Ricci Butterfly Garden will be used as a best practices case study.
AND... JOIN THE MASTER GARDENERS & EAST PENNSBORO BRANCH AT ADAMS RICCI FOR THIS SPECIAL PROGRAM...
Meet the Butterflies
with the Master Gardeners
Saturday, August 25
from 10:00 am to 2:00 pm
at Adams-Ricci Park 100 East Penn Drive, Enola
Join the Master Gardeners to
Meet the Butterflies at Adams Ricci Park.
Activities will focus on Monarchs and their life cycle. Meet Monarch, Swallowtail and other butterflies. The Library will host storytimes for children at 11 am & 1 pm.
DIY butterfly crafts will be available throughout the day. Master Gardeners will provide garden tours highlighting the most attractive perennial and annual plants for pollinators.
All ages welcome; under 13 must be accompanied by an adult. No registration required.

---
Friends of Fredricksen
Fall Book & Media Sale
& Children's Book Sale!
September 20 through 23
Ruggaber Community Room & Library Atrium
Thursday, September 20 - 2 pm to 7 pm – Special Preview Sale! (downstairs)
AND Children's Book Sale - OPEN TO THE PUBLIC - Right side of Atrium
Friday, September 21 9 am to 8:30 pm
Saturday, September 22 1 pm to 5 pm
Sunday, September 23 from 1 pm to 4 pm – BAG SALE upstairs & downstairs!
You may purchase items downstairs on Thursday, September 20 from 2:00 to 7:00 p.m. if you join or are a current member of the Friends, a library volunteer, or staff member of Fredricksen Library. The membership brochure is available on our website. JOIN US!

---
Libraries ROCK
Facebook Challenges!
CONGRATULATIONS to our "LIBRARIES ROCK" facebook challenge winners so far! Every FRIDAY until August 10th, we will ask a music related question - if you LIKE and COMMENT on the post you could WIN a $10 GIFTCARD!
This week's question..... Name some of your favorite roadtrip music! Artists, albums or individual songs to drive to!
CHECK OUT THE FACEBOOK CHALLENGE HERE AND WIN!
---
Bus Trip to Washington D.C.:
Day on Your Own / National Book Festival
Saturday, September 1 at 7:30 am
Just a few of this year's fantastic authors: Madeleine Albright, Amy Tan, Isabel Allende, James McBride, Sonia Sotomayor, Brad Meltzer, E. Annie Proulx, Kate DiCamillo, David Levithan & Brian Selznick
Join us as we travel to Washington D.C. for a Day on Your Own or to attend the annual National Book Festival, organized and sponsored by the Library of Congress. Our bus will stop at the National Mall for those that wish to explore D.C. on their own, as well as stopping at the Walter E. Washington Convention Center for the Book Festival. The National Book Festival gives you an opportunity to meet with famous authors, mingle with other readers and writers and find out more about literary events and services. More information and a list of participating authors is available at www.loc.gov/bookfest/information.
Price includes: round trip motor coach transportation from Camp Hill, bagged continental breakfast served en route to Washington, D.C., free time to explore Washington D.C. and the National Book Festival, and gratuity for bus driver. The bus departs from the Camp Hill Radisson's parking lot at 7:30am. On the way home, we will make a stop for dinner on your own. We will return by 9:30pm. Cost: $45.00 per person. Registration is OPEN!


---
At our East Pennsboro Branch...
Life-Size Hi Ho Cherry-O
Tuesday, August 14 at 1:00 pm
Let's play Hi Ho Cherry-O! Sign up as a family or team for a time slot to play our life-size game. All ages welcome; under 13 must be accompanied by an adult. Register at the library or by calling the library at (717) 732-4274.


Reading Rock and Roll: Uncommon People
Thursday, August 16 at 6:30pm
From goodreads.com: "In Uncommon People, David Hepworth zeroes in on defining moments and turning points in the lives of forty rock stars from 1955 to 1995, taking us on a journey to burst a hundred myths and create a hundred more." Please either have read the book or listened to the audiobook before the meeting. Register by calling the library at (717) 732-4274.
---
Harry Potter Interactive Movie - For ages 10 to 18! TODAY!
Wednesday, August 1
from 2:00 pm to 4:45 pm
Harry Potter and the Sorcerer's Stone gets a new twist when you watch it on Harry Potter's Birthday! NOW for ages 10-18! Join us for an interactive viewing of the first Harry Potter movie! Limited to 40 attendees. Film is 2 hours and 32 minutes long. Rated PG.
---
Mission Transition 2018/2019:
Preparing for Kindergarten
One Monday a month, based on school district, at 6:30 pm during the 2018/19 school year.
Help your little one prepare for a lifetime of learning by participating in Fredricksen Library's Kindergarten readiness program. Children entering kindergarten in the fall of 2019 will do kindergarten readiness activities, hear stories, meet other future students and make early friendships! Registration is happening now with the first session starting Aug 27th. The last day to register is January 31st. Sessions run one hour.
Children attending these schools are welcome to attend:
Camp Hill School District (Hoover Elementary) - First Session: August 27th
East Pennsboro School District (West Creek Hills and East Pennsboro Elementary) - First Session: September 10
West Shore School District (Washington Heights, Lower Allen and Highland Elementary) - First Session: September 17th
Cumberland Valley School District (Shaull, Hampden, and Sporting Hill) - First Session: September 24th

---
Fredricksen Library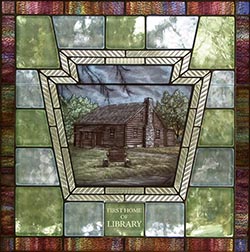 Stained Glass Window Replicas

Window replicas are 12" x 12", 1/4" plexiglass with white backing, two drilled holes for hanging (optional) with a narrow black U channel frame. Priced @ $65.00 a piece. Proceeds will support programs and services at Fredricksen Library.
DOWNLOAD an order form showing the 28 windows available.
---
Device Advice

By Appointment only
Reference Desk, Main Floor
We are pleased to offer free one-on-one consultations for up to an hour to help you navigate the basics of your eDevice! One of our trained Reference Librarians will assist you with downloading eBooks and eAudiobooks, as well as offer basic help with your tablet. You must have the device, login name and password for your appointment. To register, call 717-761-3900 x225.
---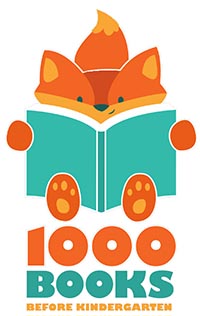 1000 Books Before Kindergarten
Our brand new program will help prepare your child for one of their biggest milestones: kindergarten! Reading aloud to your child is one of the best ways to prepare them for kindergarten. With 1000 Books Before Kindergarten, parents are challenged to read to their children to get them ready to read. Stop by the Children's Desk to register for the program and learn more! Registration NOW OPEN!
---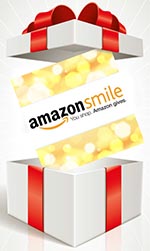 Support Fredricksen with your Amazon Purchases!
When you shop on AmazonSmile, 0.5% of the price of eligible purchases will be donated to the charitable organizations you select. Use the link from our website or go to smile.amazon.com and select Fredricksen Library. Use your regular Amazon login and password - no need to re-register.
Click HERE or on the AmazonSmile logo to get started!

---
Connect with US!

Do you know all the places Fredricksen can be found on Social Media? We're on Facebook, Pinterest, Instagram (fredricksenlibrary) and Twitter @cjfredricksen! You can also find photos of our events on our Flickr page. Click on any of the links at the bottom of this email, or on our website homepage to follow us and stay up to date with what's happening. Please like, share, pin and retweet our posts as well. (And tell all your friends and family too!)
---