Thank you and Good Luck to
Former Director Bonnie Goble
With regret, we said good-bye to Fredricksen's former director, Bonnie Goble, who has left her position after 13 years of leading the library with dedication and enthusiasm. Her professional competence and management skills were a key contributing factor in the numerous awards, improvements and programs in which Fredricksen has benefitted. Our library family, including our staff, volunteers and community partners thank her for her commitment and service and wish her the best. Bonnie has relocated to the State College area to be closer to her family and has accepted a position at a non-profit there. At this time the library's board is initiating a search for the next library Director and Lori Loss, Assistant Director, has become the Interim Library Director.
Bonnie's achievements during her tenure do not go unnoticed. READ MORE


---
Oscar-Nominated
Short Films
April 16 - April 30 ONLINE at your convenience!
Never fear! The Oscar Shorts are available to screen virtually this year! Register for whichever genre(s) you would like to watch and you will receive a link(s) so you can screen them from the comfort of your own home any time from April 16 - April 30. 1 ticket covers 1 screening by an entire household. Registration is necessary to access films. Registration begins April 1 at 9:00 am.
Sponsored by Jane and Bill Murray.
REGISTER to watch the Documentary shorts here. Rated R, Run Time: 136 minutes
Documentary Shorts Details: Adult themes and language. Please note that HUNGER WARD is a very intense look at child hunger in Yemen and the program is very much not for young audiences.
REGISTER to watch the Live Action shorts here. Rated R, Run Time: 130 minutes
Live Action Shorts Details: Adult themes and language. One of the better Live Action programs in recent years.
REGISTER to watch the Animated shorts here. Rated PG-13, Run Time: 99 minutes
Animated Shorts Details: The program overall, while excellent, deals with some tough issues and a few of the films are not suitable for children under 12. In IF ANYTHING HAPPENS, parents mourn their child, killed in a school shooting. GENIUS LOCI contains adult language, smoking, and very brief nudity.
---
THANK YOU FOR YOUR ENTRIES!
We received over 20 unique and creative birdhouses! They will be displayed in the front lobby case during the month of April. The prize categories were Best for the Birds, Most Creative Upcycle, and Favorite Book Character. GET READY TO VOTE FOR YOUR FAVORITE!
---
Libraries have always been an oasis of tranquility, places where people can go to think and read. Now local teen, Lucas Vejil, has used his passion for all things aquatic to set up a 75-gallon aquarium in the Fredricksen Children's Library. He spent much of this past year researching and learning as much as possible about fish, aquarium maintenance, and aqua scaping. He thoroughly researched what kind of fish, plants and food would work best and put together a proposal for the library. In it he detailed what the startup costs would be for the tank, materials and fish and he offered to volunteer his services for upkeep and maintenance. To his amazement and delight, the proposal was approved and he has since been diligently working to keep the fish healthy by checking PH levels and temperature, making periodic water changes, etc. Children and adults can come and visit the new aquarium which features a variety of interesting kinds of fish-- Parrot, Firemouth, Threadfin, Severum, and Jewel Cichlids, a Pleco, a Raphael Catfish, Corydoras Catfish and two African dwarf frogs.
The aquarium has already been included in a couple of the library's virtual programs and it will continue to be featured throughout the spring, summer and beyond. Keep your eye out for more programs for kids and teens featuring the aquarium and its inhabitants!
---
Teen Murder Mystery
Saturday, April 10
5 pm to 8 pm via Zoom
Join us for a night of mystery solving and deception! We're bringing our popular Murder Mystery event to the web! We'll be playing The Assasin Among the Crew. Register online in advance to get information about your character, then join us by Zoom to figure out whodunit! This program is for grades 7 - 12. SEE THE SYNOPSIS AND REGISTER
---
Join Appalachian Audubon Society President, Chris Kemmerer, as he takes you on a virtual journey to discover some common and not-so-common birds that call central Pennsylvania home. He will cover basic identification, highlight unique and amazing characteristics and abilities of birds, as well as share local areas to go birding. This is a great way to help us honor this year's Longwood Gardens Community Read pick, The Home Place: Memoirs of a Colored Man's Love Affair with Nature by J. Drew Lanham! REGISTER NOW
---
Virtual Author Talk
with Phaedra Patrick
hosted by the State Library of Pennsylvania
Wednesday, April 7 at 12:00 pm
In February we read and discussed the book The Curious Charms of Arthur Pepper, this year's One Book One Community choice. Join the State Library of Pennsylvania to meet and chat with author Phaedra Patrick on April 7 at 12:00 pm.
Phaedra Patrick is the international bestselling author of several books including The Curious Charms of Arthur Pepper, which has been translated into over twenty languages worldwide. She enjoyed her first real writing success when she entered and won several short story competitions, and she now writes full time. She lives in Saddleworth, UK.
Registration: Send an email with your name and the name of the event you want to attend to
ra-edmakerspace@pa.gov in order to receive a secure link to participate in this free live virtual event via the Zoom platform.
This program is being hosted by the State Library of Pennsylvania. Please contact them at the email above with any questions.
---
Citizen Science Month
Thursdays, April 1, 8, 15 and 22
4 pm on Zoom
Join us for a special month long celebration of Citizen Science Month! Every Thursday afternoon we'll learn about one way YOU can participate in science experiments in your own backyard! Each week will be a different theme! Best for children 8+ but families are encouraged to attend together! Register for one, two, or all of our events! Official registration closes 24 hours prior to the meeting, but you can always email emcquiggan@ccpa.net for the link. REGISTER NOW
April 1 - Birds | April 8 - Weather | April 15 - Bugs | April 22 - Plants
---
The Fredricksen Library invites you to participate in Library Giving Day on Wednesday, April 7, 2021. On this special day, we are reminded of all of the crucial services and diversified programming Fredricksen provides for our community. Please consider making a gift to the library during this national, one-day fundraising event that gives library lovers like you a chance to celebrate and support the vital services libraries provide in our communities. We are so grateful for your contributions that go directly to support library services. Thank you for your support! Visit us April 7, or DONATE HERE.
---

You must have read or listened to the applicable sections of the book to attend.
Ages 18 and older, please. Registration required.
Curl Up with the Classics: The Three Musketeers
8 pm - 9 pm via Zoom
Join us online as we discuss Alexander Dumas' The Three Musketeers in a special 6-week series. You must have read or listened to the applicable sections of the book to attend. Ages 18 and older, please.
REGISTER NOW for Zoom link.
(This series has started, but you can still attend if you have read the chapters we have covered, or will be covering. )
March 25 - chapters 1-10, April 1 - chapters 11-20, April 8 - chapters 21-30
April 15 - chapters 31-43, April 22 - chapters 44-56, April 29 - chapters 57-epilogue
Fredricksen Reads: Midnight in Chernobyl
Monday, April 26 - 7 pm - 8 pm via Zoom
Join us for this month's discussion of Midnight in Chernobyl: The Untold Story of the World's Greatest Nuclear Disaster by Adam Higginbotham on the anniversary of when it happened. REGISTER NOW
Curl Up with the Classics:
Stories by Dr. Seuss
Tuesday, May 4
10 am - 11 am via Zoom
Join us online as we discuss this month's Curl Up with the Classics Stories by Dr. Seuss: Horton Hears a Who!; The 500 Hats of Bartholomew Cubbins; The Lorax; Thidwick, The Big-Hearted Moose; and Yertle the Turtle. You must have read or listened to the stories to attend. Ages 18 and older, please. REGISTER NOW
Moving Forward Book Group: The Cure for Sorrow: A Book of Blessings for Times of Grief by Jan Richardson
Wednesday, May 5
1 pm – 2 pm via Zoom
Join us for Moving Forward, a book discussion series geared towards those who have suffered a loss or tragedy and could use an infusion of hope. In cooperation with Hospice of Central PA, we will be reading books focusing on the redemptive power of the human spirit. May's choice is Jan Richardson's book of poems and blessings. Ages 18 and older, please. REGISTER NOW
Fredricksen Reads: Anxious People
Monday, May 24
7 pm - 8 pm via Zoom
Join us for this month's discussion of Fredrik Backman's popular novel Anxious People about "human connection and the impact people have on each other." You must have read or listened to the book to attend. Ages 18 and older, please. REGISTER NOW
---
Cumberland County Library System
Mobile App
Download our mobile app, Library2Go, which provides quick and easy access to your library account and many of our services! The app is free and can be downloaded to mobile devices. Search for Cumberland County Libraries PA in the Apple App Store and Google Play Store, or scan this QR code with the camera app on your mobile device. GET MORE INFO.
---
The Kid at 100:
Celebrating a Chaplin Masterwork
Tuesday, May 11
7:00 pm to 8:30 pm via Zoom
In 1921 Charlie Chaplin's The Kid took the world by storm. The story of a penniless tramp who adopts an abandoned infant struck a powerful chord in the aftermath of a devastating war during which millions died and thousands of children were left orphaned. In "The Kid at 100" renowned mime artist and comedy choreographer Dan Kamin will reveal what keeps this film fresh, funny and incredibly moving to this day. Author of The Comedy of Charlie Chaplin: Artistry in Motion, Dan trained Robert Downey, Jr. for his Oscar-nominated performance in Chaplin, after which Downey said, "Dan's insights are amazing."
Participants should view the film in advance on YouTube or on Kanopy, as it will not be shown during the program. REGISTER NOW - April 1, registration closes May 10 at 9 pm.
---
Spring Story Time with Miss Emily and Roasty the Cat
Monday Afternoons,
March 22 - April 26
Join Miss Emily and Roasty the Cat Librarian for stories and songs about Incredible Insects! Miss Emily will be sharing themed story times from her cozy home each week to keep us all connected. Best for ages 3 - 6. Posted Monday afternoons to our website and social media, no registration required.
---
There's still plenty of time to join us for our first-ever spring reading challenge for ALL ages - running until Arbor Day (April 30). We'll be reading and doing activities related to new beginnings, fresh starts, and growth!
REGISTER NOW! - read great books and you could win great prizes!
---
Business & Career Center @ Fredricksen Programs
We are now offering virtual resume, employment and career guidance sessions via Zoom, and several new virtual workshops to help with Time Management and Job Searches. Our now-virtual career workshops focus on all aspects of employment, whether returning to current employ or searching for a new job or career. AND now, IN PERSON Computer Workshops, held in the Community Room, socially distanced. Stay tuned for more upcoming programming and other important announcements—your future starts here!
---
NEW! - Google Suite Overview
We'll explore the Google Suite platform with a brief overview of their productivity and document creation software. Bring your own laptop for this workshop and create (or use) your own Google account for learning about this versatile (and free) platform. REGISTER NOW
Monday, April 26 and May 24 from 3 pm – 4 pm
---
Crafting the Cover Letter
VIRTUAL WORKSHOP— Thursdays, April 8 and May 27 at 3 pm
Finalizing the application process with a targeted cover letter can leave us weary and frazzled to produce one more important step before pressing that "submit" button! Join us to learn the best tips to follow when crafting a short, concise, yet powerful statement that will introduce your highlights to put you in the "keep" pile for a future interview. Register online for Zoom link. REGISTER NOW

---
Cybersecurity:
Keeping Yourself Safe Online
How do I know that my online presence is secure? Get real-life tips on how to make your online purchases safely and keep your most important information private--increase your internet security in an age of ever-present threats in the digital realm. This program is presented by the PA Dept of Banking and Securities. Register online for the Zoom link. REGISTER NOW

See more upcoming 2021 Business & Career Center programs HERE
---
Gardens to Go!
Saturdays, May 8, May 22,
June 5, and June 19
9 am to 12 pm,* Hoyt Reading Plaza Outdoors, Lower Entrance
Master Gardeners are offering grab-and-go garden kits complete with an ever-changing variety of plants, helpful research-based gardening tips and contact information for your gardening questions. Four springtime pick-up windows available, each limited to 25 registrants. Cost is $5 per kit. REGISTER NOW
May 8 - Plants for Sun | May 22 - Plants for Sun | June 5 - Plants for Sun & Shade | June 19 - Plants for Shade *The library will be closed to the public during this time.

---
Travel Live Thursdays -Tanzania
Thursday, April 29
5:30 pm - 7 pm via Zoom or Facebook Live
In partnership with the World Affairs Council of Harrisburg and Philadelphia, we are pleased to offer you Travel Live Thursdays! Join us at 5:30 pm EST on the last Thursday of each month to experience the best of virtual travel. Each month will be a new location to discover! This April, we "travel" to Tanzania with your hosts Dr. Carla Thorson of World Affairs in Northern California, Andrew Doherty of Thompsons Safaris, and Dr. Joyce M. Davis, President of World Affairs Council - Harrisburg. Join via Zoom if you want to actively participate or Facebook Live if you prefer to just observe. REGISTER ONLINE or watch at www.facebook.com/WACHarrisburg. (May 27 - France)
---
During this unprecedented time, Fredricksen Library wants to do everything we can to support you from afar! Some of our Children's Library Staff will be posting online story times and videos about science, art and more! Watch for the videos and story times on social media OR see them all on our website HERE!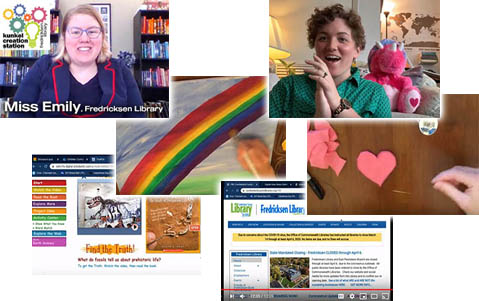 ---

Our electronic resources can be used from your own phone or computer to view movies (Kanopy), read books (Overdrive), catch up on studies (Tutor.com), see children's materials (Tumblebooks). Check databases to follow the stock market or do research. (Databases).
---
NOW! - Cardholders have FREE access to Tutor.com!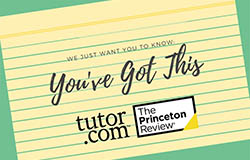 Tutor.com gives access to live, online tutoring and resume help as well as thousands of academic and career resources. It is for K-12 and college students who need help with homework, studying, projects, essay writing and test prep in every subject, including algebra, statistics, chemistry, physics, social studies and English. It is for adults who need help with job searches, GED prep and academic support. All sessions are online with professional academic or career tutors. Library cardholders and visitors in the library can work with an online tutor 7 days a week between the hours of 12 PM and 12 AM. ACCESS TUTOR.COM NOW!
---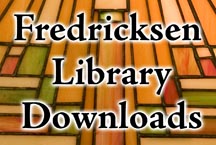 Get information and registration dates
on all programs!
DOWNLOAD the Fredricksen Library Newsletter
---