WE'RE STILL WORKING FOR YOU!
Fredricksen's Library Board voted to continue to pay staff throughout the state mandated shut down. We are beyond grateful and are actively seeking financial support programs under the CARES legislation.
As many of us as possible are working diligently for the library from home. The screenshot above is a meeting that we held yesterday via an online platform. Several of us are physically in the library as essential personnel to ensure that the building (and the books!) remain viable.
We're moving as quickly as we can to transition valuable resources and activities to an online format. These new additions are all on our website @ fredricksenlibrary.org and many appear on our social media (Facebook and Instagram). Here are just a few:

• As of yesterday, for the first time ever, you can sign up for a Digital Borrower's Card, to use the library from your home! If you have a traditional library card, even if it's lost, it will also work to access all of the digital resources.

• Last week, we bought over 200 copies of best seller and high demand eBooks and eAudio Books. They are now available to borrow on Overdrive, for free. Check the website for borrowing instructions.

• We are adding classes and activities online. Check "AT HOME FUN" for daily updates of children's activity on our website. Italian Language Classes and Book Groups are due to come online very soon.

• Great Decisions is now streaming and free to the public, during the shut-down, also on our website.

• Meetings and seminars are now being attended by Fredricksen staff online. When we reopen, we'll be up to date, and our operation will be seamless.

• Email Sarah Stewart @ sstewart@ccpa.net or Bonnie Goble bgoble@ccpa.net if you need help with library services.

We wish you peace and health during this period. Doing our best to make life a little more satisfying.

Bonnie Goble
Director
Cleve J. Fredricksen Library




Trying to keep busy while you're cooped up at home, but don't have a library card? Now's your chance! Sign up for a Digital Access Card online and you can have access to many resources right at your fingertips such as:

· Tutor.com where students can access live online tutoring, essay writing help, and test prep in every subject. Adults can get help with resumes, GED prep, and academic support.
· eBooks and eAudiobooks through Overdrive and Libby, TumbleBooks, TrueFlix, and BookFlix.
· MyHeritage to start or continue your genealogy research.
To sign up or for more information, go to DIGITAL ACCESS CARD SIGN UP

---
Great Decisions 2020
NOW STREAMING!
Great Decisions is America's largest discussion program on world affairs. The program model involves reading the Great Decisions Briefing Book, watching the DVD and meeting expert speakers in a Discussion Group to discuss the most critical global issues facing America today. Each year, eight topics are chosen by Foreign Policy Association's panel of experts.

Climate Change and the Global Order
India and Pakistan
Red Sea Security
Modern Slavery/Human Trafficking
U.S. Relations/Northern Triangle
China / Latin America
The Philippines and the U.S.
Artificial Intelligence and Data
Yemen - A History of Conflict
Americans and the World


DESCRIPTIONS AND LINKS OF ALL VIDEOS CAN BE FOUND HERE
---
During the State Mandated Closure, Fredricksen Library wants to do everything we can to support you from afar! Some of our Children's Library Staff will be posting online story times and videos about science, art and more! Watch for the videos and story times on social media OR see them all on our website HERE!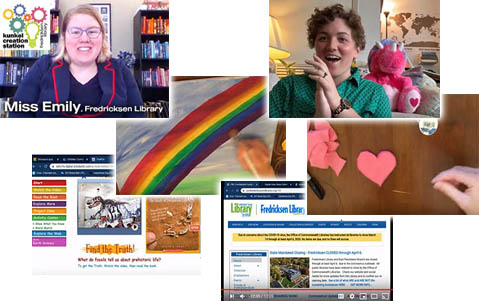 ---
The Writers Workshop Series (and more!) to go DIGITAL!
Thanks to our diligent teachers, the Spring Writers Workshop is making a turn to virtual gatherings!
Catherine Jordan, local author and the teacher for our semi-annual Natalie D. Craumer Writers Workshop teacher switched to using email and video calls as soon as we had to close our doors. She says she and her 15 students are all working together to "work out the kinks" as the process unfolds.
This is just the beginning of regular programs that are trying to find a way to reach out and stay connected during this time of social distancing. We hope to offer more opportunities, such as book discussions as time passes. Watch for a special email and our social media for news on these programs!
---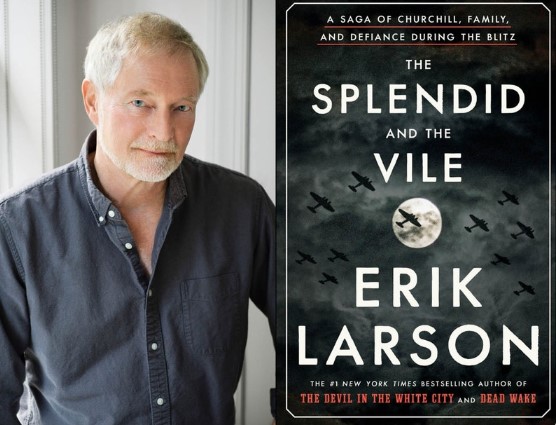 TONIGHT!
Live with Erik Larson:
The Splendid and the Vile
LIVE-STREAM
Wednesday, April 1 at 7 pm
By Midtown Scholar Bookstore
REGISTER HERE
Check out what Midtown Scholar Bookstore is doing to keep you engaged during this stay-at-home order! Try their new live-stream virtual event series that they're kicking off with bestselling author Erik Larson on April 1 at 6:00pm. It is completely free to register, and they're offering free media mail shipping for signed books.

---
Fredricksen Library Summer Reading Program 2020
June 8 through August 9
WE'RE GETTING READY!
Register for this program starting June 8th, and read great books! Participate by logging your reading and activities completely online using Beanstack or on a paper log from the library. However you do it, you can earn tickets and enter to win one of our grand prizes! Join us for our special events too! NEW THIS YEAR--Families who read together can all earn tickets for the grand prize drawing. Sponsored by Friends of Fredricksen Library.
* If you register JUNE 8th through JUNE 21st for Summer Reading and/or register for a new library card, you will be eligible to win a fun summer prize such as family pool memberships OR an iPad! Watch for more details!
---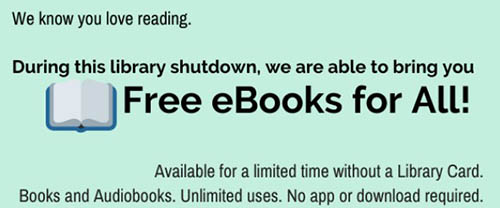 Our electronic resources can be used from your own phone or computer to view movies (Kanopy), read books (Overdrive), catch up on studies (Tutor.com), see children's materials (Tumblebooks). Check databases to follow the stock market or do research. (Databases).
---
Now taking new students for Italian for Beginners ONLINE!
Our intrepid teacher of Italian for Beginners, Anna Maria Bertini-Jones, has been working hard to offer you Italian for Beginner classes online via Zoom!
Two classes are available:
Italian for Beginners I for brand-new speakers and Italian for Beginners II, for those who are slightly more advanced. The course is divided into sessions of 10 classes each. The instructor is an Italian native teacher with extensive experience in teaching Italian to college students and adults. Ages 16 and older. Cost: $110 for 10 classes. Students will also be advised to purchase a book online. A few spaces are left in each class - don't miss this opportunity!

Register HERE for Italian for Beginners I.

Register HERE for Italian for Beginners II.

---
Upcoming Programs in the
Business & Career Center
Please check on our website homepage for the latest info on our reopening date and if programs are canceled or postponed.
Wednesday, May 27 from 12:00 pm – 1:00 pm - REGISTER ONLINE
What is cloud storage, and what does it mean for me? Google Drive, Google Photos, OneDrive, Dropbox and many other platforms boast the advantages of storing your documents and photos remotely to free up space on your devices, but what happens to your photos and important documents? We'll inform you about this innovative storage platform, along with the advantages and drawbacks of storing your information in "the cloud".
Recurring programs returning in May:
Mock Interview Sessions - BCC HUB - Register now, by appointment
2nd Wednesdays from 2 pm – 4 pm
Career Exploration Workshops
Tuesdays from 10:30 am-11:30 am & 4:30 pm-5:30 pm
Resume Writing Workshops
Thursdays from 11:30 am-12:30 pm and from 5:30 pm-6:30 pm
Get That Job! Workshops
Fridays from 10:30 am-11:30 am and from 4:30 pm-5:30 pm
Walk-in "Question & Answer" Sessions
Excel Q & A
Walk-in Session (Bring your own computer) — No registration necessary.
2nd Wednesdays from 10:00 am – 12:00 pm
QuickBooks Q & A
Walk-in Session (Bring your own computer) — No registration necessary.
3rd Wednesdays from 10:00 am

Walk-in Sessions - BCC Classroom - No registration necessary
Mondays, Tuesdays and Fridays from 11:30 am to 1:30 pm
Mondays, Tuesdays and Fridays from 5:30 pm to 7:30 pm
Thursdays from 12:30 pm to 1:30 pm
Thursdays from 6:30 pm to 7:30 pm

Home-Based Business Roundtables with SCORE
2nd Tuesdays of each month, 12 pm - 1:30 pm
4th Tuesdays of each month, 6:00 pm - 7:30 pm
GET COMPLETE INFO AND REGISTER HERE
---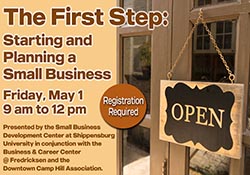 Coming in May...
The First Step: Starting and Planning a Small Business
Friday, May 1 from 9 am - 12 pm
This workshop will help aspiring entrepreneurs to begin the process of successful business ownership including evaluating business ideas, developing a business plan, and exploring financing options. Attendees will learn:
Unique lifestyle requirements involved in owning a business.
How to assess the feasibility of their business idea.
Differences between business organization structures.
How to develop a business plan.
How to obtain financing.
How to market their product or service.
The applications and licenses needed to start their company.
This program is presented by the Small Business Development Center at Shippensburg University in conjunction with the Business & Career Center @ Fredricksen and the Downtown Camp Hill Association.
Registration is free and available ONLINE.
---
Gardening with Nature Series:
3rd Tuesday of every month, through October
Fredricksen Library has teamed up with Penn State Master Gardeners to bring you a series of workshops that will show you how to garden with nature. Workshops are $5.00 each. Walk-ins will be accepted only if space is available. Registration NOW OPEN. To register for workshops in the series please visit https://extension.psu.edu and search for Gardening with Nature. Or call Penn State Events Registration toll-free at 1-877–345–0691 to register by phone Monday to Friday, 8 a.m. to 5 p.m.
DOWNLOAD a brochure detailing all of the workshops.
---
CANCELED UNTIL FURTHER NOTICE - FIRST SATURDAYS!
DRIVE IN DONATION OF YOUR BOOKS, DVDS, CDS, GAMES, ETC!
During Donation Station hours, 1 pm to 3 pm, please park on the Walnut Street side parking area at the lower level employee entrance door. Donations at all other times can be given at the Reference Desk.

---
Teens Create -
EXTENDED to MAY 1
To celebrate the 50th anniversary of Earth Day, we invite all teens 12-18 to participate in our first anthology! We are looking for poems, essays, short stories, and drawings that can be reproduced in black and white about the themes of Earth Day, nature, and caring for the Earth.
Submit your work to the Teen Programmer at emcquiggan@ccpa.net or take it to the Fredricksen Library Reference Desk by MAY 1, 2020.
Want more information, or help working on your piece? Attend any of our Plot Twisters meetings for inspiration and feedback from your peers.
---
DEADLINE EXTENDED!
PAVERS @ Fredricksen Library
Next Installation -
SPRING 2020!
ORDER BY 4/30/20

Help us "Pave the Way to Open Doors" by engraving a paver (or two!) in honor or in memory of family, friends, loved ones, pets, an organization, or special occasion. More information and paver order forms can be downloaded HERE
---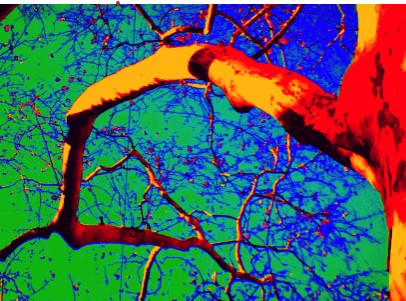 Continuing this month in the Community Gallery...
Harry Spilker Photography, Camp Hill, PA
www.H-forcephotography.com
Harry Spilker is a 25-year old young man with Down syndrome, living with his family in Camp Hill. Harry is a 2015 graduate of Camp Hill High School and an employee at Community Aid.
Harry has always been a self-motivated artist, drawing with markers, colored pencils, and other media by himself as a child. As a teenager, he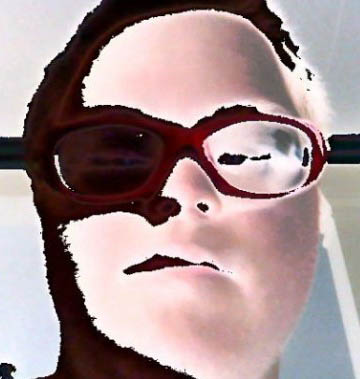 began using his father's cell phone and taking astonishing pictures. He now uses his digital camera or iPhone to capture images, and he uses different apps to manipulate the colors and other aspects of the pictures, creating an artistic effect that evoke an emotional response.
Harry has shown his work at many venues and exhibitions in the Harrisburg area. In recent years, he has received awards from the Perry County Council of the Arts' and the Art Association of Harrisburg.

---
NOW! - Cardholders have FREE access to Tutor.com!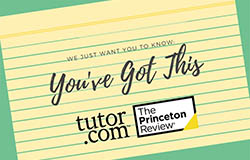 Tutor.com gives access to live, online tutoring and resume help as well as thousands of academic and career resources. It is for K-12 and college students who need help with homework, studying, projects, essay writing and test prep in every subject, including algebra, statistics, chemistry, physics, social studies and English. It is for adults who need help with job searches, GED prep and academic support. All sessions are online with professional academic or career tutors. Library cardholders and visitors in the library can work with an online tutor 7 days a week between the hours of 12 PM and 12 AM. ACCESS TUTOR.COM NOW!
---