Look for the Friends at the Annual Pennsboro Pumpkin Fest October 12 & 13 at Adams-Ricci Park. You'll find us under huge tents full of hundreds of great books for adults, teens, and children. Also stop by the East Pennsboro Branch Library booth to make a craft and play a game!
---
TICKETS ON SALE NOW!
Oliver! The Musical @ Oyster Mill Playhouse hosted by the Friends of Fredricksen
Tuesday, November 12th
7:00 pm – Reception & Basket Raffle
7:30 pm – Curtain
Tickets are $30.00. Limited number of tickets available at the reference desk,
or call (717) 761-3900 x225.
"Bringing Charles Dickens' beloved novel to life, Lionel Bart's Oliver! takes audiences on a wild adventure through Victorian England. Join young, orphaned Oliver Twist
as he navigates the London's underworld of theft and violence, searching for a home, a family, and – most importantly – for love. With spirited, timeless songs like
"As Long as He Needs Me," "Food, Glorious Food," and "Where is Love," Oliver!
is a musical classic."
AND.... Watch for the BASKET RAFFLE in October! Tickets on sale at the Reference Desk SOON. Ticket sales end the night of the performance, Nov. 12.

---
Thank you to everyone who attended our In Good Taste Kitchen Tour yesterday. To our signature sponsors Boxwood Design and Connor Design-Build, all the local chefs and caterers who participated as well as our additional sponsors and volunteers, we appreciate your support! Click on the photo below to check out PennLive.com photos of the event!

---
Teen Shark Tank
Wednesdays, Oct. 9 and Oct. 23
4:30 pm in the Business and Career Center, Upper Level
Do you have a great business idea? Do you want to learn how to make that idea a reality? Join us for a small business contest for teens! Work with librarians and mentors from the community to create a business plan. Teens (ages 12 - 18) will then present their business plan to a panel of judges to win gift cards! Work individually or in groups up to 4. No registration required.

Wednesday, October 23 @ 4:30 pm in the BCC HUB:
SCORE follow up Q + A - Every participant will learn how to design business cards, and will receive a free set of business cards!
Program presented in conjunction with SCORE.

---
THERE'S STILL TIME TO REGISTER!
Mission Transition 2019/2020: Preparing for Kindergarten
One evening a month at 6:30 pm, based on school district,
during the 2019/20 school year. Sept. 2019 through May 2020
Help your little one prepare for a lifetime of learning by participating in Fredricksen Library's Kindergarten readiness program. Children entering kindergarten in the fall of 2020 will do kindergarten readiness activities, hear stories, meet other future students and make early friendships! Registration NOW OPEN!

Children attending these schools are welcome to attend:
Camp Hill School Dist. (Hoover Elementary) - First Mondays
West Shore School District (Washington Heights, Lower Allen and Highland Elementary) - Third Mondays
Cumberland Valley School District (Shaull, Hampden, and Sporting Hill) -Fourth Mondays
NEW THIS YEAR...
East Pennsboro School District (West Creek Hills and East Pennsboro Elementary) - October 9th (No session November)
NOW HELD AT EAST PENNSBORO BRANCH!

---

Spooky STEM Storytelling - Tues 10/15 OR Tues 10/29 at 4:30 pm
I'm Trying to Love Spiders Storytime - Wed 10/16 @ 4:30 pm
An Evening with Edgar Allen Poe - Thurs 10/17 @ 6 pm
Family Movie Night – Nightmare Before Christmas - Fri 10/18 @ 6:30 pm
Color Popping Leaf Decorations - Thurs 10/24 @ 5:30 pm
Creepy Crafts for Teens - Thurs 10/24 @ 5 pm
Teen Paint Night - Fri 10/25 @ 5:30 pm
Spooky Story Time for Teens - Thurs 10/31 @ 5 pm
Pennsboro Pumpkin Fest & Book Sale! - Sat 10/12 @ 9:30 am
and Sun 10/13 @ 11 am
East Pennsboro Branch - Book Character Pumpkin Decorating Contest - Fri 10/25 @ 11 am
---
Friends Annual Online Silent Auction 2019
Watch the display cases in the entrance for a preview of all the lovely things up for online bid this year. See a complete list of items (preview) beginning October 25 at the ONLINE auction website: www.32auctions.com . The auction and bidding goes live November 1 and runs through November 14.
Once again, this year we are privileged to offer a complete orthodontic package worth $6,400 from Hilton & Diminick, a year's family membership to the YMCA valued at $1,000, trips and experiences, plus many more moderately priced items such as gift certificates for many area restaurants, dry cleaning, food stores, auto services, sporting events, theaters, along with gift baskets, children's items, and gift certificates for the West Shore Farmers Market in Lemoyne.

We hope you will bid on your favorite items beginning November 1 through November 14 and that we will see you on the 16th or 17th to pick up your winning items. You will be notified by email about the items you won and the total cost. Please bring cash, checks made out to Friends of Fredricksen, or your credit card for pick up days.
A successful auction goes a long way toward providing all the extra things that help make our library an essential part of the communities we serve. Thank you.
---
October - Teen Reading Month!
All month long in the Teen Section
You came to the library over the summer, but did you know we're also here during the school year? Join us during October to celebrate Teen Reading Month! Stop by the book display in the YA section to get a challenge card and enter to win prizes!
---
NEW FALL WORKSHOPS ARE HERE AND FREE!
Get complete info and REGISTER HERE!

Microsoft Office/Google Suite Workshops - Register now!
Spreadsheet Basics - Wed., Oct. 23 from 2:00 pm – 3:00 pm
Presentation Basics - Wed.., Nov. 20 from 2:00 – 3:00 pm

Mock Interview Sessions - BCC HUB - Register now, by appointment - 2nd Wednesdays from 2:00 pm – 4:00 pm

PA Department of Banking and Securities presenting:
STaRT - Start Today and Retire Tomorrow - Monday, Oct. 21 from 6 pm – 7 pm
Budgeting Basics - Monday, November 18 from 6:00 pm – 7:00 pm

Career Exploration Workshops
Tuesdays from 10:30 am-11:30 am and from 4:30 pm-5:30 pm
Resume Writing Workshops
Thursdays from 11:30 am-12:30 pm and from 5:30 pm-6:30 pm
Get That Job! Workshops
Fridays from 10:30 am-11:30 am and from 4:30 pm-5:30 pm

Walk-in Sessions - BCC Classroom - No registration necessary
Mondays, Tuesdays and Fridays from 11:30 am to 1:30 pm
Mondays, Tuesdays and Fridays from 5:30 pm to 7:30 pm
Thursdays from 12:30 pm to 1:30 pm
Thursdays from 6:30 pm to 7:30 pm

Home-Based Business Roundtables with SCORE
2nd Tuesdays of each month, 12 pm - 1:30 pm
4th Tuesdays of each month, 6:00 pm - 7:30 pm
GET COMPLETE INFO AND REGISTER HERE

---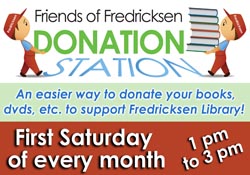 DRIVE IN DONATION OF YOUR BOOKS, DVDS, CDS, GAMES, ETC!
The Friends of Fredricksen have established Donation Station on the first Saturday of every month from 1 pm to 3 pm to process the donation of books and media for our Spring and Fall Book sales. Volunteers will be able to assist unloading your donations. We hope to provide convenience to you, our donors, and streamline our process for donations. During Donation Station hours, please park on the Walnut Street side parking area at the lower level employee entrance door. Donations at all other times can be given at the reference desk.

---
Kanopy Streaming Service!
Cumberland County library card holders can now stream four movies a month with Kanopy, our new media streaming service. A wide range of foreign films, documentaries, and classics can be streamed from any computer, television, mobile device, or platform by downloading the Kanopy app for iOS, Android, AppleTV, Chromecast, or Roku. Loan periods allow patrons three days of unlimited viewing per film and simultaneous use. GET MORE INFORMATION BROWSE THE 1000s of FILMS
---

Create a Username!
You now have the option of creating a username which you can use
instead of your library card number to log in to many
Cumberland County Library System Services!

Usernames work with the following services:
Your Library Account ~ Self-Checkout Stations ~ SAM Sign-Up Stations
Public Internet Computers ~ SmartPay Online Fine Payment

Usernames work with the following databases:
Learning Express Library ~ Morningstar ~ MyHeritage
Novelist Plus ~ Reference USA
Create a Username NOW
---
The Philadelphia Campaign of the Revolutionary War
Tuesday, October 22 at 7:00 pm
Join local favorite, Steven Runkle, as he chronicles the most critical year of the American Revolutionary War, from July 1777 through June 1778. In England, the British government planned a three-pronged attack to cut the rebellious New England colonies off from the rest. However in New York City, Lord Howe had his own plan to capture the colonial capital of Philadelphia. On September 26, 1777, the British and Hessians captured Philadelphia, with the Continental Congress fleeing across the Susquehanna River to York, Pennsylvania. George Washington's army spent the winter suffering at Valley Forge. In addition to the two Howe brothers and George Washington, you'll also learn more about 19-year old Marquis de Lafayette, Benedict Arnold, Baron von Steuben, and Carlisle's own Molly Pitcher. No registration needed.
---
At our East Pennsboro Branch....
Book Character Pumpkin Decorating Contest
Friday, October 25 and Saturday, October 26

You are invited to decorate your pumpkin to look like your favorite book character! Two age categories: Birth-15 years and 16+. Bring your pumpkin to the library on Friday, October 25 from 11 am to 5 pm or Saturday, October 26 from 10 am to 2 pm. Voting will take place at the library from October 28 to October 30. Pick up your pumpkin Friday, November 1 from 11 am to 5 pm or Saturday, November 2 from 10 am to 2 pm. Any pumpkins not picked up by 2 pm on Saturday will be discarded. NO CARVED PUMPKINS OR HOLES IN PUMPKINS. Pick up the complete contest rules at the library.
Seasonably Good: Apples

Tuesday, October 22 at 1:00 pm
Autumn is the season when apples are at their best. Do you love warm apple pie, apples for snacking, or applesauce? We'll talk about how to prepare apples for longer-term storage so that you can take advantage of them while your favorite varieties are available for picking. Ages 13 and up. No registration necessary.
---

2019 Fall Book Sale!
This year's Fall Book Sale raised a total of $8,762.25. The Friends of Fredricksen are grateful to all the people who donated books and media, to the faithful book sorters, and sales and set up crews for this success. Friends members worked at the Donation Station ensuring that people who want to donate large numbers of books can bring them right to the lower level the first Saturday of each month
Friends' workers donated about 253 volunteer hours during the event which included set up, sales, and tear down on Sunday evening. A thank you goes to the Circulation and Reference Staff for processing the credit card purchases upstairs and the teens who helped box up the left over books on Sunday. Many of these will go to the East Pennsboro Branch Book Sales.
The Friends of Fredricksen Library were also happy to add 13 new Friends memberships during the book sale. You can join anytime HERE! Thank you for your continued support!
---