May 2019 is the 100th anniversary of the birth of Pete Seeger and we invite you to remember him with local band, Hard Travelin'. Harmony, instrumental diversity, and a passion for their craft are hallmarks of Hard Travelin's performances. They will share Pete's incredible contributions to advancing the cause of justice, peace, solidarity, and the environment, as well as play his best-known works. This celebration of Pete Seeger is geared towards singing along, so bring your singing voice and get ready for a great time! No registration necessary.
---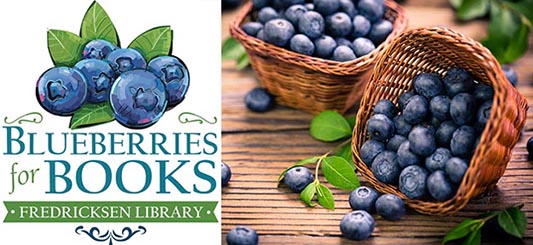 Order your fresh New Jersey blueberries for just $30.00 to benefit the Cleve J. Fredricksen Library. We are now taking orders for 10 pound boxes with pick up on June 27 – just in time for your July 4th picnics! Payments may be made by cash, credit card or check at the Reference Desk until June 23 at 5 pm. Prefer to order online? Easy ordering below and pay through Paypal ($1.00 extra per box). ORDER ONLINE NOW.

Also available at the library - Very Blueberry Cookbook for only $5! Stop in the library for the Very Blueberry Cookbook by Jennifer Trainer Thompson. Featuring more than 40 blueberry recipes for breakfasts, salads, entrées, and more. See a sample of the book at the libraries, or CLICK HERE to see a preview. LIMITED QUANTITIES! For more information, call 761-3900, ext. 236.
---
Homeowners: Beware of Summer Hazards!
Protect yourself from potential legal problems around your home
Monday, May 13 at 7:00 pm
Summertime means spending more time outside your home with family and friends. Neighbors stopping by to say hello. All of which can increase your exposure to liability around your home. Do you have a swimming pool or trampoline on your property? Thinking about having a contractor do work on the property? Concerned what could happen if your dog escaped from the yard? Do the kids leave their bicycles and toys scattered on the sidewalk? Attorney Kathi Simpson of Mette Evans and Woodside will help you identify potential home hazards that put you at risk; understand the legal liabilities homeowners can face; determine what your homeowners' insurance covers; and how you can protect yourself. No registration necessary.


---
New Kanopy Streaming Service!
Cumberland County library card holders can now stream four movies a month with Kanopy, our new media streaming service. A wide range of foreign films, documentaries, and classics can be streamed from any computer, television, mobile device, or platform by downloading the Kanopy app for iOS, Android, AppleTV, Chromecast, or Roku. Loan periods allow patrons three days of unlimited viewing per film and simultaneous use. GET MORE INFORMATION BROWSE THE 1000s of FILMS
---
2019 Master Gardener Plant Clinics
Tuesdays: May through August
6:00 pm to 7:30 pm
in the Entryway, Upper Level
Do you have some unanswered gardening questions and don't know where to turn? Just stop in at the Fredricksen Library anytime from 6 to 7:30 pm every Tuesday evening (May – August). The Master Gardeners from Penn State Cooperative Extension will be there eagerly waiting to solve your gardening mysteries and help you to have the best garden possible! No registration necessary.


---
Fredricksen Reads:
The Library Book by Susan Orlean
Monday, May 13
7:00 pm to 8:00 pm
Become a part of Fredricksen Reads, our series of book discussions. Brimming with her signature wit, insight, compassion, and talent for deep research, The Library Book is Susan Orlean's thrilling journey through the stacks that reveals how these beloved institutions provide much more than just books—and why they remain an essential part of the heart, mind, and soul of our country. You must have read or listened to the book to participate. REGISTER ONLINE NOW

---
Teens Create! Contest
Saturday, June 8 to Sunday, July 7
Enter our 4th Annual Teen Creative Expression Contest. Submissions will be accepted in 5 categories: painting/illustration, photography, poetry, short story, and a new category--audio/visual.
Detailed instructions regarding themes and dimensions for each category will be available May 1.
Submissions are accepted June 8 - July 7 and will be on display in the library and/or shared on the library's Facebook from July 9 - July 31. The best entry in each category will be chosen by a panel of judges and the winners will receive $50. You may enter once in each category. Winners will be announced before the Final Fling Concert! For teens ages 12 -18. Email emcquiggan@ccpa.net for more information. GET YOUR ENTRIES READY!
---
Opening in the Spring - the NEW
Business & Career Center
@ Fredricksen!
The Business & Career Center @ Fredricksen (BCC) will offer workshops, programming and technology assistance centered on all stages of career goals, with a focus on enhancing employability for all. Entrepreneurs and local businesses will also be in focus as we incorporate
regional services from SCORE and debut a portable recording studio. Many exciting future programs and workshops are in the planning stages, so please stay tuned!

Some of the initial BCC offerings:
• We're proud to partner with SCPa Works to offer CareerLink workshops including
Career Exploration, Resume Writing and Get That Job!
• Multiple workshops and programming based on improving technology skills, careers for veterans, saving for retirement at any income level, styling and much more!
• SCORE will be on site for facilitated roundtables focused on entrepreneurial and small business networking, with many more future offerings in the planning stages!
Stay tuned for programming and other important announcements —
your future starts here!
Check out this TIME LAPSE VIDEO from Backyard Productions, Inc and Krehling Industries Inc. of our Business & Career Center installation!
---
Fredricksen Library
BIKE RAFFLE!
Sponsored by HOLMES Cycling
Spring is here and thoughts of bike riding, sunshine, and warmer weather come to mind. It also means it's time for Fredricksen's Annual Bike Raffle in conjunction with Holmes Cycling and Fitness! For the sixth year in a row, this family-owned Camp Hill business is donating a bike (of your choice up to a $450 value) to the raffle winner. Tickets are $5 per ticket or $12 for three tickets. The drawing will be held on Thursday, June 13th at our first summer concert on the lawn.
Like Fredricksen Library, Holmes is fostering community and encouraging healthy behaviors. Holmes has been providing quality customer service and products since 1974. Just last year, the shop was completely remodeled; stop in and check it out! They are also great neighbors who also support the library and we thank them for their generosity. THANK YOU HOLMES CYCLING & FITNESS!
---
At our East Pennsboro Branch....
Plan ahead and find some summer reading early! The Friends of the East Pennsboro Library will hold their spring book sale on the ground floor of the Township Building on Thursday and Friday, May 16 and 17, from 9am to 3pm. Fill as many bags as you can for $5 each. Donations may be dropped off in Room 101 or at the Library.



Preschoolers Make It & Take It —Nursery Rhymes!
Monday, May 13 at 1:00 pm
Children ages 3 to 6 and their caregivers will hear stories, sing songs, and do activities related to that day's theme. During the program, caregivers will have an opportunity to make a related busy bag activity to take home. Register by contacting the library at (717) 732-4274..
---
SAVE THE DATE!
Summer Reading Kickoff – A Universe of Stories
Sunday, June 9 from 1:00 pm - 4:00 pm Outside on the Lawn
(All activities will move indoors if necessary.)
Kickoff this space-themed summer by traveling a long time ago in a galaxy far, far away. That's right! Grab your favorite droid and join the 501st Legion here with Star Wars Stormtroopers (1 pm -3 pm), as well as some more Star Wars characters (1 pm – 3 pm) from The Enchanted Teapot. Some you love to love and some you love to hate, but they'll all pose for a great photo opportunity with you! After you get your fill of Star Wars characters, join us for a mini-concert with one-man-band Nick Disanto (3 pm - 3:45 pm).
We'll also have Face Painting by Whitney at special discount prices, Fun with Bubbles, Children's Crafts, Activities just for teens including a Selfie Scavenger Hunt, FREE Cupcakes, FREE Popcorn, Raffles and more!
---
Great Decisions 2019
ONE Session remaining:
State of the State Department and Diplomacy - May 13
Great Decisions is America's largest discussion program on world affairs. The program model involves reading the Great Decisions Briefing Book, watching the DVD and meeting expert speakers in a Discussion Group to discuss the most critical global issues facing America today. Each year, eight topics are chosen by Foreign Policy Association's panel of experts. Discussion topic details can be found here! In partnership with the World Affairs Council of Harrisburg. REGISTER ONLINE
---
Mindfulness Make-up Class - Mindful Livelihood:
The Work We Choose
Sunday, May 5 - 1:30 pm to 3 pm
Originally scheduled as part of the Mindfulness Matters series in 2018, this class had been cancelled because of snow, but is being offered again with Andrea Minick Rudolph. Where are you working presently? Is it what you always wanted to do? Does it bring you joy? Enough money? What is important in choosing a livelihood? How much of our lives are spent working at jobs we don't enjoy? There are steps we can take to find meaning and value in what we do, practice equality and fairness in the workplace, and work for the "common good". Where and with whom we work affects our lives deeply, based on the ethical and moral standards by which an organization chooses to operate. No registration necessary.

---
PAVE THE WAY
The Fredricksen Library is raising funds for a new Lower Level Entrance and Business & Career Center by holding a paver fundraiser. Please help us "pave the way" by engraving a paver (or two!) in honor or in memory of family, friends, loved ones, pets, an organization, or special occasion. Paver order forms can be found ONLINE HERE OR you can stop by the Library to pick one up.
For questions, please call Development at (717) 761-3900 x 236.
---

Fredricksen Library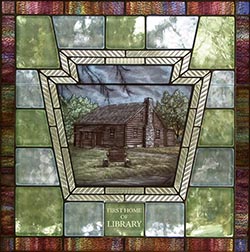 Stained Glass Window Replicas

Window replicas are 12" x 12", 1/4" plexiglass with white backing, two drilled holes for hanging (optional) with a narrow black U channel frame. Priced @ $65.00 a piece. Proceeds will support programs and services at Fredricksen Library.
DOWNLOAD an order form showing the 28 windows available.
---
Device Advice

By Appointment only
Tuesdays, 10 am - 12 pm
Thursdays, 5:30 pm - 8:30 pm
Reference Desk, Main Floor
We are pleased to offer free one-on-one consultations for up to an hour to help you navigate the basics of your eDevice! One of our trained Reference Librarians will assist you with downloading eBooks and eAudiobooks, as well as offer basic help with your tablet. You must have the device, login name and password for your appointment. To register, call 717-761-3900 x225.
---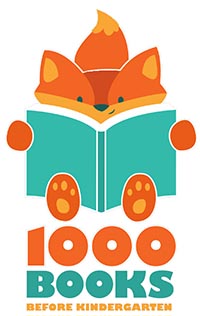 1000 Books Before Kindergarten
Our reading program will help prepare your child for one of their biggest milestones: kindergarten! Reading aloud to your child is one of the best ways to prepare them for kindergarten. With 1000 Books Before Kindergarten, parents are challenged to read to their children to get them ready to read. Stop by the Children's Desk to register for the program and learn more! Registration NOW OPEN!
---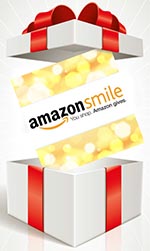 Support Fredricksen with your Amazon Purchases!
When you shop on AmazonSmile, 0.5% of the price of eligible purchases will be donated to the charitable organizations you select. Use the link from our website or go to smile.amazon.com and select Fredricksen Library. Use your regular Amazon login and password - no need to re-register.
Click HERE or on the AmazonSmile logo to get started!

---
Connect with US!

Do you know all the places Fredricksen can be found on Social Media? We're on Facebook, Pinterest, Instagram (fredricksenlibrary) and Twitter @cjfredricksen! You can also find photos of our events on our Flickr page. Click on any of the links at the bottom of this email, or on our website homepage to follow us and stay up to date with what's happening. Please like, share, pin and retweet our posts as well. (And tell all your friends and family too!)
---