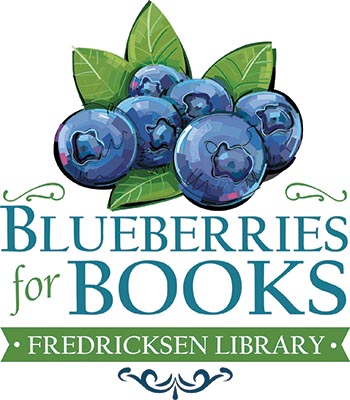 Time for Blueberries!
• Now taking orders ONLINE or at the library
• A 10 pound box is still just $30!
• Pick-up is Thursday, June 30th -- just in time for your July 4th picnics!
• Payments may be made by cash, credit card or check at the library until June 26th at 5 pm.
NEW this year: GOLDEN TICKETS!
Fredricksen Library's 60th Anniversary Celebration next March will feature Harrisburg Symphony conductor, Stuart Malina and his son, Zev, who composed a score to accompany a reading of Blueberries for Sal, a classic children's book by Robert McCloskey. Two lucky blueberry buyers will each find 2 GOLDEN TICKETS to attend the event free of charge!
ORDER ONLINE or get more info HERE

---
2016 Master Gardener
PLANT CLINICS
Tuesdays, 6 pm to 7 pm
Do you have some unanswered gardening questions and don't know where to turn? Just stop in at the Fredricksen Library anytime from 6 to 7 pm every Tuesday evening (May – August). The Master Gardeners from Penn State Cooperative Extension will be there eagerly waiting to solve your gardening mysteries and help you to have the best garden possible! No registration necessary.

---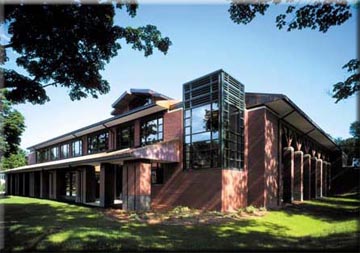 Help design Fredricksen Library
& East Pennsboro Branch's Future
Fredricksen Library and East Pennsboro Branch will celebrate opening a new branch location in the township building, an updated children's room at Fredricksen, and adding programming and outreach at both locations during 2016. In order to insure continued forward thinking and planning to serve our communities, the board and staff will develop the next strategic plan. During the initial stage, a survey, phone interviews, and focus groups will enable us to gather information from both current patrons and members of the six communities we serve. Libraries remain relevant as your free access to information and new technologies. TAKE THE QUICK SURVEY HERE
---
FIRST EVER YAPA
Teen BookCon...
A SUCCESS!
Our first ever YAPA Teen BookCon was a great success! Many thanks to all the volunteers and staff who helped to make the day so wonderful. A special thanks to our partners in this event – Tom Tancin – author, Mechanicsburg Mystery Bookshop and Cupboard Maker Books. Our hard work would have meant little if it weren't for the talented authors who braved a projected April snow storm to share their insights and inspirations. Many area teens came out to support favorite writers, to gain insight into the life of a writer and to win and buy loads of great YA books! SEE PHOTOS OF THE DAY
---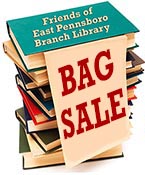 At our East Pennsboro Branch
BIG BAG SALE!
Friday, May 20 from 9 am to 3 pm
Stop by on Friday, May 20, from 9-3 for another bag sale. Fill as many bags as you can for $5 each. Find some summer reading and support the library!
Friday Fun - for ALL AGES
Fridays from 1 pm to 3 pm
Join us at the East Pennsboro Branch for a unique fun activity each week!
May 6: Card Making! May 13: Movie Time!
May 20: Board Games May 27: Coloring
---
Bus Trip to the Smithsonian FolkLife
Festival in Washington D.C.
Saturday, July 9 at 8:30 am
Join us as we partner with Susquehanna Folk and travel to the stunning Smithsonian Folklife Festival on the National Mall in Washington D.C. to experience Basque culture. Price includes: round trip motor coach transportation from Camp Hill, boxed continental breakfast served en route to Washington, D.C., free time to explore and participate in the Smithsonian Folklife Festival, and gratuity for bus driver. Cost: $45.00 per person. GET MORE INFO OR REGISTER HERE

Gardening with Nature: Mosquitoes and Ticks in PA
Tuesday, May 17 at 7 pm
Fredricksen Library has teamed up with Penn State Master Gardeners to bring you a series of workshops that will show you how to garden with nature. This program will discuss the current issues about mosquitoes and ticks in Pennsylvania. Gain a better understanding of why these vectors remain a disease risk and what is necessary to protect you and your family.
Cost per workshop is $5.00. More topics offered on 6/21, 7/19, 8/16, 9/20 and 10/18. Registration for all programs is open. To Register Contact: Penn State Extension, Cumberland County 717-240-6500 or 1-888-697-0371 x6500
---
Great Decisions 2016
Monday, May 9 at 1 pm
Cuba and the U.S.
The U.S. announced in December 2014 that, after decades of isolation, it has begun taking major steps to normalize relations with Cuba. The announcement marks a dramatic shift away from a policy that has its roots in one of the darkest moments of the Cold War — the Cuban missile crisis. Although the U.S. trade embargo is unlikely to end any time soon, American and Cuban leaders today are trying to bring a relationship, once defined by antithetical ideologies, into the 21st century. This is the eighth and final session.
Registration is open. Cost: $10 per individual session.
REGISTER WITH CREDIT CARD ONLINE. or send a check to World Affairs Council of Harrisburg Walnut St. & N. 4th St. 234 Strawberry Sq. Hbg., PA 17101.

---
ON SALE NOW!
TICKETS just $5 OR 3 for $12!
Tour De France Bike Raffle
Fredricksen Library will again hold a Bike Raffle to coincide with the 2016 Tour de France. Through the generosity of our sponsor, Holmes Cycling & Fitness, we are offering a bike of your choice, valued at up to $450 to our lucky raffle winner. Cost is just $5 per ticket or 3 for $12 with the drawing being held on Sunday, July 24th. The winner does not need to be present to win. Sponsored by Holmes Cycling & Fitness, Camp Hill.
---
Registration NOW OPEN!
Join us for the annual Fredricksen Library Loop 5K Race and 1 Mile Fun Run & Walk presented by Holy Spirit - A Geisinger Affiliate on Saturday, July 23rd at 8:30 am.
Race Day registration for both the 5K race and the Fun Run& Walk begins at 7am. Start time for the 5K Race is 8:30am. Start time for the 1 Mile Fun Run & Walk is 8:35am. Registration and parking for this important library fundraising event will be at the Camp Hill United Methodist Church parking lot, 417 S. 22nd St., Camp Hill, PA GET MORE INFO OR REGISTER ONLINE!
---
May in the Front Lobby Case:
John Williams Woodcarvings
John Williams, a Lemoyne resident, has been carving wood for 12 years after retiring from a 38 year career in telecommunications. Lacking any formal art training, his initial efforts were crude and clumsy. After joining several wood carving clubs, John met and studied with several accomplished teachers. His favorite woodcarving activity is attending classes and learning new techniques.

John's carvings cover a broad spectrum of work; however, at some point, John began to specialize in carving faces. Today 90% of his woodcarvings are faces. The other carving preference he enjoys is carving different types of material. The list of carved wood includes basswood, butternut, Cyprus knees, mesquite, oak, cottonwood bark, mahogany, pine and walnut. All of these woods are included in this library exhibit. Along with wood, John sculpts soapstone, alabaster, marble and clay.
---
Friends Spring Book & Media Sale
Thank you, thank you, thank you to everyone who helped make this Spring Book Sale a huge success! We raised $11,086.30 in just four days.
A special thanks to everyone who donates books and materials to the library. Your daily book donations at the reference desk and monthly donation station offerings allow us to hold two successful books sales each year as well as offer left over books to our East Pennsboro Branch, Salvation Army, and to Better World Books which provides donated books to libraries around the world. We are the original recycling program in that all our donations are sold at the book sale, become part of the library collection, or are passed on to other groups for use and sale in the community and abroad. Please continue to donate and think of us when you're doing spring and fall cleaning. Lots of people, young and old, still like to hold and read a book. READ MORE
Support Fredricksen with your Amazon Purchases!
When you shop on AmazonSmile, 0.5% of the price of eligible purchases will be

donated to the charitable organizations you select. Use the link from our website or go to smile.amazon.com and select Fredricksen Library. Use your regular Amazon login and password - no nee

d to re-register.
Click HERE or on the AmazonSmile logo to get started!
May Events
CLICK ON THE PROGRAMS BELOW FOR REGISTRATION INFO AND MORE DETAILS
Fredricksen Reads: Empty Mansions by Bill Dedman
Tuesday, May 17 at 7 pm

Become a part of Fredricksen Reads, our series of book discussions. Empty Mansions is a rich mystery of wealth and loss, connecting the Gilded Age opulence of the nineteenth century with a twenty-first-century battle over a $300 million inheritance. At its heart is a reclusive heiress named Huguette Clark, an enthralling eccentric of the highest order, a last jewel of the Gilded Age who lived life on her own terms. The No. 1 New York Times bestseller. Best nonfiction books of the year at Goodreads, Amazon, and Barnes & Noble. You must have read or listened to the book in order to attend. Register beginning April 15.

Master Gardener Plant Clinics - Tuesdays May - August from 6 pm - 7 pm
Donation Station - Sat 5/7 @ 1 pm
Great Decisions: Cuba and the U.S. – Mon 5/9 @ 1 pm
Twisted Stitchers – Mon 5/9 @ 6:30 pm
Registration OPEN – D.C. FolkLife Fest Bus Trip - Sat 7/9 @ 8:30 am
Foreign Film Friday: Gett - Fri 5/13 @ 2 pm & 7 pm
Blood Drive - Fri May 13 from 4 pm - 7:30 Fredricksen Writes - Mon 5/16 @ 6:45 pm
Gardening with Nature: Mosquitoes & Ticks - Tues 5/17 @ 7 pm
Fredricksen Reads: Empty Mansions - Tues 5/17 @ 7 pm
Mobile Device Basics - Thurs 5/19
iPad, iPhone, and iPod@ 5:30 pm
Kindle @ 6:30 pm
Android & Nook @ 7:30 pm
Foreign Film Friday: Mostly Martha - Fri 5/27 @ 2 pm & 7 pm
eBooksHub @ Fredricksen - Daily @ the Reference Desk
Blood Pressure Screenings - Thursdays - 9:15 am to 1 pm
Coffee Corner - M-F - 9:30 am to ?

ALL Adult Events

Family Movie Night: Shaun the Sheep
Friday, May 20 at 6:30 pm


We will be showing Oscar Nominated Shaun the Sheep and free popcorn will be served. All ages welcome and all children must be accompanied by an adult. No registration necessary.


Family Play Time - Thurs 5/5 & 19 from 6 pm - 7:30 pm
Family Play Time - Fri 5/6 & 20 from 9:30 am - 11 am
Youth Chess Night - Fri 5/6 from 6:30 pm to 8:30 pm
Springtime! Story Time and Music Therapy by Sovia Therapy - Sat 5/7 from 3:30 pm to 4:30 pm
Block Parties @ Fredricksen! - Wed 5/18 from 9:30 am to 10:30 am
American Girl Doll Book Club
1st & 2nd graders - Tues 5/10@ 4:30 pm
3rd & 4th graders - Wed 5/11 @ 4:30 pm
Meet & Play (for New Parents) - Wed 5/11 from 9:30 am to 11 am
Drop-In Story Time -Thurs 5/12 & 26 @ 7 pm
Adventure Crafts – A Splash of Color- Wed 5/18 from 4:30 pm to 5:15 pm
Fred's Cover to Cover Tween Book Club - Thurs 5/19 @ 1:45 pm
READ to Dogs - Thurs 5/19 from 6:30 to 7:45 pm
Family Movie Night - Shaun the Sheep - Fri 5/20 @ 6:30 pm
Meet & Play (for Grandparents) - Wed 5/25 from 9:30 am to 11:00 am


ON YOUR MARK, GET SET...
SUMMER READING IS COMING!!!
Comic Creators Workshop
Sunday, May 29 at 2 pm

Teens are invited to discuss and explore the visual language of comics and graphic novels. A Professional Illustrator will be present to answer questions and moderate discussion. We'll talk about the tools, terms and treatments of this popular print medium. Attendees are encouraged to bring 2-4 of their favorite books to discuss. (This is NOT a drawing class.) For teens ages 12-18. No registration necessary. Refreshments provided by the Friends of Fredricksen.

Teen Artists' Meet-up - Tues 5/10 @ 7 pm
Plot Twisters - Thurs 5/12 & 26 @ 7 pm
Comics Creator Workshop - Sun 5/29 @ 2 pm
Teen Advisory Group - ALL TAG Members - Sun 5/29 @ 4 pm


Thanks again to all the authors attending Fredricksen's YAPA Teen BookCon!

Potboilers and Blockbusters
Gaining Ground by Forrest Pritchard Thursday, May 19 at 6:30 pm

In May, Potboilers and Blockbusters will discuss the book Gaining Ground by Forrest Pritchard. Just in time for the spring harvest, this book is a story of farmers markets, local foods and family farms. Please read or listen to an audio version of the book in preparation for our discussion. Registration required. Stop by the library or call 732-4274.


Drop-In Story Times – Every Wed @ 11 am
Friday Fun/All Ages- Card Making! – Fri 5/6 @ 1 pm
Tall Tales – Tues May 10, 24 from 6:00 - 7:45pm
Chix with Stix - Mon 5/9 @ 6 pm
Friday Fun/All Ages- Movie Time! – Fri 5/13 @ 1 pm
Chix with Stix - Mon 5/9 @ 6 pm
Free Blood Pressure Screening – Tues 5/10 & 5/24 @ 10 am
Mobile Device Basics - Tues 5/10- iPad, iPhone, iPod, Kindle, Nook and Android @ 5:30 pm Potboilers and Blockbusters - Thurs 5/19 @ 6:30 pm

Friends Bag Sale – Fri 5/20 from 9am - 3 pm
Friday Fun/All Ages - Board Games! – Fri 5/20 @ 1 pm
Bedtime Storytime - Thurs 5/26 @ 6:30 pm
Friday Fun/All Ages – Coloring! – Fri 5/27 @ 1 pm

ALL East Pennsboro Branch Events
Coffee Corner Ca$h!
Available for purchase at the Reference Desk in increments of $5.00 and $20.00, these Coffee Corner Cash cards may be purchased using cash, check or credit card.
Coffee Corner Cash cards spend like cash, and have no expiration date. READ MORE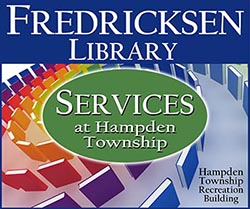 Hampden Township Pick-up and Drop-off Service
Fredricksen Library provides a pick-up and drop-off site for library materials at the Recreation Building, 5001 Hampden Park Dr., Mechanicsburg, PA 17050, just off Sporting Hill Road. Great idea! How does this work? GET MORE INFO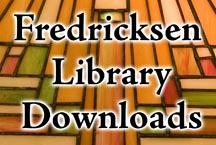 Get information and registration dates on all upcoming March, April and May events!
DOWNLOAD the Fredricksen Library Newsletter
DOWNLOAD the East Pennsboro Branch Newsletter
Recent Arrivals and Collection News