We have Lift-off...
REGISTRATION IS NOW OPEN!
Summer Reading @ Fredricksen for ALL Ages!
A Universe of Stories - June 3 through August 11
Registration is NOW OPEN at Fredricksen for another great summer of reading, learning and events for adults, children and teens. It's easy to do! AND...if you register between June 3 and June 16 for Summer Reading and/or register for a new library card, you will be eligible to win a fun summer prize such as pool memberships, an iPad Mini and Hershey Park tickets! Get your entry today! (If you register ONLINE, you must come to the library to get your entry.)
GET MORE INFO & REGISTER - ALL AGES!
DOWNLOAD A CHILDREN'S PROGRAM FLIER
DOWNLOAD A JUNE JULY AUGUST PATRON NEWSLETTER
Tuesday Family SUMMER READING Programs!
No registration required - All ages welcome, but seating is limited.
Djembe - African Drum Circle - Tuesday, June 11 - 10:30 am
Andrew's Big Show - Tuesday June 18 at 10:30 am
Jesse the Reptile Guy - Tuesday June 25 at 10:30 am
Zoo America! - Tuesday - July 9 at 10:30 am on the Lawn
Magical Nick: Reach for the Stars - Tuesday, July 16 at 10:30 am
Sciencetellers - Aliens: Escape from Earth! - Tuesday, July 23 at 10:30 am
History of Hip Hop Dance - Tuesday, July 30 at 10:30 am
All Tuesday Family Programs also presented at East Pennsboro Branch the same day at 1:30 pm!
---
A Universe of Stories Summer Learning Program @ East Pennsboro Branch
Monday, June 10 through Saturday, August 3
Join us at the East Pennsboro Branch this summer for "A Universe of Stories" All Ages Summer Learning Program. Tap into all the wonder of the galaxy with projects, games, books, and STEAM (science, technology, engineering, art, and math) programs! Registration begins on Monday, June 10 at 11:00 am at the library or online.
REGISTER HERE STARTING JUNE 10TH
---
LAST WEEKS TO ORDER!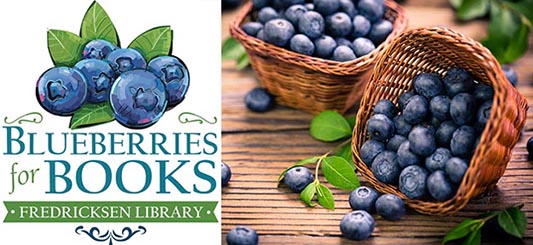 Order your fresh New Jersey blueberries for just $30.00 to benefit the Cleve J. Fredricksen Library. We are now taking orders for 10 pound boxes with pick up on June 27 – just in time for your July 4th picnics! Payments may be made by cash, credit card or check at the Reference Desk until June 23 at 5 pm. Prefer to order online? Easy ordering below and pay through Paypal ($1.00 extra per box). ORDER ONLINE NOW.

Also available at the library - Very Blueberry Cookbook for only $5! Stop in the library for the Very Blueberry Cookbook by Jennifer Trainer Thompson. Featuring more than 40 blueberry recipes for breakfasts, salads, entrées, and more. See a sample of the book at the libraries, or CLICK HERE to see a preview. LIMITED QUANTITIES! For more information, call 761-3900, ext. 236.
---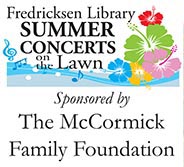 2019 CONCERT LINEUP

Get ready for an amazing line-up of performances during our twelth annual Summer Concert Series! Snacks and beverages will be sold during the events or you can bring your own. Bring a blanket or chairs to enjoy the music. Call 761-3900 x225 for more information. Sponsored by the McCormick Family Foundation.
Trinidad & Tobago Baltimore Steel Orchestra
Thursday, June 13 at 7 pm
Summer just isn't summer without our annual Concert on the Lawn with Trinidad & Tobago Baltimore Steel Orchestra. Join us for a dynamic evening as they bring a touch of the Caribbean to the Fredricksen Library. This stunning group, named Baltimore's official steel drum band, are masters of the steel drum. Their vivacious tropical music rounds out a lively show for all ages! (Rain date: Thursday, June 20 at 7:00 pm)
West Shore Symphony Orchestra -Monday, June 24
Greater Harrisburg Concert Band - Thursday, July 18
Los Monstros Concert - Summer Finale - Thursday, August 8

---
New Kanopy Streaming Service!
Cumberland County library card holders can now stream four movies a month with Kanopy, our new media streaming service. A wide range of foreign films, documentaries, and classics can be streamed from any computer, television, mobile device, or platform by downloading the Kanopy app for iOS, Android, AppleTV, Chromecast, or Roku. Loan periods allow patrons three days of unlimited viewing per film and simultaneous use. GET MORE INFORMATION BROWSE THE 1000s of FILMS
---
2019 Master Gardener Plant Clinics
Tuesdays: May through August
6:00 pm to 7:30 pm
in the Entryway, Upper Level
Do you have some unanswered gardening questions and don't know where to turn? Just stop in at the Fredricksen Library anytime from 6 to 7:30 pm every Tuesday evening (May – August). The Master Gardeners from Penn State Cooperative Extension will be there eagerly waiting to solve your gardening mysteries and help you to have the best garden possible! No registration necessary.


---
Teen Stranger Things Party
Wednesday, June 26 - 3 pm to 5 pm
Join us at the library for a celebration of all things STRANGER THINGS! Wear your best 80s outfits and get ready to make crafts, play games, and eat some Eggo waffles. For teens ages 12 – 18. REGISTER ONLINE NOW!
---
Teens Create! Contest
Saturday, June 8 to Sunday, July 7
Enter our 4th Annual Teen Creative Expression Contest. Submissions will be accepted in 5 categories: painting/illustration, photography, poetry, short story, and a new category--audio/visual.
Detailed instructions regarding themes and dimensions for each category are available ONLINE.
Submissions are accepted June 8 - July 7 and will be on display in the library and/or shared on the library's Facebook from July 9 - July 31. The best entry in each category will be chosen by a panel of judges and the winners will receive $50. You may enter once in each category. Winners will be announced before the Final Fling Concert! For teens ages 12 -18. Email emcquiggan@ccpa.net for more information. GET YOUR ENTRIES READY!
---
NOW OPEN - the NEW
Business & Career Center
@ Fredricksen!
The Business & Career Center @ Fredricksen (BCC) is now OPEN! After the ribbon-cutting and Grand Opening on Monday, May 20th, the BCC is now the go-to destination for planning your career! The Business & Career Center is committed to offering our community the resources and assistance to address all stages of career goals, with a targeted focus on enhancing employability. Check out the upcoming events that have been planned—workshop offerings, open session times, career programming and technology assistance, just to name a few. Entrepreneurs and local businesses will also profit as we incorporate regional services from SCORE and launch a portable recording studio. Many exciting future programs and workshops are in the planning stages, so please stay tuned!

Some of the initial BCC offerings:
• We're proud to partner with SCPa Works to offer CareerLink workshops including
Career Exploration, Resume Writing and Get That Job!
• Multiple workshops and programming based on improving technology skills, careers for veterans, saving for retirement at any income level, styling and much more!
• SCORE will be on site for facilitated roundtables focused on entrepreneurial and small business networking, with many more future offerings in the planning stages!
SEE ALL THE SUMMER WORKSHOPS AND REGISTER HERE
See PHOTOS of the GRAND OPENING HERE
See the recent Local 21 CBS News, WHP Harrisburg story HERE
---
Fredricksen Library
BIKE RAFFLE!
Sponsored by HOLMES Cycling
LAST WEEK TO GET YOUR TICKETS!
Drawing June 13th
Win your choice of a bike, value up to a $450! Tickets are $5 per ticket or $12 for three tickets. The drawing will be held on Thursday, June 13th at our first summer concert on the lawn.
THANK YOU HOLMES CYCLING!
---
At our East Pennsboro Branch....
Life-Size Bananagrams
Saturday, June 15 at 12:30 pm
Let's play Life-Size Bananagrams! Join us at 12:30 pm on Saturday, June 15, for this fast-paced game. All ages welcome; under 13 must be accompanied by an adult. Register by contacting the library at (717) 732-4274.
Reading Space: Spaceman

Thursday, June 20 at 6:30 pm
Join us for a discussion of "Spaceman: An Astronaut's Unlikely Journey to Unlock the Secrets of the Universe" by Mike Massimino. From goodreads.com: "Spaceman invites us into a rare, wonderful world where the nerdiest science meets the most thrilling adventure, and pulls back a curtain on just what having 'the right stuff' really means." Please either have read the book or listened to the audiobook before the meeting. Register by calling the library at (717) 732-4274.
---
COMING THIS SEPTEMBER...
Save the date for a unique experience and plan to join the library on Sunday, September 22nd, from 1 to 5 pm.
In Good Taste will be a chance to tour distinctive kitchens in ten local homes, meet and greet local designers, and taste delicious samples from the menus of local restaurants, caterers and chefs. Watch for more details and ticket information on our website soon!
---
PAVE THE WAY
The Fredricksen Library is raising funds for a new Lower Level Entrance and Business & Career Center by holding a paver fundraiser. Please help us "pave the way" by engraving a paver (or two!) in honor or in memory of family, friends, loved ones, pets, an organization, or special occasion. Paver order forms can be found ONLINE HERE OR you can stop by the Library to pick one up.
For questions, please call Development at (717) 761-3900 x 236.
---

Fredricksen Library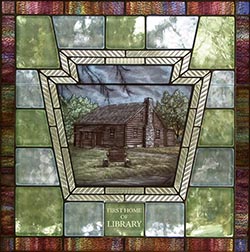 Stained Glass Window Replicas

Window replicas are 12" x 12", 1/4" plexiglass with white backing, two drilled holes for hanging (optional) with a narrow black U channel frame. Priced @ $65.00 a piece. Proceeds will support programs and services at Fredricksen Library.
DOWNLOAD an order form showing the 28 windows available.
---
Device Advice

By Appointment only
Tuesdays, 10 am - 12 pm
Thursdays, 5:30 pm - 8:30 pm
Reference Desk, Main Floor
We are pleased to offer free one-on-one consultations for up to an hour to help you navigate the basics of your eDevice! One of our trained Reference Librarians will assist you with downloading eBooks and eAudiobooks, as well as offer basic help with your tablet. You must have the device, login name and password for your appointment. To register, call 717-761-3900 x225.
---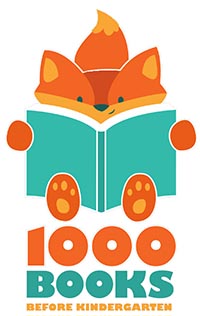 1000 Books Before Kindergarten
Our reading program will help prepare your child for one of their biggest milestones: kindergarten! Reading aloud to your child is one of the best ways to prepare them for kindergarten. With 1000 Books Before Kindergarten, parents are challenged to read to their children to get them ready to read. Stop by the Children's Desk to register for the program and learn more! Registration NOW OPEN!
---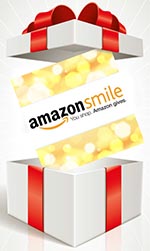 Support Fredricksen with your Amazon Purchases!
When you shop on AmazonSmile, 0.5% of the price of eligible purchases will be donated to the charitable organizations you select. Use the link from our website or go to smile.amazon.com and select Fredricksen Library. Use your regular Amazon login and password - no need to re-register.
Click HERE or on the AmazonSmile logo to get started!

---
Connect with US!

Do you know all the places Fredricksen can be found on Social Media? We're on Facebook, Pinterest, Instagram (fredricksenlibrary) and Twitter @cjfredricksen! You can also find photos of our events on our Flickr page. Click on any of the links at the bottom of this email, or on our website homepage to follow us and stay up to date with what's happening. Please like, share, pin and retweet our posts as well. (And tell all your friends and family too!)
---