---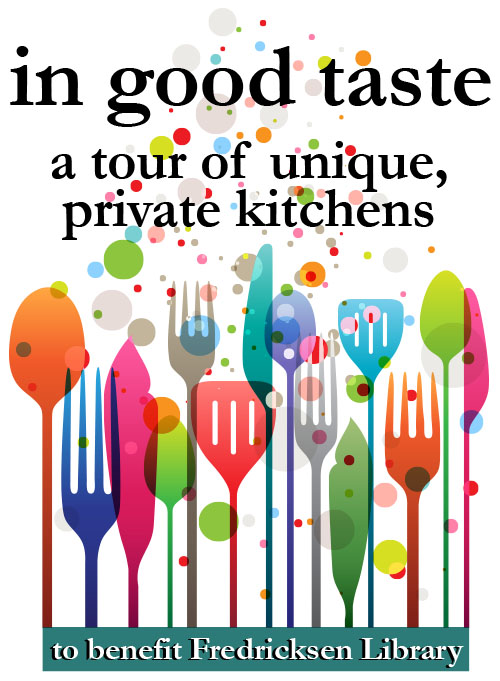 Tickets NOW
ON SALE!
Sunday, September 22
1 pm to 5 pm

Get ready for a unique experience and plan to join the Fredricksen Library on Sunday, September 22, from 1 pm to 5 pm - In Good Taste. This self-guided tour will give you a chance to visit distinctive kitchens in eleven local homes, meet and greet local designers, and taste delicious samples from the menus of local restaurants, caterers and chefs.

Tickets are on sale ONLINE and at the Reference Desk - $40 each or two for $75, since this is a great experience to share with a friend.
An ONLINE AUCTION of gourmet and kitchen related items will wrap around the event. Watch for more info to come on previewing and bidding on the many items!

In addition to the auction, one special raffle item will be on the menu – a basket of gift cards to local restaurants and food stores with a value of $400! Raffle tickets are on sale in the library and can be purchased up to and on the day of the event. Raffle tickets are $2.00 each or three for $5.00.

A big thank you to our signature sponsors for the event at the
"Heart of the Home" level,
Boxwood Designs & Connor Design-Build.


Thanks to our additional event sponsors!
M&T Bank
Henry and Charley Ann Rhoads ~ Mother Hubbard's Custom Cabinetry
Dave and Kathy McCorkle ~ Smoked Trout Catering

Additional sponsorships remain available. If you are interested in sponsoring the event or know of someone who might be, please contact the Fredricksen Library Development Office at (717) 761-3900 x236 or by email at lmckissick@ccpa.net. A program book with menus of the day and advertisements will accompany each tour goer. For information on placing an ad, contact the Development Office also.
---
TONIGHT @ 6:30 pm Interactive Movie Experience!
Join us for an Interactive movie experience on Monday, August 5 at 6:30 pm! Watch a movie, drink some butterbeer, and wave around your very own licorice wand! For Muggles and Wizards ages 10+, no registration.
---
Teen Homeschool Hangout

Tuesday, September 3
10:00 am to 11:00 am
Do you attend homeschool or cyberschool? Join us the first Tuesday of the month to meet up with your peers! The Kunkel Creation Station is located on the lower level in the back of the Pollock Children's Library. For teens ages 12 – 18. No registration necessary.
---
Bilingual Story Times!
6 week session
Wednesday, August 28
10:30 am – 11:00 am
August 28 – October 2
Join Miss Olga for our special story times in Spanish! For children ages
2 – 6. Registration begins Aug. 12.
---
A Taste of Summer: Preserving Your Tomatoes
Thursday, August 22
6:30 pm - 8:30 pm
Home food preservation is back and very popular. And why not? Canning beautiful summer vegetables and fruits lets you enjoy them all year long. While canning has existed for centuries, we've learned much about the science behind safe canning methods in recent years. Join Andy Hirneisen from Penn State's Department of Food Science and learn the basics of water bath and atmospheric steam canning for processing tomatoes and tomato products, the latest canning recommendations related to acidifying tomato products, and why the use of research tested recipes in canning salsa and other tomato products is important for safety. $8.00 per person.
REGISTER ONLINE.
---
IT'S TIME TO REGISTER!
Mission Transition 2019/2020: Preparing for Kindergarten
One Monday a month at 6:30 pm, based on school district,
during the 2019/20 school year. Sept. 2019 through May 2020
Help your little one prepare for a lifetime of learning by participating in Fredricksen Library's Kindergarten readiness program. Children entering kindergarten in the fall of 2020 will do kindergarten readiness activities, hear stories, meet other future students and make early friendships! Registration is happening now with the first session starting Sept. 9th.

Children attending these schools are welcome to attend:
Camp Hill School Dist. (Hoover Elementary) - First Session: September 9
East Pennsboro School District (West Creek Hills and East Pennsboro Elementary) - First Session: September 16
West Shore School District (Washington Heights, Lower Allen and Highland Elementary) - First Session: September 23
Cumberland Valley School District (Shaull, Hampden, and Sporting Hill) - First Session: September 30
The rotation starting in October will be:
Camp Hill: First Monday ~ East Pennsboro: Second Monday
West Shore: Third Monday ~ Cumberland Valley: Fourth Monday
---
Exploring PA Boroughs - Camp Hill
Pennsylvania Cable Network is filming specials focused on Pennsylvania Boroughs. Recently, their 30 minute film on the Borough of Camp Hill aired, featuring local businesses, parks and recreation, schools and Fredricksen Library. If you didn't catch it, take a look at all Camp Hill (and Fredricksen!) have to offer! WATCH PCN Camp Hill Segment
---
Accepting Donations -
Friends Annual Online Silent Auction 2019
Do you have any decorative treasures, sports or event tickets, concert season tickets, antiques, framed original artwork or prints, gift certificates or gift cards you cannot use, a vacation home you could make available for a weekend or week, or services like a massage, car wash and detailing, that you would like to donate? Your donations to our ONLINE Auction supports Fredricksen Library!

Call Diane Myers at 717-761-3730 or email dmyers27@verizon.net for a donation form and more information about the online auction starting November 1. Donations will be accepted until October 1.


---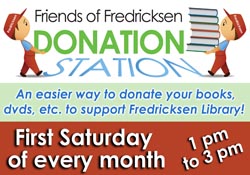 The Friends of Fredricksen have established Donation Station on the first Saturday of every month from 1 pm to 3 pm to process the donation of books and media for our Spring and Fall Book sales. Volunteers will be able to assist unloading your donations. We hope to provide convenience to you, our donors, and streamline our process for donations. During Donation Station hours, please park on the Walnut Street side parking area at the lower level employee entrance door. Donations at all other times can be given at the reference desk.

---
New Kanopy Streaming Service!
Cumberland County library card holders can now stream four movies a month with Kanopy, our new media streaming service. A wide range of foreign films, documentaries, and classics can be streamed from any computer, television, mobile device, or platform by downloading the Kanopy app for iOS, Android, AppleTV, Chromecast, or Roku. Loan periods allow patrons three days of unlimited viewing per film and simultaneous use. GET MORE INFORMATION BROWSE THE 1000s of FILMS
---
2019 Master Gardener Plant Clinics
Tuesdays: May through August
6:00 pm to 7:30 pm
in the Entryway, Upper Level
Do you have some unanswered gardening questions and don't know where to turn? Just stop in at the Fredricksen Library anytime from 6 to 7:30 pm every Tuesday evening (May – August). The Master Gardeners from Penn State Cooperative Extension will be there eagerly waiting to solve your gardening mysteries and help you to have the best garden possible! No registration necessary.
---
Bus Trip to Washington D.C.:
National Book Festival or Day on Your Own - ONLY $45!
Saturday, August 31 at 7:30 am
Join us as we travel to Washington D.C. for the annual National Book Festival, organized and sponsored by the Library of Congress or for a Day on Your Own.
Our bus will stop at the Walter E. Washington Convention Ctr. for the Book Festival as well as the National Mall for those that wish to explore D.C. on their own.
The National Book Festival gives you an opportunity to meet with famous authors, mingle with other readers and writers and find out more about literary events and services. More information and a list of participating authors is available from a link on our website. GET MORE INFO & TICKETS ONLINE
---
Welcome to the BCC
(Business & Career Center @ Fredricksen)!
Hey parents--ready for everyone to go back to school so you have a little time for self-improvement? Hoping to pick up some extra cash for the holidays, or just interested in brushing up your resume and job-seeking skills?
Join us at the Business and Career Center @ Fredricksen, where you can learn the latest resume techniques, receive guidance on the proper response to a job posting, use our resources to find a seasonal job, or start a new chapter in your life, a career! All of our workshops are FREE, and we have the tools for you to GET THAT JOB! SEE ALL THE CURRENT WORKSHOPS & REGISTER
Meet our talented BCC Specialists:
Judy Kenny—BCC Specialist
I am honored to serve the Fredricksen Library community in the new Business & Career Center. My prior experience as an adjunct instructor at the former Kaplan Career Institute/Thompson Institute focused on assisting adult students who were seeking or changing careers which involved self-exploration and resume workshops, while I supported each individual on to new paths. I am excited to bring my experience to this new and engaging learning environment that encourages people to reach for higher goals and realize that the sky is the limit!


Diane McDonough—BCC Specialist
With 15 years of teaching and instructing experience, my career has been focused on bringing out the best in my students and I am now looking forward to assisting the community in bringing out their talents and skills in order to shine! With a background in literature and writing, helping to polish that most important piece of literature, the resume, is my new focus.
REMEMBER - WE HAVE DAYTIME AND EVENING DROP-IN SESSIONS!
---
At our East Pennsboro Branch....
Roast It, Grind It, Freeze It:
Putting Those Peppers to Good Use While They're in Season
Tuesday, August 20 at 1:00 pm
It's pepper season in Central PA. Whether you get your peppers from the market or grow them in your own garden, it's a great time to cook with peppers and prepare them for storage during the off-season. We'll talk about ways to prepare peppers for later use that don't require canning. Learn how to freeze peppers whole and how to dry them for long-term storage in the pantry. Sweet peppers and hot peppers both make great seasonings for meats, seafood, vegetables and grain dishes, so let's freeze them to cook later or turn them into dry seasonings for use anytime. No registration necessary.
Let's Paint: Rocks & Seashells

Tuesday, August 20 at 11:00am
Join us to paint rocks and seashells that you can take home. All ages welcome; under 13 must be accompanied by an adult. No registration necessary.