Thursday, April 25
from 2:00 pm to 7:00 pm – Special Preview Sale!

Friday, April 26
from 9 am to 8:30 pm

Saturday, April 27
from 1 pm to 5 pm

Sunday, April 28
from 1 pm to 4 pm –
BAG SALE!

Support your library at the Friends Spring Book & Media Sale. You can get an early look at our sale items on Thursday, April 25th from 2pm to 7 pm if you join or are a current member of the Friends, a library volunteer, or staff member of Fredricksen Library. Join the Friends and attend! The membership brochure is downloadable from our website. DOWNLOAD A FRIENDS MEMBERSHIP FORM
The public sale begins Friday at 9 a.m. and includes dvds, other media, cds, puzzles and games, parent and teacher materials, children's, teens, and adult books as well as a special table featuring coffee table books and interesting collectible editions. Prices range from 50 cents to $2 or $3 for hardback copies. Hours for the sale are: Friday 9 to 8:30, Saturday 1 to 5, and Sunday 1 to 4. Sunday is the BAG SALE – 2 bags for $10.00! ($10.00 minimum) Come and stock up on your reading, viewing, and listening needs for the spring and summer!
---
We are thrilled to welcome back Hiroya Tsukamoto, a guitarist and composer from Japan (now based in New York). His highly-acclaimed "new folkloric music" has captured the attention of music critics everywhere. He is not only a highly-skilled guitarist, but also a skilled songwriter, poetic spirit, and an engaging story teller. Come here his enchanting original compositions, as well as Japanese folk songs and stories. The Jazz Review said he has "...chops, passion and warmth. Zealously recommended!" The Boston Herald said "Hiroya Tsukamoto takes us to an impressionistic journey." Join us on the journey. No registration needed. Sponsored by the McCormick Family Foundation.
---
Bonnie Goble Named YWCA Tribute to Women
of Excellence Recipient
Fredricksen Library's Director, Bonnie Goble, was recently honored as one of the recipients of this year's YWCA Tribute to Women of Excellence award. In its 30th year, the YWCA honors women in our community for their contributions to our region, both professionally and philanthropically. Bonnie was one of 29 women chosen who dedicate their time and talent to making a difference in Central Pennsylvania. Bonnie has been the Library Director at Fredricksen for 10 years. During her tenure Fredricksen has grown to become the busiest library in the Cumberland County Library System servicing residents in six communities. Under Bonnie's leadership, Fredricksen strives to be a center that provides resources and opportunities to meet the educational, recreational and cultural needs of our communities. Congratulations Bonnie!
(Bonnie Goble, pictured front row, third from right.. Photo courtesy of YWCA)

---
New Kanopy Streaming Service!
Cumberland County library card holders can now stream four movies a month with Kanopy, our new media streaming service. A wide range of foreign films, documentaries, and classics can be streamed from any computer, television, mobile device, or platform by downloading the Kanopy app for iOS, Android, AppleTV, Chromecast, or Roku. Loan periods allow patrons three days of unlimited viewing per film and simultaneous use. GET MORE INFORMATION BROWSE THE 1000s of FILMS
---
Horticulture Show with
Penn-Cumberland Garden Club
Friday, April 26 from 1 pm to 8 pm
Sat., April 27 from 1 pm to 4 pm
Help us welcome the Penn-Cumberland Garden Club by taking in the sights of their beautiful plants and horticulture specimens that are up for show! Scattered throughout the atrium for your enjoyment, the displays will be judged and then shown throughout the day. Enjoy them while shopping the Friends of Fredricksen Book Sale or judge the entries yourself to see if you agree with the official judges!

---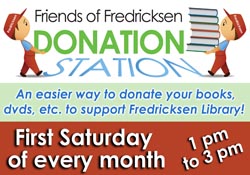 THIS SATURDAY!
Donation Station
Saturday, April 6
1 pm to 3 pm in the Lower Parking Lot
The Friends of Fredricksen will hold Donation Station on the first Saturday of every month to accept donations of books and media for their Book & Media Sales. To drop off donations, please park in the lower parking lot nearest to the sidewalk. Donations at all other times can be made at the Reference Desk whenever the Library is open. Thank you for thinking of the Friends when you have extra books!
---
Join us TONIGHT
with Mette, Evans & Woodside
Estate, Financial and Long Term Care Planning:
How Proactive Planning Can Protect Your Family
Tuesday, April 2
from 7:00 pm to 8:00 pm
The lack of proper estate, financial and long term care planning can exact a serious emotional and financial toll upon your family. Attorney Brian J. Hinkle from Mette, Evans & Woodside and Anthony M. Conte from Conte Wealth Advisors will address estate, financial and long term care planning issues that affect all of us as we grow older. Topics that Attorney Hinkle and Mr. Conte will address during this seminar include the need for basic estate planning documents and various strategies available for planning for retirement and long term care. Attorney Hinkle and Mr. Conte will also answer questions that attendees may have. No registration needed.
Learn About:
• Tax and property transfer consequences of not having a will
• Creating a trust and the potential benefits
• Financial planning basics
• Power of Attorney issues
• Planning for Retirement and Long Term Care


---
Opening in the Spring - the NEW
Business & Career Center
@ Fredricksen!
The Business & Career Center @ Fredricksen (BCC) will be offering workshops, programming and technology assistance centered on all stages of career goals, with a whole person focus of enhancing employability. Entrepreneurs and local businesses will also be in focus as we incorporate regional services from SCORE and debut a portable recording studio. Many exciting future programs and workshops are in the planning stages, so please stay tuned!
Some of the BCC offerings will include:
Multiple workshops and programming based on
exploring a career path at any level, job search and resources, resume writing, styling, interviewing, improving technology skills, time management, saving for retirement at any income level, and much more!
SCORE will be on site for facilitated roundtables focused on entrepreneurial and small business networking, with many more future offerings in the planning stages!
Stay tuned for programming and other important announcements—your future starts here!
Check out this TIME LAPSE VIDEO from Backyard Productions, Inc and Krehling Industries Inc. of our Business & Career Center installation!
---
Fredricksen Library
BIKE RAFFLE!
Sponsored by HOLMES Cycling
Spring is here and thoughts of bike riding, sunshine, and warmer weather come to mind. It also means it's time for Fredricksen's Annual Bike Raffle in conjunction with Holmes Cycling and Fitness! For the sixth year in a row, this family-owned Camp Hill business is donating a bike (of your choice up to a $450 value) to the raffle winner. Tickets are $5 per ticket or $12 for three tickets. The drawing will be held on Thursday, June 13th at our first summer concert on the lawn.
Like Fredricksen Library, Holmes is fostering community and encouraging healthy behaviors. Holmes has been providing quality customer service and products since 1974. Just last year, the shop was completely remodeled; stop in and check it out! They are also great neighbors who also support the library and we thank them for their generosity. THANK YOU HOLMES CYCLING & FITNESS!
---
At our East Pennsboro Branch....
Let's Dance Storytime with
Central Pennsylvania Youth Ballet
Saturday, April 13 at 1:30 pm
Join the Central Pennsylvania Youth Ballet at our library as we read and dance during a special storytime. Ages 3 and up please; under 13 must be accompanied by an adult. No registration required.


Reading Poetry
Thursday, April 4 at 6:30 pm
In celebration of National Poetry Month, join us for a discussion of the book, "The Flame" by Leonard Cohen. From goodreads.com: "The Flame is the final work from Leonard Cohen, the revered poet and musician whose fans span generations and whose work is celebrated throughout the world. Featuring poems, excerpts from his private notebooks, lyrics, and hand-drawn self-portraits, The Flame offers an unprecedentedly intimate look inside the life and mind of a singular artist." Please either have read the book or listened to the audiobook before the meeting. Register by contacting the library at (717) 732-4274.
---
National Library Week AND
National Volunteer Week
Sunday, April 7 - Saturday, April 13
In celebration of this special week - watch for our Facebook (and in-the- library) challenges all week featuring questions about YOUR special library and volunteering experiences!

First celebrated in 1958, National Library Week is a national observance sponsored by the American Library Association (ALA) and libraries across the country each April. National Volunteer Week was established in 1974 and has grown exponentially each year, with thousands of volunteer projects and special events scheduled throughout the week.
---
Great Decisions 2019
Three Sessions remaining:
Cyber Conflict & Geopolitics - April 15
The United States and Mexico: Partnership Tested - April 29
State of the State Department and Diplomacy - May 13
Great Decisions is America's largest discussion program on world affairs. The program model involves reading the Great Decisions Briefing Book, watching the DVD and meeting expert speakers in a Discussion Group to discuss the most critical global issues facing America today. Each year, eight topics are chosen by Foreign Policy Association's panel of experts. Discussion topic details can be found here! In partnership with the World Affairs Council of Harrisburg. REGISTER ONLINE
---
April Exhibits @ Fredricksen Library
In the Front Lobby Display Case
The Pennsylvania Parks and Forests Foundation is a statewide non-profit that works with state parks and forests. Our mission is to inspire stewardship of Pennsylvania's state parks and forests through public engagement in volunteerism, recreation and conservation. We do this through public education, organized events and recreation programs, transformative projects, volunteer recruitment, and the development of engaged local friends groups.
The Photo Tour in the Community Gallery
The annual Pennsylvania Parks & Forests Foundation Thru the Seasons photo
contest invites professional and amateur photographers to submit photos in a variety of categories which capture all that is special and the memories that are made in our state parks and forests. Once selected each year, the winning photos are displayed at a variety of locations across the commonwealth.


---
PAVE THE WAY
The Fredricksen Library is raising funds for a new Lower Level Entrance and Business & Career Center by holding a paver fundraiser. Please help us "pave the way" by engraving a paver (or two!) in honor or in memory of family, friends, loved ones, pets, an organization, or special occasion. Paver order forms can be found ONLINE HERE OR you can stop by the Library to pick one up! ORDER BY MAY 1st to guarantee installation for our Grand Opening! (deadline extended!)
For questions, please call Development at (717) 761-3900 x 236.
---

Fredricksen Library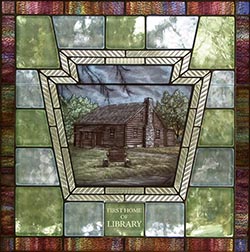 Stained Glass Window Replicas

Window replicas are 12" x 12", 1/4" plexiglass with white backing, two drilled holes for hanging (optional) with a narrow black U channel frame. Priced @ $65.00 a piece. Proceeds will support programs and services at Fredricksen Library.
DOWNLOAD an order form showing the 28 windows available.
---
Device Advice

By Appointment only
Tuesdays, 10 am - 12 pm
Thursdays, 5:30 pm - 8:30 pm
Reference Desk, Main Floor
We are pleased to offer free one-on-one consultations for up to an hour to help you navigate the basics of your eDevice! One of our trained Reference Librarians will assist you with downloading eBooks and eAudiobooks, as well as offer basic help with your tablet. You must have the device, login name and password for your appointment. To register, call 717-761-3900 x225.
---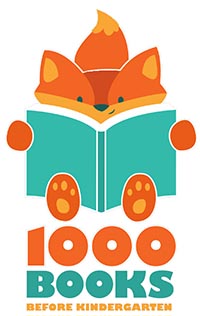 1000 Books Before Kindergarten
Our reading program will help prepare your child for one of their biggest milestones: kindergarten! Reading aloud to your child is one of the best ways to prepare them for kindergarten. With 1000 Books Before Kindergarten, parents are challenged to read to their children to get them ready to read. Stop by the Children's Desk to register for the program and learn more! Registration NOW OPEN!
---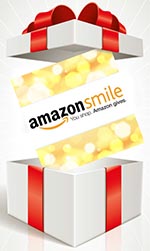 Support Fredricksen with your Amazon Purchases!
When you shop on AmazonSmile, 0.5% of the price of eligible purchases will be donated to the charitable organizations you select. Use the link from our website or go to smile.amazon.com and select Fredricksen Library. Use your regular Amazon login and password - no need to re-register.
Click HERE or on the AmazonSmile logo to get started!

---
Connect with US!

Do you know all the places Fredricksen can be found on Social Media? We're on Facebook, Pinterest, Instagram (fredricksenlibrary) and Twitter @cjfredricksen! You can also find photos of our events on our Flickr page. Click on any of the links at the bottom of this email, or on our website homepage to follow us and stay up to date with what's happening. Please like, share, pin and retweet our posts as well. (And tell all your friends and family too!)
---