Simon Cameron: Harrisburg Legend
Tuesday, January 15 at 7 pm
Join Sheldon Munn as he uncovers the life of Simon Cameron. Born a penniless orphan in Maytown, PA in 1799, he manipulated and coerced businessmen and politicians to establish an empire of greed and influence reaching the halls of Congress, becoming President Lincoln's Secretary of War, Ambassador to Russia, and an entrepreneurial leader of national renown. Few stories of personal and political dynasties can rival that of Simon Cameron's powerful grip on Pennsylvania and national politics in the 1800s. His behind-the-scenes maneuvering and deals reflect his cunning genius, awash in corruption. Hear how this orphaned boy who was born in a dirt-floored log cabin raised himself to become a nationally-known powerhouse. No registration necessary.


Abraham Lincoln: Lies, Legends & Myths
Sunday, January 27 at 3 pm
Come see highly-acclaimed Abraham Lincoln aficionado and actor James Hayney as he sets the record straight, separating Lincoln fact from Lincoln fiction. His credentials include performing in over 100 stage plays across the country and acting in numerous TV films and commercials. The Camp Hill resident will also serve as grand marshal for the 2013 Pennsylvania Farm Show's opening parade. READ MORE HERE
No registration necessary.




Foreign Film Fridays:
2012's Oscar-Nominated Shorts:
Live Action - Friday, January 11 at 7:00 pm
Animated - Friday, January 25 at 7:00 pm
The Oscars are next month and we are gearing up by reviewing last year's nominations for short films. These films are wildly popular but often difficult to find. Look no further! Fredricksen Library dedicates this month to last year's Academy Award nominated short films. Join us as we view the five Live Action and Animated Short Films that caught the Academy's attention. Not recommended for ages under 17 without parental permission. No registration necessary.


It's time to VOTE for Simply the Best Library! VOTE HERE
Thank you for your votes and EIGHT years of Simply the Best!


The Coffee Corner is open!
What is that wonderful aroma floating through the library? It's the smell of freshly brewed coffee, wafting from The Coffee Corner @ Fredricksen! On weekdays from 9:30 – 11:30 am, our volunteer baristas will be brewing fragrant and delicious coffees in the Lower Lobby. We will be offering special coffee blends each month, all of which are purchased wholesale straight from Camp Hill's beloved Cornerstone Coffeehouse. We will be offering a variety of items at "The Corner": Coffees--regular and decaf, Teas--regular, decaf and organic, Hot Cocoa - Bottled Water - Baked Goods - Snacks *All of the proceeds/donations benefit Fredricksen Library*
Please come to see us at The Coffee Corner @ Fredricksen! Wander freely about the library sipping your (lidded) coffee, and browse our extensive collection--both will support your favorite library!
See more photos of this new fundraising effort HERE!



See photos of the 2012 Holiday activities @ Fredricksen Library
and East Pennsboro Branch!
Harp & Handbell Concert - Gingerbread Boys & Girls
Teen Gingerbread House Extravaganza - Teen Snowflake Ornaments
Santa Visits East Pennsboro Branch!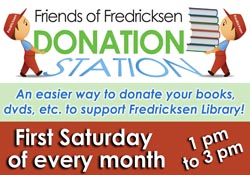 Donation Station @ Fredricksen
First Saturday of every month from 1 pm to 3 pm
The Friends of Fredricksen have established Donation Station on the first Saturday of every month from 1 pm to 3 pm to process the donation of books and media for our Spring and Fall Book sales. Volunteers will be able to assist unloading your donations. During Donation Station hours, please park on the Walnut Street side parking area at the lower level employee entrance door. Donations at all other times can be given at the reference desk.
Doing your New Year's cleaning out?
Bring your donations THIS SATURDAY, January 5!

Fredricksen Reads Beginner's Goodbye by Anne Tyler
Thursday January 17 at 7 pm
Become a part of Fredricksen Reads, our series of book discussions. Anne Tyler gives us a wise, haunting, and deeply moving new novel in which she explores how a middle-aged man, ripped apart by the death of his wife, is gradually restored by her frequent appearances—in their house, on the roadway, in the market. Registration is now open. REGISTER ONLINE



Annual Meeting
Tuesday, January 22 at 7 pm
Come enjoy the fellowship, help us elect officers, meet new friends and become involved in our varied activities! There are so many ways that you can make a difference. Take a moment to consider becoming a library volunteer, joining one of our many committees, or helping to staff one of the library's important fundraisers.