Blueberries & Books Fundraiser!
Order NOW through Friday, June 29
The Blueberries & Books Fundraiser is back! During May and June, the Fredricksen Library will be pre-selling 10 lb. boxes of fresh blueberries from New Jersey. It will be a fun and delicious way to kick off the summer, AND it will help the Library raise some extra funds!
You can pre-order your blueberries at the reference desk, ONLINE from our website and pay securely through PayPal, or by downloading a mail-in order form. Cost will be $30 per 10 lb. box.
If you are ordering, please be aware that blueberries will be available for ONE DAY PICKUP ONLY due of lack of storage space to hold overnight. Check Fredricksen's website on July 2 for the specific date and time for pick-up - either July 9th or 10th – depending on the harvesting season.

ORDER ONLINE HERE
or Download a mail-in order form
Blueberries also make a great gift for
Father's Day, birthdays and more!
Gift notecards and envelopes are available at the reference desk.
Learn why blueberries are one of the 25 SUPERFOODS!
Find out the best way to FREEZE YOUR BLUEBERRIES.




Summer Reading Programs for all ages @ Fredricksen Library
& East Pennsboro Branch - Registration opens June 4 for all!
Children's Summer Reading Club: Dream Big – READ!
Packed with exciting performers and programs, this 9-week program will feature reading activities, with programs for children preschool age through 6th grade. Magic, Puppetry, Art workshops, The BUGMAN, Zoo America, Writing, Crafts and many other wonderful events are planned, with a family picnic rounding out the fun.
REGISTER ONLINE NOW - Fredricksen REGISTER ONLINE NOW - East Pennsboro Branch
DOWNLOAD a Children's Summer Reading Program Listing
Teen Summer Reading Program
Weekly prize drawings, Weekly Challenges, Thursday afternoon movies, video game days, Magic, Hip Hop Dance, an interactive murder mystery, Hunger Games activities, crafts, and much, much more. Get complete details when you register. REGISTER ONLINE NOW - Teens
DOWNLOAD a Teen Summer Reading Program Listing
Beach Blanket Bingo @ Fredricksen! Adult Summer Reading Program
Join the summer fun as we continue our popular Adult Summer Reading Program this year! When you register, you'll receive a Beach Blanket Bingo card to lead you through your summer reading strategy. As you read or listen to your books, mark off the categories on your bingo card until you get 4 in a row. Each time you complete a row, BINGO - you get a ticket to put in one of our wonderful prize drawings! The drawing for prizes will be held on August 27. Register at the Reference Desk beginning June 4.


Tuesday Book & Media Mini Sales!
June 12, 19, 26 & July 3, 10, & 17 - Lower Lobby
10 am to 5 pm
Support Fredricksen with your purchases of hardbacks, paperbacks, dvds and more. New items added each week! Stop in and shop for gently used books and dvds for all ages in the lower lobby. The first sale, Tuesday, June 12 will have extended hours during the T&T Concert.



Farmers on Walnut?
Yes, Farmers on Walnut!
Just not at the library's part of Walnut…
In September 2011, Fredricksen held Bee Local, a honey and local foods festival. Part of Bee Local was a high end producers'-only farmers' market. It was so popular, and we received so many requests to hold a weekly market, that we began the process of trying to host a market at the library. In October, Fredricksen staff and Farmers on Walnut, a group of farmers from within a 50 mile radius of Camp Hill, began to meet with Borough Councilman Aubrey Sledzinski and Borough Manager Gary Kline to explore the possibility of hosting a Farmers' Market on the park-like side lot which the library owns. Why would we do such a thing? We are one of many libraries nationwide which see a Farmers' Market as an ideal "marriage of missions" with that of the library. READ MORE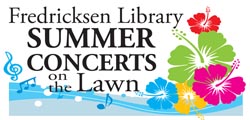 It's time for the Fredricksen's eighth annual Concerts on the Lawn series!!! All concerts are approximately an hour long and free to the public. Snacks and beverages will be sold during the events or you can bring your own refreshments with you! Make sure you bring a blanket or chairs to enjoy the music in the great outdoors. Concerts are held on the west lawn next to the lower parking lot. Additional parking will be available. Call 761-3900 x225 for more information. No registration necessary.

Trinidad & Tobago Steel Drums

Tuesday, June 12 at 7:00 pm
Trinidad & Tobago Baltimore Steel Orchestra starts the 2012 Summer Concerts on the Lawn with a dynamic evening as they bring a touch of the Caribbean to the Fredricksen Library. This stunning group, named Baltimore's official steel drum band, are masters of the steel drum. Their vivacious tropical music rounds out a lively show for all ages. During the T&T Concert, the Mini Book & Media Sale will also be held in the Lower Lobby. (Rain date: Fri., June 15 at 7:00 pm)
West Shore Symphony Orchestra- Monday, July 9 at 7:00 pm
Lower Paxton Jazz Band - Tuesday, July 24 at 7:00 pm
Caryn Lin: World Music - Tuesday, August 7 at 7:00 pm


Book Launch Party is a Novel Idea
On Tuesday, May 22 Fredricksen Library was spilling over with writers, readers and all sorts of bibliophiles. This, for sure, is not an unusual happening for a library, but this night was special. A decade ago, Fredricksen Library began holding free classes for aspiring writers. These classes soon came to be known as the Natalie D. Craumer Writers Workshop, held twice annually and always full!
25 authors from that workshop were chosen to be in the workshop's first published book, "A Community of Writers." The book launch party for this anthology of short stories included readings from the authors, a wonderful remembrance of Natalie D. Craumer by the workshop's benefactor (Mr. Robert Craumer), a champagne toast, artisan cheeses, fruits and a great amount of fun.
The workshops' teacher, Ann Elia Stewart - a local author, teacher and award-winning writer - was also on-hand. "Each story is unique," Stewart said. "The anthology encompasses literary and genre pieces, including science fiction, fantasy, romance, satire and thriller. It represents the best short stories to come out of the writing workshop throughout the past ten years.
Published by Sunbury Press of Camp Hill, the book can be ordered as an e-book for both Nook and Kindle as well as in print. All profits are graciously donated to the library by Sunbury Press. For ordering information, visit www.SunburyPress.com. ONLINE ORDERING HERE


REGISTRATION NOW OPEN!
Seventh Annual Fredricksen Library Loop 5K!
Saturday, July 28 at 8:20 am
SAVE THE DATE! The 7th annual Fredricksen Library Loop 5K Race and 1 Mile Fun Run & Walk will be held rain or shine on Saturday, July 28, 2012. Check-in and registration for both the 5K race and the Fun Run & Walk begins at 7 a.m. Start time for the 5K Race is at 8:20 a.m. and the 1 Mile Fun Run & Walk starts at 8:25 a.m. This important fund raising event will once again be held near Fiala Field in the Borough of Camp Hill, PA. Participation in the Fredricksen Library Loop continues to grow, and is eagerly anticipated by both runners and walkers throughout Central Pennsylvania and beyond. Last year's event was a tremendous success, with over 300 runners and walkers participating. Cash prizes and trophies will be awarded for the top three male and female finishers in the 5K Race. READ MORE, Download a registration form or REGISTER ONLINE