Coming in February!
World of Percussion with Doc Gibbs!
Saturday, February 5 at 2 pm
Doc Gibbs, master percussionist, has toured or recorded with many top music artists through the years, including Grover Washington Jr., and added spice to the Food Network Emeril Live Show as musical director. Through interactive demonstration, discussion and performance, Doc Gibbs will have children and parents learning history, culture and geography through creating percussive music. Instruments from around the world such as the ocean drum, flex-tone, spring drum, rain stick, a gong from Thailand, the dun-dun or talking drum, and more will be demonstrated. For ages 5 – 12 with registration starting Jan. 23.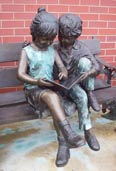 Friends of Fredricksen Library Annual Meeting
Thursday, January 20 at 7 pm - Ruggaber Community Room
Social Hour (with light refreshments) from 6 pm to 7 pm:
• Learn about the Friends' importance to the Library & the community
• Consider joining the Friends of Fredricksen
• Meet people who share your interests
• Explore volunteering at the library
• Learn how your skills can impact the library
Read More

The New Fredricksen Blog!
Fredricksen is taking another step into the 21st century with our new blog aimed at our adult patrons. Our hope is to make this a new way for our community to grow. Along with book reviews, coverage of library events, and news, we are planning features on hidden treasures of the library, donations of the week, and virtual book discussions. Sidebars to the main blog include links to other blogs, brain teasers, and staff recommendations. Read More & access the Fredricksen Library Blog


The 2010 Holidays @ Fredricksen Library
and East Pennsboro Branch!
A relaxing evening of Handbells & Harp, dozens of Gingerbread Boys and Girls coming to life, architectural candy wonders by the teens at the Gingerbread House Extravaganza, and Santa visits at East Pennsboro Branch...
See photos of the holiday fun HERE!



Save the Date!
Birdie for Books! Mini Golf @ Fredricksen Library
In Memory of Heath L. Allen
Saturday, February 26 from 10 am to 6 pm
Families & Businesses - Sponsor a Hole, Tee or Fairway!
Stop by The Cleveland Brothers 19th Hole Cafι
Back by popular demand! Come play 18 challenging holes inside the Library, featuring sand traps, spiraling tubing, and menacing greens - don't miss this chance to support your community library!
Read more, download a registration form or sponsor info and see photos of last year's event!